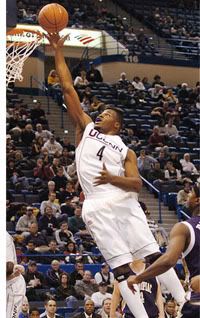 The UConn Huskies spoiled the return of former long-time assistant Tom Moore to the Hartford Civic Center by giving his Quinnipiac Bobcats squad a beating, winning the game 82-49 in front of a sparse crowd due to the Nor'easter that made it's way up the coast on Sunday.
The actual attendance at the game was about 3,500 people while the announced crowd was 11,497.
The Huskies (7-2) were led by Jerome Dyson, who scored 23 points, while Stanley Robinson added 15 points. Jeff Adrien had his fourth double-double of the season with 12 points and 14 rebounds. Doug Wiggins rounded out the Huskies in double-figures with 10 points off the bench.
The Bobcats (4-5) were led by Casey Cosgrove's 15 points. DeMario Anderson added 10 points and 8 rebounds to the cause for Quinnipiac as well.
UConn went into the half leading 46-24 and they started out the second half on a 16-4 game to put the game away. They built the big lead in the first half on the strength of a 19-3 run.
The Huskies will return to the court on Saturday when the Maine Black Bears come to the Hartford Civic Center for a 1 PM tip-off.
Notes and Observations:
The starters were AJ Price, Jerome Dyson, Stanley Robinson, Hasheem Thabeet and Jeff Adrien.
The Huskies were without the services of Craig Austrie, who had a case of pneumonia earlier in the week.
Former UConn Huskies great Scott Burrell is an assistant coach for Tom Moore. Burrell was a member of the 1998 Chicago Bulls championship team with Michael Jordan.
Price had 9 assists for the Huskies while committing only 2 turnovers. He did score 6 points.
Thabeet had 4 of UConn's 9 blocks on the day.
UConn shot 54.3% in the first half and 53.8% in the second half. For the game, they were 33-61 (54.1%).
They held Quinnipiac to 27.9% (19-68) shooting in the game.
Curtis Kelly seems to be on Jim Calhoun's bad side as he only played 6 minutes in the game, all of them in the second half.
UConn's free throw shooting still stinks. They were 10-17 (58.8%). Adrien was the main culprit today as he was only 4 of 10 from the line. The big man needs to sink those for the Huskies to have any success in the Big East this year.
Walk-on John Lindner scored his first point as Husky today as he went 1 of 2 from the free throw line.