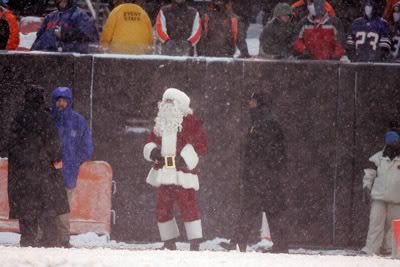 It was kind of weird week in the NFL:
I made mention earlier tonight that the Miami Dolphins finally won a game and will not go winless. The ironic thing is that today was also the annual reunion of the undefeated 1972 Dolphins team that won Super Bowl VII. They were on the sideline during the game. Some of the current Dolphins equated the feeing of finally winning to that of winning a Super Bowl.
The Pittsburgh Steelers had everything going their way home game, bad weather, playing a warm weather team and they lost to Jacksonville. Couple that with a Cleveland Browns win and we now have a tie atop the AFC North at 9-5.
The Browns beat the Buffalo Bills at home in blizzard conditions 8-0. That's a lopsided baseball score not a football score. The bad news for the Browns is that the Steelers hold the head-to-head tie breaker by virtue of a season sweep.
The Giants are in midst of their annual late season swoon, that may very well in the end cost Tom Coughlin his job. They got their asses kicked tonight by Washington in Giants Stadium. Not a very good way to tune up for the post season. They are now 9-5 and 3-4 at home. They have a losing home record and they close the season out at home against what may very well be an undefeated New England Patriots team.
Speaking of stunning losses, the Philadelphia Eagles beat the Dallas Cowboys in Texas Stadium today in front of Jessica Simpson clad in her pink Tony Romo jersey. Romo by the way did squat today. Tony remember that you are not Brett Favre nor Tom Brady and I hope the piece of ass is worth it.
How pathetic are the Cincinnati Bengals? The team who started to turn itself around under Marvin Lewis made the playoffs in 2005, then last year with three chances to clinch a playoff birth lost all three including the hearbreaking bad snap loss in Denver and finished 8-8. This year they just plan ol' suck and will have a losing season because they couldn't even beat the ultra sucky San Francisco 49ers. The whole team has regressed including Carson Palmer and it's time for some change with trades and a new coaching staff.
The Detroit Lions who were 6-2 at the midway point continue their tailspin and have dropped 6 in-a-row and are now 6-8 after losing at San Diego. If it weren't for the Ravens who have dropped 8 straight and the previously winless Dolphins you'd be able to hear the calls for Matt Millen's head again.
The Indianapolis Colts won the AFC South today for the fifth year-in-a-row. But they barely got past a 4-10 Oakland Raiders squad when Peyton Manning got them their only offensive TD of the game with just under five minutes to play.
In Tampa Michael Spurlock returned a kickoff for a TD. Not a big deal you say well it was the first KORTD in Buccaneers history. It took them 32-years to do something Chicago's Devin Hester does on almost a weekly basis.
Seattle had a chance to establish themselves as possibly the #3 seed in the NFC but the Seahawks lost to Carolina to drop to 9-5 on the very day that ESPN's Sunday Countdown show was touting them as a potential NFC champion. Think again Bristol.
Speaking of Bristol, Mike Dickhead is really wearing on my nerves. I hated the ass when he coached and wore his pretty sweater vests but his refusal to even give even the faintest of credit to the Patriots and Bill Belichick is pissing me off. I don't expect everyone to jump on the bandwagon but between the ass kissers and the haters, like Dickhead, were's the objectivity in reporting these days? This guy acts so fucking high and mighty and pious it makes me wanna vomit. This is a from a guy who has challenged opposing coaches (Forrest Gregg) to fights in the tunnel. ESPN needs to ditch him and as far as I'm concerned he can take Chris Berman, Tom Jackson and Emmitt Smith with him. Put Michael Wilbon in the studio on Sundays and match him with Steve Young, Keyshawn Johnson and Bill Parcells and be done with it.