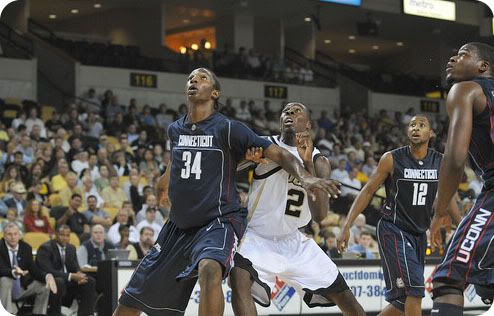 Jim Calhoun wanted to get in one road game to test his young Huskies before they get ready for Big East play next week. Well, he got his test tonight as his UConn Huskies survived the late run by the Central Florida Knights to win 85-82 in front of 6,224 fans at UCF Arena in Orlando. It was the largest crowd ever to watch a UCF basketball game.
Jerome Dyson led five Huskies in double figures with 23 points. Jeff Adrien just missed a double-double as he had 16 points and 9 rebounds. A.J. Price added 13 points and 5 assists while Doug Wiggins and Hasheem Thabeet rounded out the Huskies in double figures with 10 points each.
UCF (5-6) was led by Jermaine Taylor who had a game-high 30 points. Mike O'Donnell added 20 points on 6-of-13 shooting from 3-point land. Dave Noel added 19 points for the Knights before fouling out late in the game.
It was a see-saw affair in the first half as neither team really could pull ahead by that much. UConn managed to pull ahead by seven points at 34-27 but only went into the locker room with a 2-point lead at 43-41.
UConn managed to get the lead to 11-points in the second half before UCF started to close in on the lead on the strength of their 3-point shooting. The Huskies were able to hold on at the end as they made most of their free throws and withstood the late charge.
The Huskies (9-2) were flat throughout the game at times and that might have been expected given the fact they hadn't played in six days. Offensively they played pretty well and were able to push their style of play instead of UCF's slow tempo game. Defensively, they weren't at their best and were almost done in by UCF's twelve 3-point shots made.
UConn is now off until next Thursday, January 3rd, 2008 when they head to Seton Hall at the Prudential Center in Newark in the Big East opener for both squads. The game will be shown on MyTV9 locally here in Connecticut.
Notes and Observations:
For about 5 minutes from the 6 minute to 1 minute mark in the second half, the CSTV feed went out and we were subjected to commercials until they fixed it.
The starters were A.J. Price, Jerome Dyson, Stanley Robinson, Jeff Adrien and Hasheem Thabeet.
Craig Austrie returned to the court tonight after missing the past two games with pneumonia-like symptoms. he finished with 7 points.
UConn was actually outrebounded in the game tonight 36-34.
UConn was red-hot from 3-point land shooting 57.1% (8-14). UCF, as noted above, made 12 of 30 (40%) from 3-point land.
UConn shot 27-of-38 (71.1%) from the free throw line. Price did miss two critical free throws down the stretch which probably would have iced the game.
UConn shot 49% (25-51) from the floor while holding the Knights to 41.5% (27-65).
Price and Doug Wiggins led the Huskies with 5 assists each.
Wiggins was okay after crashing into a sign on the sideline.
Calhoun's bench was a little shorter tonight as he only played 9 guys. 7 of them saw double-digit minutes.