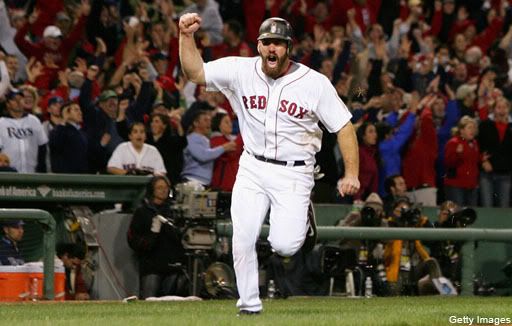 The Boston Red Sox just completed the comeback of all comebacks as they rallied from 7 runs down to beat the Tampa Bay Rays 8-7 when J.D. Drew knocked in Kevin Youkilis from second base to send what was left of the 38,437 fans into a frenzy at Fenway Park.
The win for the Red Sox keeps them alive as they now trail the Rays 3-2 in the best-of-7 ALCS.
A lot was said about Rays skipper Joe Maddon moving around his starters and having Scott Kazmir on the mound tonight. Well he kept the Red Sox hitters at bay for 6 innings and once he came out, the comeback started.
Grant Balfour came in to start the 7th with the Rays up 7-0. Jed Lowrie started things off with a double. Balfour then got Jason Varitek and Mark Kotsay to fly out before a Coco Crisp single moved Lowrie over to third. Dustin Pedroia then got into a battle with Balfour and he ended up winning that battle as his single knocked in Lowrie with the first run of the night for the Red Sox. One hanging fastball later, it was 7-4 as David Ortiz absolutely crushed it into the right field seats. Dan Wheeler came in for Balfour and got Youk to fly out.
Jonathan Papelbon was back on in the 8th inning for his second inning of work and set the Rays down in order.
Wheeler was back out on the mound in the bottom half and started the inning with a walk to Jason Bay. Drew followed by crushing a Wheeler fastball into the right field seats and just like that it was 7-6 Rays. Wheeler settled in as he got Lowrie to fly out and struck out pinch-hitter Sean Casey. Kotsay followed the outs with a double over the head of B.J. Upton in center. Wheeler then got into a battle with Coco and the battle ended up being won by Coco as his single scored Kotsay to tie the game up at 7. Coco ended up being thrown out at second as Carlos Peña cut the throw off and nailed Coco advancing but the damage was done.
Justin Masterson came out for the 9th inning and gave up a leadoff single to Jason Bartlett. He got Akinori Iwamura to fly out but then walked Upton. Masterson got out of the jam as he got Peña to ground into a 4-6-3 inning-ending twin killing.
J.P. Howell came on to start the 9th and got the first two outs off the bats of Pedroia and Big Papi. He then got a ground ball from Youk but a poor throw from Evan Longoria got past Peña and ended up in the stands, putting Youk in scoring position at second base. The Rays then intentionally walked Bay to face Drew. Howell fell behind 3-0 before throwing a strike to make it 3-1. Drew then drove the next pitch over the head of Gabe Gross in right that scored Youk from second and kicked off a wild celebration at the Fens.
Daisuke Matsuzka started this game for the Red Sox and wasn't that spectacular at all. He gave up 5 runs on 5 hits and 2 walks while striking out 2. Three of those 5 hits were home runs. Hideki Okajima followed with 2 innings of 1-hit ball while fanning 2. Manny Delcarmen has another rough outing as he gave up 2 runs on 2 walks without recording an out. Papelbon worked 2 innings, allowing the inherited runners to score but he didn't give up a run of his own. Masterson worked the final inning to pick up the win.
Drew paced the Red Sox with 2 hits and 3 RBI while Coco had 2 hits and an RBI. Both Kotsay and Youk added 2 hits while Big Papi along with Pedroia had a hit each with Big Papi knocking in 3 and Pedie 1.
Things really didn't look good for the Red Sox early on as they fell behind 2-0 before even recording an out.
Dice-K started the game by giving up a single to Iwamura. The red-hot Upton followed with a shot into the Green Monster to put the Rays up 2-0.
Upton started things in the 3rd inning with a 1-out single and then came around to score when Peña crushed a 2-run home run into the right field seats. Longoria followed with a solo home run of his own and all of the sudden it was 5-0.
The score stayed that way until the 7th inning when the Rays would add two runs.
Delcarmen took over for Okajima and walked the first two batters he faced in Bartlett and Iwamura. Papelbon came in and both runners moved up 90 feet on a double steal. Upton followed with wall ball double scoring both runners giving the Rays what was thought to be a commanding 7-0 lead.
The Red Sox and Rays now head back to Tampa with all the pressure on the Rays to get it done at home. Josh Beckett looks to keep the Red Sox alive for another day and he will be opposed by James Shields.
I don't know about you but I can't wait for Saturday night to get here.
Notes and musings:
Rays @ Red Sox ALCS Game 5 boxscore
Curt Schilling threw out tonight's ceremonial first pitch.
The Red Sox are the only the team in history to come back from a 3-1 deficit and win a best of 7 ALCS more than once, accomplishing that feat 3 times, including each of their last 2 trips to the ALCS: 1986 against the Angels; 2004 versus the Yankees; and 2007 against the Indians. Only one other team in ALCS has done that, the 1985 Royals over Toronto.
Coming into tonight's game, Boston is 24-11 all-time in games in which it could have been eliminated from a post-season series. The Red Sox have won last 7 such ALCS games, 4 in 2004 and 3 in 2007, an ML LCS record.
In post-season history, 5 teams have lost the 4th game of a series at home to trail, 3-1 before going on to win that playoff series, 3 in the World Series: the Yankees over the Braves in 1958; the Tigers over the Cardinals in 1968; and the Pirates over the Orioles in 1979; and twice in the LCS: the Royals over the Blue Jays in 1985 and the Marlins over the Cubs in 2003.
Jason Bay and Dustin Pedroia are the only Red Sox to hit safely in all 4 games of this series.
Justin Masterson has appeared in 7 of 8 games in this post-season.
Sox have gone 296 chances in post-season since lone error by Jed Lowrie in 3rd inning/ALDS Game 1.