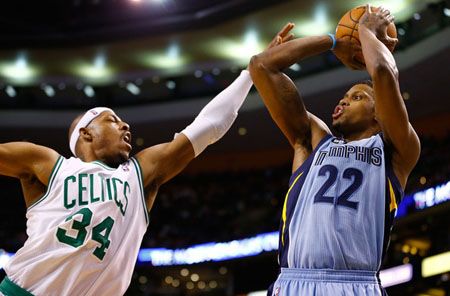 Former UConn Huskies small forward Rudy Gay has a new home in the NBA as his former team, the Memphis Grizzlies, has traded him to the Toronto Raptors in a three-team deal that also included the Detroit Pistons.
Here's how that trade breaks down:
Raptors get – Rudy Gay (Grizzlies), Hammed Haddadi (Grizzlies)
Grizzlies get – Ed Davis (Raptors), Tayshaun Prince (Pistons), Austin Daye (Pistons), 2013 2nd Rd pick (Raptors).
Pistons get – Jose Calderon (Grizzlies via Raptors)
Gay was originally drafted by the Houston Rockets in the 2006 NBA Draft as the 8th overall pick before his rights were dealt to the Grizzlies where he had spent his entire NBA career. The six-year pro was averaging 17.2 points and 5.9 rebounds before the trade.
Follow Ian on Twitter @soxanddawgs. And be sure to like us on Facebook as well.
photo credit: getty images