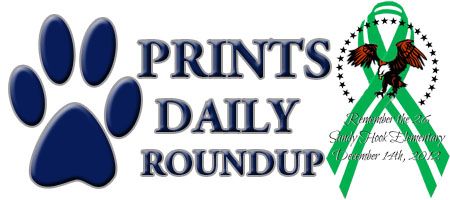 Paw Prints is our daily look at the happenings for the UConn Huskies football, men's basketball and women's basketball teams as well as the other sports the student-athletes engage in. We will do our best to bring you the links from all of the media that covers the Huskies on a daily basis. As always, links can be found by clicking on the read more button below if you're on the home page.
Thank you for stopping by and making SOX & Dawgs your home for UConn Huskies news.
It's game day for the UConn Huskies men's basketball team as they'll take the short bus ride to Rhode Island to take on the Providence Friars. Tip is scheduled for 7 p.m. and the game will be broadcast nationally on ESPN2. You can also watch the game online at WatchESPN. You can also listen on the IMG/UConn Radio Network.
To open the links up in a new tab or window, use Control+click
UConn Men's Basketball links
Providence Up Next. Notes, Quotes from UConn Men Practice [dom amore – hartford courant]
Kevin Ollie Respects Providence, Not Crazy About The Dunk; Omar Calhoun Compliments Jordan Fuchs [david borges – new haven register]
Notes/Quotes from Jan. 30: "Coach Cooley is going to get that thing turned around" [kevin duffy – ct post]
Ollie talks about the Friars, Dunn, etc. [gavin keefe – the day]
Coach, why didn't you recruit Ryan Gomes? [lee lewis – republican-american]
Wolf finding a role [john silver – snyuconn.com]
Men's Basketball Visits Providence On Thursday [uconnhuskies.com]
For UConn, Providence a 'tough, tough' matchup [ctpost.com]
UConn Enters Tough Venue For Game Vs. Providence [hartford courant]
Huskies look to avoid a Dunkin' in Providence [new haven register]
Ollie, Huskies expect nothing but the best from PC tonight [the day]
UConn Women's Basketball links
Mosqueda-Lewis takes her game to another level [carl adamec – snyuconn.com]
No Coach Has Had More Success Against Geno Than Perretta [rich elliott – ct post]
Stewart Again Getting Into A Rhythm For Huskies [rich elliott – ct post]
Mosqueda-Lewis Continues To Thrive From Beyond The Arc [rich elliot – ct post]
Learning curve continues for Stewart [jim fuller – new haven register]
Another double-double for Tina Charles [jim fuller – new haven register]
Less Than 1,000 Tickets Remain for Women's Hoops' Game vs. No. 1 Baylor [uconnhuskies.com]
Kaleena Mosqueda-Lewis Puts Her Stamp On UConn Season One Three-Pointer At A Time [hartford courant]
Three Points from Tuesday's win over Villanova [new haven register]
UConn Football links
DC answered a couple of questions in his mailbag [desmond conner – hartford courant]
Big East recruiting scorecard [matt fortuna – espn.com]
Tim Boyle will choose between UConn, Pitt and BC [jim fuller – new haven register]
Xavier QB Tim Boyle Takes A Look At UConn [hartford courant]
CK's Fuchs commits to play football with UConn Huskies [timesledger]
Other UConn related links
W. Ice Hockey. Support Hockey's Skating Strides Campaign [uconnhuskies.com]
W. Track. No. 25 Huskies Head to Armory Collegiate Invite [uconnhuskies.com]
Follow Ian on Twitter @soxanddawgs. And be sure to like us on Facebook as well.