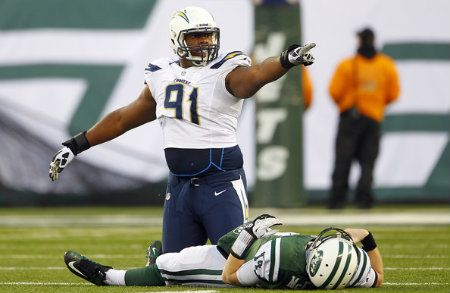 With the end of the 2012 NFL regular season over, the awards from the various media entities will come out. And while we don't post them all, we do look for ones that pertain to the subjects of the site.
With this being said, Mel Kiper, Jr. of ESPN.com posted his top rookies of the 2012 season and there is one former member of the UConn Huskies football team that was honored. And that was San Diego Chargers DE and former Husky Kendall Reyes.
Here's what Kiper had to say about Reyes (ESPN Insider link):
Kendall Reyes, Chargers: A 3-4 defensive end, Reyes was maybe the most athletic defensive tackle in the 2012 draft. Once he got the reps in San Diego he produced, and he should be a stud going forward. He finished with 5.5 sacks and simply destroyed the Jets in Week 16.
Reyes played in all 16 games with the Chargers and finished with 28 tackles. He was a second round pick of the Chargers out of UConn in the 2012 NFL Draft.
Follow Ian on Twitter @soxanddawgs. And be sure to like us on Facebook as well.