By Wil Goldsholl
Hartford, CT, January 4, 2013 – After losing four of their last five games, the Connecticut Whale beat the Adirondack Phantoms 3-0 in Hartford on Friday, in the first of six meetings scheduled between the teams. A home-and-home series will conclude between the teams in Glen Falls Saturday night. Throughout Friday's game Connecticut protected keystone goalkeeper Cam Talbot from second and third opportunities on the way to his first shutout of the 2012-2013 season. Talbot, as well protected as he was, still finished with 25 saves.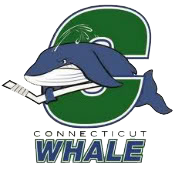 The top line of Chris Kreider, Brandon Segal and Kris Newbury were cycling well early and it paid off. Adirondack goaltender Cal Heeter was stickless in net as Kreider picked up the puck in the corner. The Boston College product fed it on the backhand to Newbury in the circle, and Segal was able to collect and tuck the rebound home. Segal's eighth of the year came at 4:12 in the first.
Adirondack picked up a number of quick shooting chances while putting heavy traffic in front of Talbot's crease.
The game's first penalty came to Tommy Grant at 14:04 for hooking as the Phantoms were gaining the blueline. Newbury was called for closing his hand on the puck a minute and forty eight seconds later. After an abbreviated 5-on-3, Heeter came up with a big save in a shorthanded situation, as Marek Hrivik stole the puck at the Connecticut blueline and broke in alone. The Whale took the 1-0 advantage into the intermission.
Talbot opened the second period with a quality glove save 47 seconds in. Talbot said after the game he felt the save, "was the one that really preserved the shutout", referring to it as a turning point. Adirondack continued to pressure as a Tye McGinn one-timer went by the boards. However, when Tyler Brown was called for slashing at 3:10, Connecticut's first power play ensued. A quality chance came when Hrivik shoveled the puck at the net. After Heeter took a delay of game penalty, a broken chance from Sean Couturier was denied and answered by Connecticut. Kolarik broke in on the right wing and fed Hrivik. A handy high to low pass in the circle gave Kolarik a move on the crease; Kolarik, falling down, "just whacked at it" and the Whale's best rebound scorer found his 13th of the season on the man advantage 6:28 into the second.
Talbot got busier near the midway mark of the second; his defense came through in the clutch a few times when the puck came loose in traffic. Logan Pyett hammered a shot off the far post in reply to the Phantom effort moments before Blake Parlett drew a tripping penalty on Sean Couturier in the corner with 1:50 to go. Couturier was held to just one shot on goal in the game.
With Hrivik and Kolarik on the ice, chances continued to roll. Heeter was forced to come up with a tremendous glove save on a shortside one-timer by Hrivik with 100 seconds left in the period. The 2-0 advantage would stand for Connecticut through 40 minutes.
Newbury opened the third period with a tripping minor just six seconds in. The Whale still managed to generate a chance when Kolarik crushed a close range one-timer in the slot, forcing Heeter to come up with a spectacular save and somehow give up no rebound.
The chippiness foreshadowed an early Adirondack chip and charge play came to fruition when Zack FitzGerald ran over Ryan Bourque on the half boards of the Whale attacking end. Dylan McIlrath, fresh off a two-game suspension for elbowing in his season debut, jumped in to support without hesitation. Between FitzGerald and McIlrath, 37 PIMs were distributed at 6:08. FitzGerald received majors for charging and fighting; the charging major came with an automatic game misconduct. McIlrath earned two for instigating, five for fighting, and ten for misconduct. The incident resulted in two minutes of 4-on-4 and then three minutes of non-releasable penalty kill time for Adirondack.
Connecticut did not convert on the extended power play, but after Parlett nearly knocked one in with his glove, he pulled the trigger from the point and Grant was there to bury the rebound, earning a 3-0 lead with 6:44 to play. A slashing minor to Zac Rinaldo at 16:20 would seal the deal for Connecticut to take the win.
Talbot finished with 25 saves, while Heeter stopped 30 of the 33 he faced.
The Whale will be in Glen Falls to rematch with the Phantoms Saturday night before returning home for a Sunday 3:00 PM matinee against the Pittsburgh affiliate Wilkes-Barre/Scranton Penguins.
To continue reading, please click on the continue reading button below if you're on the home page.
Adirondack Phantoms 0 at Connecticut Whale 3 –
Friday, January 4, 2013 – XL Center Veterans Memorial Coliseum
Adirondack 0 0 0 – 0
Connecticut 1 1 1 – 3
1st Period-1, Connecticut, Segal 8 (Newbury, Kreider), 4:12. Penalties-Grant Ct (hooking), 14:04; Newbury Ct (closing hand on puck), 15:52.
2nd Period-2, Connecticut, Kolarik 13 (Hrivik), 6:28 (PP). Penalties-Brown Adk (slashing), 3:10; Heeter Adk (delay of game), 4:09; FitzGerald Adk (unsportsmanlike conduct), 9:31; Couturier Adk (tripping), 15:50.
3rd Period-3, Connecticut, Grant 9 (Parlett), 13:16. Penalties-Newbury Ct (tripping), 0:06; FitzGerald Adk (major – charging, fighting, game misconduct – charging), 6:08; McIlrath Ct (instigating, fighting, misconduct – instigating), 6:08; Rinaldo Adk (slashing), 16:20.
Shots on Goal-Adirondack 11-9-5-25. Connecticut 6-12-15-33.
Power Play Opportunities-Adirondack 0 / 3; Connecticut 1 / 6.
Goalies-Adirondack, Heeter 4-10-1 (33 shots-30 saves). Connecticut, Talbot 12-14-0 (25 shots-25 saves).
A-5,373
Referees-Trevor Hanson (47).
Linesmen-Brent Colby (7), Kevin Redding (16).
Follow Ian on Twitter @soxanddawgs. And be sure to like us on Facebook as well.