Welcome to the gigantic SOX & Dawgs 2010 MLB preview.  Over the next week you will get a team by team look at its key players, new faces, their potential MVP, Cy Young and Rookie of the Year candidates, their possible starting lineup and rotation as well as a quick summary.
This preview was sculpted over a nearly seven week period in January and February with some mild tweaking as we went along prior to publication.  It comes from a culmination of reading so many baseball magazines, periodicals, articles and websites that in some cases I may know a team better that its own management.
Yesterday we looked at the NL Central, Sunday was the NL West, Monday was the AL West and today it's the AL Central.
American League Central
1. Chicago – Manager: Ozzie Guillen(7th year)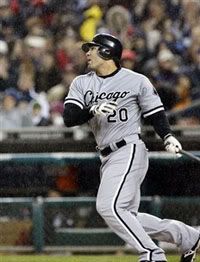 The Chicago White Sox are my pick in the American League Central in 2010.  The lineup is pretty good but will look better if they had a true DH option other than Tyler Flowers, Mark Kotsay  and/or Andruw Jones.  The starting rotation is one of the best in baseball and the back end of the bullpen got better by signing reliever J.J. Putz to the bridge to closer Bobby Jenks or even take over for Jenks should he eat his way out of the spot.  it could be an exciting summer on the South Side.  Look for Carlos Quentin to return to 2008 form and once again be an MVP candidate.
Key Players: Paul Konerko 1B; Gordon Beckham 2B; Alex Rios RF; Carlos Quentin LF; Jake Peavy SP .
MVP Candidate: Carlos Quentin LF and Paul Konerko 1B.
Cy Young Candidate: Mark Buehrle SP.
ROY Candidate: None.
Key Additions: Ramon Castro C (FA-NYM); Juan Pierre CF (Trade-LAD); J.J. Putz RP (FA-NYM); Mark Teahan 3B (FA-KC); Andruw Jones DH/OF (FA-Tex); Omar Vizquel 2B-SS (FA-Tex)
Possible lineup: Pierre CF; Ramirez SS; Konerko 1B; Quentin LF; Rios RF; Pierzynski C; Beckham 2B; Flowers DH; Teahan 3B;
Possible rotation: Buehrle; Peavy; Danks; Floyd; Garcia

2. Minnesota – Manager: Ron Gardenhire (9th year)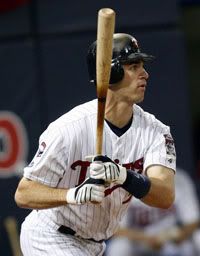 The Minnesota Twins will debut a new ball park and open air stadium, Target Field, this season.  While it might be cold in April and September the Twins said if they played in the open air in 2009 they would have had no weather related cancellations.  The team will once again compete for the division but will reigning AL MVP  Joe Mauer, former AL MVP Justin Morneau and veteran DH Jim Thome be enough to help overcome the questions in the starting rotation.  The team did a nice job of adding Thome and 2B Orlando Hudson via free agency and SS J.J. Hardy in a deal with the Brewers.  Deanrd Spann will get a chance to play everyday now that Carlos Gomez has been dealt and he should provide the team with a quality leadoff man.
Key Players: Joe Mauer C; Justin Morneau 1B; Jason Kubel RF; Orlando Hudson 2B; Pat Neshek RP; Francisco Liriano SP.
MVP Candidate: Joe Mauer C and Justin Morneau 1B.
Cy Young Candidate: None.
ROY Candidate: None.
Key Additions: J.J. Hardy SS (Trade-Mil); Jim Thome DH (FA-LAD); Orlando Hudson 2B (FA-LAD)
Possible lineup: Spann CF; Hudson 2B; Mauer C; Morneau 1B; Thome DH; Kubel RF; Hardy SS; Cuddyer LF; Punto 3B
Possible rotation: Baker; Slowey;Pavano; Blackburn; Liriano
3. Detroit – Manager: Jim Leyland (5th year/19th overall)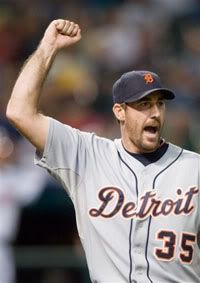 The Tigers intrigue me the most in this division they could finish literally anywhere but I'll tag them for third. While the rotation is full of the power arms that GM Dave Dombrowski covets they had a huge question mark at the top of the order with a pair of rookies, CF Austin Jackson and 2B Scott Sizemore, penciled in to set the table until late February when they inked veteran OF Johnny Damon as a free agent. You can expect Damon, who gives the Tigers a true veteran top of the order guy, to bat leadoff with Sizemore behind him setting the table for the offense. Jackson should still play center but will now hit towards the bottom of the lineup for Jim Leyland. The Damon signing is big for Detroit but I still don't think it gets them past Chicago and Minnesota in the division.
Key Players: Johnny Damon LF; Brandon Inge 3B; Magglio Ordonez RF; Miguel Cabrera 1B; Rick Porcello SP .
MVP Candidate: Miguel Cabrera 1B.
Cy Young Candidate: Justin Verlander SP.
ROY Candidate: Austin Jackson OF and Scott Sizemore 2B.
Key Additions: Johnny Damon LF (FA-NYY); Jose Valverde RP (FA-Ari); Austin Jackson CF (Trade-NYY); Phil Coke RP (Trade-NYY); Max Scherzer P (Trade-Ari); Daniel Schlareth RP (Trade-Ari); Scott Sizemore 2B (Rookie)
Possible lineup: Damon LF; Sizemore 2B; Ordonez RF; Cabrera 1B; Inge 3B; Guillen DH; Laird C; Jackson CF; Everett SS
Possible rotation: Verlander; Porcello; Bonderman; Robertson; Willis

4. Cleveland – Manager: Manny Acta (1st year/4th overall)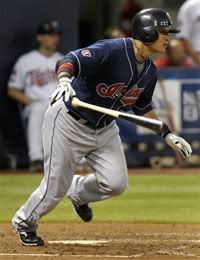 When you look at Cleveland's lineup you want to quote the movie "Major League" and ask "who are these guys?" Once again, Chief Wahoo is rebuilding, it's the third time in the last 15 years. They did it in the 1990's with Manny Ramirez, Jim Thome, Carlos Baerga and Kenny Lofton winning a pair of AL pennants. They did it again in the 2000's with CC Sabathia, Cliff Lee, Grady Sizemore and Victor Martinez to become a serious contender. This time they'll try to do it with rookie LF Michael Brantley, SS Asdrubal Cabrera, 2B Luis Valbuena and P Fausto Carmona. Patience is the key word on the shores of Lake Erie this season for not only 1st year skipper Manny Acta but Tribe fans as well.
Key Players: Grady Sizemore CF; Matt LaPorta 1B/OF; Michael Brantley LF; Travis Hafner DH; Fausto Carmona SP.
MVP Candidate: None.
Cy Young Candidate: None.
ROY Candidate: Carlos Santana C and Michael Brantley LF.
Key Additions: Mitch Talbot RP (Trade-TB); Mike Redmond C (FA-Min); Austin Kearns OF/DH (FA-Was); Michael Brantley LF (Rookie); Carlos Santana C (Rookie); Russell Branyan 1B/DH (FA-Sea); Manny Acta MGR
Possible lineup: Sizemore CF; Cabrera SS; Peralta 3B; Choo RF; LaPorta 1B; Hafner/Kearns/Branyan DH; Brantley LF; Valbuena 2B; Santana C
Possible rotation: Westbrook; Carmona; Masterson; Huff; Sowers

5. Kansas City – Manager: Trey Hillman (3rd year)
The Royals will once again be the bottom feeders in the AL Central.  This team needs to do something to bring this once proud franchise back to prominence.  Unfortunately George Brett, Hal McRae and Bret Saberhagen are too old to play any longer.  This year could go a long way in determining if Trey Hillman will continue as the manager.  In order to do so the team has to play hard and be inspired which might be hard when you're 25 games out in August.
Key Players: Yuni Betancourt SS; Alex Gordon 3B; Jose Guillen DH; Rick Ankiel CF; Zach Greinke SP.
MVP Candidate: None .
Cy Young Candidate: Zack Greinke.
ROY Candidate: None
Key Additions: Rick Ankiel CF (FA-StL); Scott Podsednik LF (FA-CWS); Jason Kendall C (FA-Mil)
Possible lineup: Podsednik LF; Callaspo 2B; Ankiel CF; Butler 1B; Guillen DH;Gordon 3B; DeJesus RF; Betancourt SS; Kendall C
Possible rotation: Greinke; Meche; Hochevar; Davies; Bannister
——————————————————————–
Tomorrow: The NL East