Welcome to the Gigantic Sox and Dawgs 2011 MLB preview. Over the next week you will get a team by team look at its key players, new faces, their potential MVP, Cy Young and Rookie of the Year candidates, their possible starting lineup and rotation as well as a quick summary.
One of the changes from last year was a reader suggestion of naming a MVP candidate and Cy Young candidate for each team no matter what their predicted team outcome was. The point being that sometimes guys on bad teams with the award. And to back that up the last two AL Cy Young winners were Zack Greinke of the Kansas City Royals and Felix Hernandez of the Seattle Mariners, both on teams who finished well into the basement in their division.
This preview was sculpted over a nearly seven week period in the off season with some mild tweaking as we went along prior to publication. It comes from a culmination of reading so many baseball magazines, periodicals, articles and websites that in some cases I may know a team better that its own management.
I hope you enjoy this look at the upcoming season. I know everyone will not agree with me and that's fine put it in the comments. But I can assure you I'll most likely have an argument for each and every objection you could possibly raise. It was a lot of work but a lot of fun compiling this preview and starting today we will take a look at the National League West. The rest of the schedule follows with a different division being profiled each day and the final day will bring you my winners, my award selections and a list of managers who have a lot to prove in 2011 if they want to be on the bench in 2012. Tomorrow you will get the American League West preview followed by the NL Central, AL Central, NL East and AL East.
To continue reading, click on the read more button below if you're on the home page.
National League West

1. San Francisco Giants – Manager: Bruce Bochy (5th year/17th overall)
Okay so you have 2 time Cy Young Award winner Tim Lincecum, Matt Cain, Jonathan Sanchez and Madison Bumgarner making up one of the best and youngest 1-4's in all of baseball, a good pen, good manager, timely hitting and a solid closer in Brian Wilson. This combination gave the Giants their first World Series title last season in 56 years, now the team has a giant bulls eye on its back as it tries to repeat. They also got a huge contribution from NL ROY C Buster Posey and a slew of mid season replacements like OF Cody Ross and OF Pat Burrell. Only major deal they did this off season was to sign FA SS Miguel Tejada while letting Juan Uribe and Edgar Renteria go. But the question remains can the Giants take nearly the same team and repeat in 2011?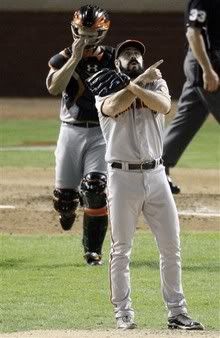 Key Players: C Buster Posey; SP Madison Bumgarner; 1B Aubrey Huff; ; RP Brian Wilson; SS Miguel Tejada
MVP Candidate: C Buster Posey
Cy Young Candidate: SP Tim Lincecum
ROY Candidate: None
Key Additions: SS Miguel Tejada (FA-Balt)
Possible lineup: Torres CF; Sanchez 2B; Huff 1B; Posey C; Burrell LF; Ross RF; Tejada SS; Sandoval 3B
Possible rotation: Lincecum; Cain; Bumgarner; Sanchez; Zito

2. Colorado Rockies – Manager: Jim Tracy (3rd year/10th overall)
The Colorado Rockies are looking to get back to the playoffs in 2011. Over the winter they locked down young stars, SS Troy Tulowitzki and OF Carlos Gonzalez, to long term, big money deals. Last season they finished third; this year they want to make the post season push. In an effort to add some more power off the bench they signed FA INF/OF Ty Wigginton, they also got 3B Jose Lopez in a trade. The pitching should be pretty solid again as Jorge de la Rosa returns and Matt Lindstrom comes to the mountains via trade. And a late signing of free agent starter John Maine will add some depth to the back end of the rotation as well.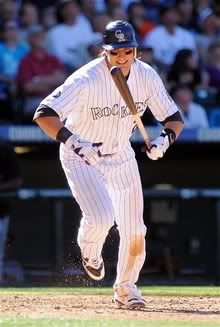 Key Players: SS Troy Tulowitzki; RF Carlos Gonzalez; INF/OF Ty Wigginton; 3B Ian Stewart; SP Ubaldo Jimenez
MVP Candidate: SS Troy Tulowitzki and RF Carlos Gonzalez
Cy Young Candidate: SP Ubaldo Jimenez
ROY Candidate: None
Key Additions: INF/OF Ty Wigginton (FA-Balt); 3B Jose Lopez (Trade-Sea); RP Matt Lindstrom (Trade-Hou); C Jose Morales (Trade-Minn); SP John Maine (FA-NYM)
Possible lineup: Fowler CF; Lopez 2B; Gonzalez LF; Tulowitzki SS; Stewart 3B; Helton1B; Spilborghs RF; Iannetta C
Possible rotation: Jimenez; De La Rosa; Chacin; Hammel; Maine

3. San Diego Padres – Manager: Bud Black (5th year)
Did I ever get the San Diego Padres wrong last season. The team I picked for last and possibly worst in baseball finished in second place and took the Giants to the seasons final game before they were eliminated. But one thing I did get kind of right was that Adrian Gonzalez would end up in Boston. I just thought it'd be a trade deadline deal and not go until the off season. I expect the Pads to be in it most of the year again even without Gonzalez but face it the NL West isn't all that good. This year with the loss of Gonzalez the everyday line up isn't as good and I have some doubts about the back end of the rotation.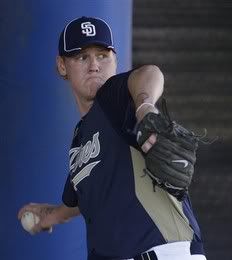 Key Players: SP Mat Latos; SS Jason Bartlett; RP Heath Bell; 3B Chase Headley; OF Ryan Ludwick
MVP Candidate: SS Jason Bartlett
Cy Young Candidate: SP Mat Latos
ROY Candidate: None
Key Additions: SS Jason Bartlett (Trade-TB); 1B Brad Hawpe (FA-TB); 2B Orlando Hudson (FA-Minn); SP Dustin Moseley (FA-NYY); OF Cameron Maybin (Trade-Fla); SP Aaron Harang (FA-Cin); OF Eric Patterson (Trade-Bos); RP Chad Qualls (FA-TB); C Gregg Zaun (FA-Mil)
Possible lineup: Maybin CF; Hudson 2B; Bartlett SS; Headley 3B; Hawpe 1B; Ludwick RF; Patterson LF; Hundley C
Possible rotation: Latos; Harrang; Richard; Stauffer; Moseley

4. Los Angeles Dodgers– Manager: Don Mattingly (1st year)
The Dodgers who stood pat last off season paid dearly when they didn't meet the expectations of the owners, front office, manager, fans and media. It was a pretty awful year for them and before the season ended Joe Torre announced he wasn't coming back. This lead to the hiring of long time Torre associate Don Mattingly as the new skipper. Mattingly has never managed at any level and he may be in over his head in LaLa Land. With the divorce battle between the McCourt's and what appears to be a long term battle over who controls the team, things aren't all that good for the Dodgers. This year they dipped into the market with the biggest signing being Juan Uribe but will those deals be enough to help?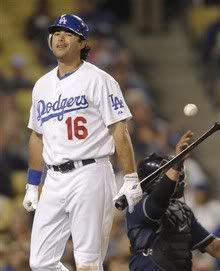 Key Players: CF Andre Ethier; RF Matt Kemp; SP Clayton Kershaw; 2B Juan Uribe; SP Chad Billingsley; SP Vicente Padilla
MVP Candidate: Andre Ethier CF
Cy Young Candidate: Clayton Kershaw SP
ROY Candidate: None
Key Additions: C Dioner Navarro (FA-TB); RP Matt Guerrier (FA-Minn); 2B Juan Uribe (FA-SF); LF Tony Gwynn (FA-SD); C Rod Barajas (FA-LAD); SP Jon Garland (FA-SD); Jay Gibbons (FA-LAD); RP Ron Mahay (FA-Min); OF Gabe Kapler (FA-TB); OF Marcus Thames (FA-NYY)
Possible lineup: Furcal SS; Gwynn LF; Ethier CF; Kemp RF; Loney 1B; Blake 3B; Uribe 2B; Barajas C
Possible rotation: Kershaw; Billingsley; Lilly; Kuroda; Padilla/Garland

5. Arizona Diamondbacks – Manager: Kirk Gibson (2nd year)
The Arizona Diamondbacks are my pick for last place in the division. They were just awful last season, devastated by injuries and poor play they ended up getting the manager A.J. Hinch canned before he finished his second season at the helm. Kirk Gibson campaigned for the job and got it after taking over late last year. He's going to need some patience though from the front office with this crew. He may have a couple bonafide young studs in the everyday line up but that starting rotation would even frighten Stephen King even after they got the up and down Armando Galarraga in a trade with the Tigers.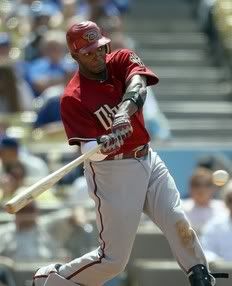 Key Players: RF Justin Upton; SP Ian Kennedy; SP Joe Saunders; SS Stephen Drew; CF Chris Young
MVP Candidate: RF Justin Upton
Cy Young Candidate: SP Ian Kennedy
ROY Candidate: None
Key Additions: LF Xavier Nady (FA-Chi); RP J.J. Putz (FA-NYM); 3B Melvin Mora (FA-Col); C Henry Blanco (FA-NYM); SP Zach Duke (Trade-Pitt); 1B Geoff Blum (FA-Hou); SP Armando Galarraga (Trade-Det)
Possible lineup: Drew SS; Upton RF; Johnson 2B; Young CF; Montero C; Mora 3B; Allen 1B; Nady LF
Possible rotation: Kennedy; Saunders; Galarraga; Hudson; Duke
Tomorrow: The American League West
Follow Steve on Twitter @djstevem and follow SOX & Dawgs on Twitter @soxanddawgs and become a fan of SOX & Dawgs on Facebook.
Photo credits: AP Photo, AP Photo, AP Photo, AP Photo, Getty Images