By Bruce Berlet
EAST HARTFORD, Conn. – The players' mood was anticipatory and festive, the crowd that shattered the record for an American Hockey League game included some of the greats of hockey and the elements brought everyone back to their roots of skating on frozen ponds from Alaska to the Czech Republic.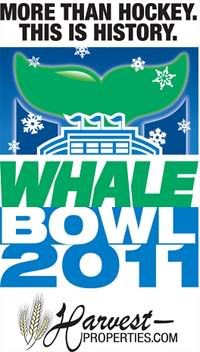 But there also were two very important points at stake Saturday night for the Connecticut Whale and Providence Bruins, both fighting desperately to make the Eastern Conference playoffs and coming off stirring shootout victories Friday night, the Bruins' win over the Portland Pirates ending a season-high, seven-game losing streak.
On a night of "Ice Dreams" on which winds gusted to 30 mph and dropped the wind chill below zero, the proceedings went the limit, with Maxime Sauve continuing to be a nemesis for the Whale as he scored the only shootout goal to give the Bruins a 5-4 victory before 21,673 at Rentschler Field.
About 28,500 tickets reportedly were sold, but many purchasers didn't brave the frigid elements. Still, those who showed beat the previous record AHL crowd of 21,508 at the first outdoor game in which the host Syracuse Crunch beat the Binghamton Senators 2-1 at the New York State Fairgrounds a year ago to the day, Feb. 20, 2010.
"The weather is out of my control, but it was cold out there," Whalers Sports and Entertainment chairman and CEO Howard Baldwin said. "But the fact this many people came out in these elements is amazing to me. Now we have to keep going. We're in the hockey business 12 months a year, so we finish out the season, we get some crowds for the team and the playoffs and sell season tickets (for 2011-12)."
Bruins All-Star center Jamie Arniel's second goal of the game with 6:08 left in regulation sent the game to overtime. The Whale had the only shot of the five-minute extra session before the Bruins won another skills competition.
Sauve then did in the Whale again, as he did with two goals in each of the Bruins' two wins at the XL Center.
"It was just like indoor," Sauve said of his shootout winner. "You have to play the same. Do the same thing you would do in an indoor rink. Control the puck."
Whale goalie Dov Grumet-Morris stopped all four shootout attempts in a 2-1 victory over Adirondack on Friday night but gave Sauve credit for the winner.
To continue reading, click on the read more button below if you're on the home page.
"He took a shot fake and with a quick move went to my glove side," said Grumet-Morris, who had 28 saves in regulation and overtime. "I thought that was the side he was committing to, and he ended up pulling it quickly to the other side. It was a very good move, and he beat me wide. It was unfortunate. Trust me, I wish I could have had it, but I have to tip my cap to him. He made a very good move."
Meanwhile, Michael Hutchinson denied Tim Kennedy, Dale Weise, Kris Newbury, Kelsey Tessier and Whale All-Star Jeremy Williams, enabling the Bruins (25-28-3-1) to win their second in a row after a seven-game losing streak. Arniel and Zach Hamill scored in the shootout in a 4-3 victory over Portland on Friday night.
"It definitely was different than normal circumstances with all the environmental factors," said Grumet-Morris, who had 28 saves in regulation and overtime. "The puck was bouncing, so it was a little more like a ground ball situation. The lighting wasn't too bad, but there weren't too many high plays from like 100 feet."
The Whale (27-22-2-6) might have won their fourth in a row since a 9-2 loss at Toronto on Feb. 9 except for a mistake-filled 10 minutes to start the second period that helped the Bruins rally from a 2-0 deficit.
"We had momentum after the first period," Whale coach Ken Gernander said. "I thought it was one of our better periods. We made some mistakes and took some penalties in the second period and gave them a bit of life. Then you know it's game on.
"Obviously two points are critical for us, given where we are in the standings and our playoff push, so it was a pretty important point to give up."
The Whale remained three points ahead of Worcester, a 3-2 overtime loser to Springfield, for the Atlantic Division's third and final guaranteed playoff spot. The Sharks have three games in hand on the Whale, while the Falcons are four points behind but have played the same number of games.
After the Whale misfired on two power plays, Kennedy gave them a 1-0 lead when he intercepted Matt Bartkowski's clearing attempt and beat Hutchinson to the stick side at 11:13.
The Whale made it 2-0 with 21.3 seconds left in the period off a nifty three-way play as Tessier made a back pass to Devin DiDiomete, who put the puck through the slot to a wide-open Jyri Niemi, moved from defense to left wing for the second consecutive game.
But the Bruins scored three times in the opening 9:42 of the second period to take the lead.
Sauve scored his fifth goal in three road games against the Whale, getting inside defenseman Pavel Valentenko to deflect Arniel's centering pass between Grumet-Morris' legs at 1:21.
Jordan LaVallee-Smotherman then outmuscled Lee Baldwin for the puck, whirled in front and converted Hamill's rebound at 6:42. The Bruins completed their hat trick as Jeremy Reich deflected in Sauve's shot at 9:42.
The Whale got even at 12:15 as Williams' shot deflected off Bruins defenseman Andrew Bodnarchuk for his 25th goal and 44th point, both team highs.
The Whale regained the lead as Ryan Garlock found defenseman Jared Nightingale 30 feet out in the slot with 6:44 left in the period.
Hutchinson stopped Dale Weise's breakaway with 3:08 to go in the period, and it remained tied until Arniel's second goal late in regulation.
"We have to find a way to kind of close them out," said Newbury, who turned 29 on Saturday. "When you're up two goals, you have to shut the door and kind of put them asleep and at the same time not let off the gas and just play our game. But we let them back in the game, and that was the turning point when we let them back in the game."
Kennedy also bemoaned the second-period lull.
"We would have liked to win the game, but it was a good experience," said Kennedy, who a goal and an assist on Williams' goal. "I wasn't quite sure how it was going to go with the wind, but it really wasn't a factor. Each team got kind of a fluky goal, and the shootout is kind of a crapshoot. Sometimes you win like (Friday) night, sometimes you lose.
"It's just tough when you think you should have got the two points because the goal they scored in the third was kind of fluky through bodies, but that's how it goes sometimes. We had some mistakes in the second period not taking care of the puck and they found a way to get it in the back of our net. Then we had a breakdown here or there, and there's your little stretch of time that really kill us."
Despite losing the shootout, Grumet-Morris applauded those who put together the historic night.
"It was definitely a carnival atmosphere," he said. "It looked like it took a lot of people a lot of work, and even today people working all day and through the night tonight they're going to be working. We don't, as players, get to see a lot of that, so we're definitely appreciative of everything that everyone put into it, from our ownership group all the way down to the guys who are cleaning the stuff in the stands and try to make sure it's warm in our locker room.
"And our trainers have slept about two hours in the last 48, so there are a lot of people who work behind the scenes and we do appreciate it."
KUNDRATEK OUT AGAIN
Whale rookie defenseman Tomas Kundratek missed his second game with the flu.
Other Whale scratches were goalie Cam Talbot (high ankle sprain), center Todd White (concussion) and wings Chad Kolarik (hamstring) and Chris McKelvie (foot surgery). The Bruins scratched right wing Brian McGrattan and defenseman Sean Zimmerman. … All 30 AHL teams played Saturday night, and it was only the third time that occurred in the first season that each team was affiliated with a NHL team.
WHALE CONTINUES TO BE ROAD WARRIORS NEXT WEEK
The Whale is back on the road at Portland on Monday at 1 p.m. and then will play their first two games in Charlotte, N.C., against the Checkers, their former ECHL affiliate, on Thursday and Saturday. They finally return to the XL Center on March 2 to face the Springfield Falcons. Their ensuing home game is March 11 against the defending Calder Cup champion Hershey Bears, ending a brutal stretch of 10 road games in 12.
The Pirates (33-16-4-2) had won four in a row and 15 of 19 before a 4-3 shootout loss to the Bruins on Friday night and a 5-4 loss to Manchester on Saturday night that dropped them three points behind the division-leading Monarchs. The four straight wins included a 3-2 victory over the Whale at the XL Center on Feb. 6 that tied the season series at 3 in the teams' fifth one-goal game. The Pirates are led by 2010 All-Star right wing Mark Mancari, who leads the AHL in goals (31) and is third in points (59). He's followed by defenseman Marc-Andre Gragnani (9, 29), left wing Derek Whitmore (20, 13), 2011 All-Star center Luke Adam (15, 18) and left wing Colin Stuart (10, 22). David Leggio (15-4-0, 2.49, .919) has been tough on the Whale, including his first of two shutouts, 3-0 in Portland on Jan. 14. Jhonas Enroth is 18-14-2, 2.83, .910, no shutouts.
The Checkers (30-20-2-4), the new AHL affiliate of the Carolina Hurricanes, have lost two in a row after a five-game points streak (4-0-1-0). Their leading scorer, All-Star right wing Jerome Samson (26, 28), is on recall to the Hurricanes. The top remaining scorers are left wings Jacob Micflikier (22, 23), Chris Terry (20, 22) and Oskar Osala (13, 28) and center Zach Boychuk (15, 25). The Checkers have gone all season with only two goalies, rookie Mike Murphy (15-9-2, 2.95, .907, no shutouts) and Justin Pogge (15-13-2, 3.13, .906, no shutouts).
GORDIE HOWE'S NUMBER TO BE RE-RETIRED
Hall of Famer Gordie "Mr. Hockey" Howe will have his No. 9 re-retired and retired March 26 before the Whale hosts the Bridgeport Sound Tigers at the XL Center.
Howe is one of six players with his number in the XL Center rafters, the others being 2 (Rick Ley), 5 (Ulf Samuelsson), 10 (Ron Francis), 11 (Kevin Dineen) and 19 (John McKenzie). Connecticut Whale coach Ken Gernander's No. 12 is the only number to be retired in the 14-year history of the AHL team.
"I think we'll have a big crowd," Whalers Sports and Entertainment president and COO Howard Baldwin Jr. said. "I love Ronnie Francis (the Whalers' only Hall of Famer), but Gordie is the one who put the team on the map. He needs to have the respect of the people coming out to see him, and it'll be a great opportunity for it."
Howe and his sons, Mark and Marty, played together for the first time with the Houston Aeros in 1973 before they came to Hartford and signed with the World Hockey Association's New England Whalers in 1977. Howe ended his legendary 32-year career in the Hartford Whalers' first NHL season (1979-80), when he had 15 goals and 26 assists in 80 games and was named a NHL All-Star for the 23rd time while helping the Whalers make the playoffs at 52 years old.
HELMER JOINS 1,000 CLUB
Oklahoma City Barons defenseman Bryan Helmer became the seventh player in the AHL's 75-year history to skate in his 1,000th regular-season game Friday in a 3-1 victory over the Abbotsford Heat. Former Wolf Pack wing Alexandre Giroux scored the winner with 1:06 left off an assist from fellow All-Star Colin McDonald, son of former Whalers defenseman Gerry McDonald.
Others to reach that milestone include Willie Marshall (1,205 career games), Fred Glover (1,201), Harry Pidhirny (1,071), Mike Nykoluk (1,069), Jody Gage (1,038) and Bruins coach Rob Murray (1,018). Marshall, Glover, Pidhirny, Nykoluk and Gage are members of the AHL Hall of Fame.
A 38-year-old native of Sault Ste. Marie, Ontario, Canada, Helmer was undrafted after playing Junior A hockey and made his professional debut with the AHL's Albany River Rats on Oct. 8, 1993. He played five seasons with the River Rats and then moved on to the Worcester IceCats (1998-2000), Manitoba Moose (2001-03), Springfield Falcons (2003-04), Grand Rapids Griffins (2004-06), San Antonio Rampage (2006-08) and Hershey Bears (2008-10), where he captained the team to back-to-back Calder Cup titles. He signed with Oklahoma City on Jan. 7.
Helmer is the AHL's all-time leader among defensemen in games played, assists (402) and points (526), and he has played more Calder Cup Playoff games (138) than any player in AHL history. He was a First Team AHL All-Star in 1997-98 and a Second Team AHL All-Star in 2005-06. Helmer also has played in 146 NHL games with Phoenix, St. Louis, Vancouver and Washington.
BRUINS 5, WHALE 4 (SO)
Providence 0 3 1 0 – 5
Connecticut 2 2 0 0 – 4
First period: 1, Connecticut, Kennedy 12 11:13. 2, Connecticut, Niemi 2 (DiDiomete, Tessier), 19:38. Penalties-Roussel Pro (roughing), 5:16; DiDiomete Ct (roughing), 5:16; Alexandrov Pro (hooking), 6:21; Whitfield Pro (delay of game), 8:10; Reich Pro (roughing), 8:49; Newbury Ct (roughing), 8:49.
Second period: 3, Providence, Sauve 14 (Arniel, Ling), 1:21. 4, Providence, LaVallee-Smotherman 7 (Hamill, Roussel), 6:25. 5, Providence, Reich 12 (Arniel, Hamill), 9:42 (PP). 6, Connecticut, Williams 25 (Redden, Kennedy), 12:15 (PP). 7, Connecticut, Nightingale 2 (Garlock, Grachev), 13:14. Penalties-McIver Pro (fighting), 7:14; Grachev Ct (hooking), 7:14; Nightingale Ct (fighting), 7:14; Valentenko Ct (hooking), 9:06; Alexandrov Pro (high-sticking), 11:37.
Third period: 8, Providence, Arniel 16 13:52. Penalties-No Penalties
Overtime: No scoring. Penalties-Valabik Pro (roughing), 1:52; Dupont Ct (slashing), 1:52; Penner Pro (holding), 3:50.
Shootout: Providence 1 (Hamill NG, Arniel NG, Whitfield NG, Sauve G), Connecticut 0 (Kennedy NG, Weise NG, Newbury NG, Tessier NG, Williams NG).
Shots on goal-Providence 8-14-10-0-1-33. Connecticut 13-12-6-1-0-32.
Power Play Opportunities-Providence 1 / 2; Connecticut 1 / 4.
Goalies-Providence, Hutchinson 9-7-0 (32 shots-28 saves). Connecticut, Grumet-Morris 4-2-1 (32 shots-28 saves).
A-21,673
Referees-Ghislain Hebert (49).
Linesmen-David Spannaus (8), Luke Galvin (2).