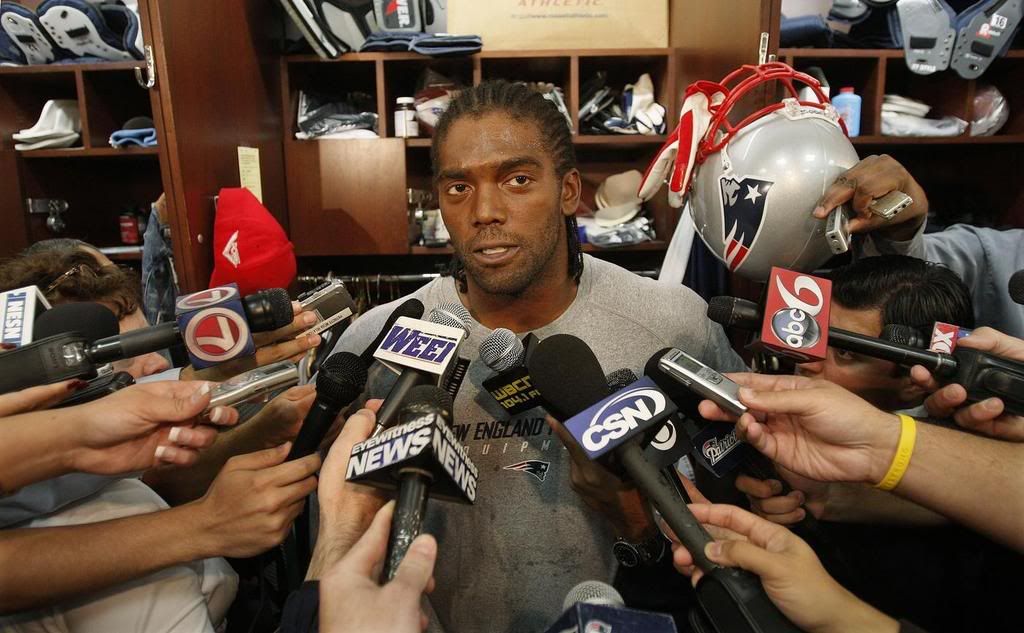 With kickoff only being a short time away it's time to get ready for some football for another week.  I am so glad the team had an early bye this year as I'd rather miss a game while baseball is still going on than late in the season like last year and end up lost with nothing to do on a Sunday afternoon like you do in February and March.
In case you missed it here is the official Sox & Dawgs Week 5 Patriots-49ers Game Preview.  It has all your game information, including the rosters for both teams, injury report, odds, a look at the past history between the clubs and all the broadcast information for radio and television.
New England WR Randy Moss met with the media on Wednesday in front of his locker.  It's not something Moss has done a lot of in his time in Foxboro so when he does speak he draws a crowd.  He touched on being a team captain, going back to the Bay Area, Matt Cassel and was even asked what he thought of Al Davis' comments about the Patriots tampering with him. 
Did you know the Patriots are 8-0 since 2003 after suffering a loss of 10 points or more?
And that in the same period they have only lost back-to-back games once and that was in Week 9 and Week 10 of the 2006 season when they lost consecutive home games to Indianpolis and the New York Jets.
The Patriots are undefeated in their last nine road games dating back to the 2006 AFC Championship Game loss to Indianapolis.  They are 12-1 on the road (including playoffs) since their last regular season road loss to Miami in Week 14 of 2006.
WR Wes Welker practiced Friday before the team left for San Francisco after being limited on Thursday with a groin injury.
Reiss' Pieces has the "Bits from Belichick" from Friday's press conference.  He also spent some time talking with LaMont Jordan who wants to be an actor when he is done playing and loves women's basketball:
You're also a big women's basketball fan. How did that happen?
"In high school, after track practice, our girls basketball team had a game. They needed someone to run the clock and I was waiting for one of coaches to give me a ride home. I said 'I'm not doing anything, so I'll run the clock.' I did the clock. I did a good job. After that, I was the manager, traveling with the girls, running the [score]books. There were a couple buzzer-beaters I think I was responsible for. It's amazing how long a second can be when you have me on the clock [laughs]. Ever since then, I just started watching it."
The Herald's Karen Guregian has Vince Wilfork wanting to be a Patriot for life.
The last time the Patriots played the Niners in San Francisco in 1995 starting QB Drew Bledsoe separated his shoulder and missed his next start against Atlanta.
This is the first of four West Coast games for New England this season.  They play in San Diego next week then come back later in the season for games at Seattle and Oakland. 
Patriots and AFL Halls of Fame member Jim Hunt is 70 years old today.  He played with the team in the AFL from 1960-69 and with them in the NFL in 1970.  He made 4 AFL Pro Bowl teams and was one of only 22 men to play in all ten years of the AFL and his number (79) is retired by the team.
This game matches two franchises which between them have won eight Super Bowl titles.
The Patriots have moved their entire football operations department to California for the week as they will stay on the West Coast and prepare to play the San Diego Chargers next Sunday night.
Sixteen athletes, including former Patriot LB Ted Johnson, have agreed to donate their brains after death to the new Center for the Study of Traumatic Encephalopathy.
The Patriots did not downgrade any players on their final injury report heading into today's tilt against the Niners. They're still showing CB Lewis Sanders, WR Kelley Washington and LB Eric Alexander as doubtful.  All three didn't practice much, if at all, this week look for all three to be inactive.
Mike Reiss of the Boston Globe has an awesome travel tidbit he shared with his readers.