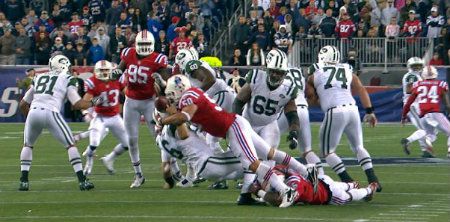 Aye. aye, aye.
The New England Patriots are truly the cardiac kids as once again the frittered away a two score lead with less than 9 minutes to play only to beat the visiting New York Jets in OT, 29-26 at Gillette Stadium on Sunday afternoon.
To look at the stats the numbers are as even as you can get without trying to make it look that way and that's how the game played out. It shouldn't have though. New England really outplayed the New York in the first half but defensive lapses that have haunted the team all year reared their ugly head again in Week 7.
It what looked to be a promising defensive turnaround in the seasons first two weeks the last five have been anything but stellar on that side of the ball. The one bright spot was this week the three biggest pass plays against the Patriots were 23,24 and 26 yards instead of 44, 50 and 51 yards like last week in Seattle.
Now the offense is starting show signs of lack of consistency with some really odd play calls coming at the most inopportune times.
Offensive coordinator Josh McDaniels and QB Tom Brady need to work out these kinks as does defensive coordinator Matt Patricia and the secondary coaches and players.
This team is much better than a .500 team and while they sit a 4-3 now there destiny appears to be 9-7 and one and done in the playoffs. Things need to change on both sides of the ball and quickly before this season is gone.
New Englanders watched a baseball team screw away a season we don't need to watch a football team do it too.
Jets at Patriots Gamebook. Includes the box score, all the stats, play by play, drive charts and more.
To continue reading, hit the read more button below if you're on the home page.
Turning Point of the Game
Patriots DE Jermaine Cunningham and LB Rob Ninkovich combined to sack and strip Jets QB Mark Sanchez of the ball in OT to seal the win.
Offensive Player of the Game
Jets WR Jeremy Kerley had 7 catches for a career high 120 yards.
Defensive Player(s) of the Game
Patriots LB Rob Ninkovich had 6 tackles (4 solo), 1.5 sacks, 2 tackles for loss, 2 QB hits, 1 forced fumble and 1 fumble recovery.
Game Notes
Starters for the Patriots were:
On Offense:
LT Solder
LG D. Thomas
C Wendell
RG Connolly
RT Vollmer
TE Gronkowski
TE Hernandez
WR Welker
WR Lloyd
QB Brady
RB Vereen
On Defense:
DE Cunningham
DT Wilfork
DT Love
DE Jones
LB Ninkovich
LB Mayo
LB Spikes
CB Dennard
CB Arrington
S Wilson
S McCourty
Inactives for the Game:
Patriots
1. G Logan Mankins (hip/calf)
2. S Steve Gregory (hip)
3. S Patrick Chung (shoulder)
4. RB Brandon Bolden (knee)
5. DE Jake Bequette
6. LB Tracy White (foot)
7. DE Ron Brace (back)
Jets
1. DT Sione Pouha (back)
2. DT Kenrick Ellis (knee)
3. S Eric Smith (knee)
4. RB Bilal Powell (shoulder)
5. WR Clyde Gates (shoulder)
6. QB Greg McElroy
7. C Cliff Schlauderlaff
The spread (Patriots MINUS 12) WAS NOT covered. The over/under (47) WAS COVERED. I GAVE the points (PATRIOTS) and took the OVER. I am now 2-5 vs. the spread and 4 of 7 calling the under/over.
Patriots wore their 1980's throw back uniforms during the game featuring a red jersey, white pants and white helmet with Pat the Patriot on it.
New England is 9-3 when wearing throwback uniforms.
Since 1999 the Patriots have the best record in the NFL at 151-64.
Since 2003 New England is 34-7 in October games.
Since Robert Kraft purchased the team in 1994 the Patriots are 25-14 vs. the Jets.
New England is 55-15 vs. the AFC East since 2001 in the regular season. In that time span they are 29-6 in division home games.
Since Gillette Stadium opened in 2002 the Patriots are 69-14 at home in the regular season.
Bill Belichick is now 196-107 including playoffs in his career.
Belichick is 19-10 vs. the Jets in his career. He is 18-9 against them as the head coach in New England and that includes two playoff games (1-1).
Tom Brady is 17-5 vs. the Jets including 1-1 in the playoffs. Overall including playoffs he is 144-44.
Brady has 312 TD passes in his career he is now 5th all-time. Hall of Famer Fran Tarkenton is 4th with 342.
Brady has thrown at least 1 TD pass in 39 consecutive games.
The Patriots are 84-16 when Brady throws at least 2 TD passes in a game.
WR Wes Welker now has catches in 108 consecutive games including playoffs, 91 as a Patriot. The last time Welker did not have a catch in a game was 12/24/05 as a Dolphin.
LB Rob Ninkovich had 1.5 sacks of the teams 4 sacks on the day for minus 9 yards.
Ninkovich and LB Jerod Mayo each forced 1 fumble.
Mayo led the team with 11 tackles (10 solo).
Ninkovich also had the lone fumble recovery that sealed the win for the Patriots.
Rookie CB Alfonzo Dennard had his first NFL INT.
Dennard, CB Kyle Arrington and CB Ras-I Dowling each had 1 pass defensed.
Arrington, S Tavon Wilson, WR Julian Edelman and TE Mike Hoomanawanui each made 1 special teams tackle.
Roster moves this week:
on Saturday the Patriots released OL Matt Tennant
signed LB Jeff Tarpinian from the practice squad
The Patriots sacked New York Jets QB Mark Sanchez 4 times, while allowing Brady to be sacked 1 time.
New England is PLUS 11 in turnover differential. The offense has given up 3 INT and 4 fumbles, while the defense has 7 INTs and 11 fumble recoveries.
The Patriots were 2 for 2 (100%) in the red zone. They had 2 TDs.
New England was 9 for 17 (53%) on third down conversions and 0 for 0 on 4th down attempts.
Rex Ryan is 31-24 in his fourth season as a head coach. He is 4-2 in the playoffs for an overall record of 35-26.
He is 3-5 vs. New England in his career including playoffs.
Mark Sanchez is 30-24 as a starting QB and is 4-2 in the playoffs for an overall record of 34-26.
He is 3-5 vs. the Patriots including 1-0 in the playoffs.
New York is 36-35 vs. the AFC East in the regular season since 2001.
New York has lost 14 of the last 21 meetings with New England including playoffs.
The Jets are 4-9 all-time at Gillette Stadium. Overall as the road team in the series they are 25-29-1.
The Jets were 8 for 15 (53%) on 3rd down conversions and 0 for 0 on 4th down attempts.
New York was 2 for 4 (50%) in the red zone. They had 2 TDs and 2 FGs.
New York is EVEN in turnover differential. The offense has given up 7 INT and 5 fumbles, while the defense has 7 INT and 5 fumble recoveries.
Jeff Triplette was the game referee. The temp at kickoff was 62 and partly cloudy.
Attendance – 68,752 at Gillette Stadium in Foxboro MA.
Post Game Interviews
Patriots head coach Bill Belichick and Patriots QB Tom Brady post game press conference via patriots.com
This Week in the AFC East
Tennessee nipped Buffalo, 35-34
Miami had a bye
AFC East Standings
Patriots 4-3/2-0
Dolphins 3-3/0-1
Jets 3-4/2-1
Bills 3-4/0-2
Next Week
The Patriots visit London, England to face the St. Louis Rams next Sunday at Wimbley Stadium. Kick off is at 1 p.m. on CBS.
Follow Steve on Twitter @SteveMichaelsII
photo credits: cbs screenshot, ap photo