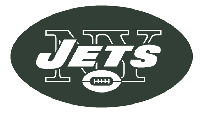 New York Jets fans chanted at half time "We want beer!!" because the team had decided to ban the sale of the frosty brew at the teams season finale against the Kansas City Chiefs on Sunday. The beer ban was not announced prior to the game to prevent the fans that did bother to show up from over indulging while tailgating prior to the game. Really? Jets fans drunk?
The ban was instituted by the club after additional security measures failed to adequately curb Jets fans other obsession. Getting women to flash their breasts at the Gate D ramp during half time of games by chanting "Show us your tits!!"
Those Jets fans sure are original.
Good news though for you lovers of all things Mangini, the Jets don't plan to ban the brew next season so you fans of "titties and beer" will be in luck once again at the Meadowlands in 2008.
You stay classy Jets fans.