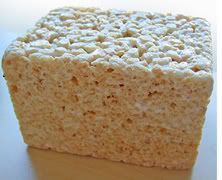 A Tennessee man is claiming that he was over-taxed by Tennessee state officials after he had a rice creeper treat taken from him at a concert.
His reasoning is that he feels officials made a mistake by taxing him on the entire weight of the treat and not just the marijuana in it. The man, William Moak, was given a tax bill of $11,506 including interest and penalties.
For those who don't know what a rice creeper is, it is a rice krispies treat that also contains the maryjane.
In the state of Tennessee, you can purchase a tax stamp on your illegal drugs just in case something like this happens.
Through the state's Taxation of Unauthorized Substances Act, people arrested for illegal drug possession are taxed based on the drug's weight, Street said.

Anyone with illegal drugs can avoid being fined for tax evasion by anonymously buying stamps from the Tennessee Department of Revenue. But possession of the drugs is still against the law.
Instead of being arrested and probably receiving a small fine, the man now has to fight the law that will cost him a lot of money.
So the moral of the story is that if you are in Tennessee and possessing illegal drugs, stop by the Department of Revenue to get your tax stamp.