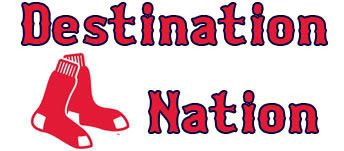 Destination Red Sox Nation is our look at how the minor league teams of the Boston Red Sox fare each night. Game story and box score links as well as links to team rosters, team stats and league standings can be found below.
If you would like to listen to any of the Red Sox minor league affiliates' games, MiLB.com offers them for free.
To open the links up in a new tab or window, use Control+click
Pawtucket Red Sox
The PawSox were off on Wednesday night.
Pawtucket's Ranaudo starting to get it all under control [providence journal]
Middlebrooks, Victorino Pawtucket-bound for rehab [milb]
International League 2014 Standings

Portland Sea Dogs:
The game between the Sea Dogs and Altoona Curve was suspended in the 4th inning with the Sea Dogs leading 2-1. It will be continued tonight followed by the regularly scheduled game.
Fastball command, changeup development key to Scott's success [sox prospects]

Salem Red Sox:
The game between Salem and the Frederick Keys was rained out. It will not be made up.
Carolina League 2014 standings
Greenville Drive:
The Drive got out to an early lead on their way to a 6-3 win over the Charleston River Dogs.
Drive, Stankiewicz Top RiverDogs in Finale [greenville drive]
Charleston River Dogs @ Greenville Drive 6/11/14 box score [milb]
South Atlantic League 2014 Standings

Lowell Spinners:
The Lowell Spinners 2014 season kicks off on Friday, June 13 when they'll host the Vermont Lake Monsters.
Sox sign Torres, assign him to Lowell [lowell sun]
Final Lowell Spinners 2013 Roster
Final Lowell Spinners 2013 stats
Final NY-Penn League 2013 Standings

Gulf Coast League Red Sox
The GCL Red Sox kick off their 2014 season on Friday June 20 when they'll host the GCL Twins.
Final Gulf Coast League 2013 Standings