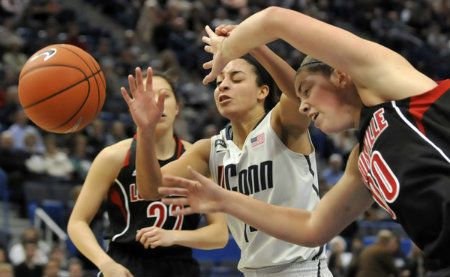 Injuries are a part of any game. But in college basketball when they strike more than one player, it can leave you shorthanded.
Fortunately for the UConn Huskies women's basketball team, Bria Hartley was able to return from a sprained ankle suffered on Saturday. And she showed no ill effects from the injury.
Hartley had 16 points and seven rebounds to help the No. 3/2 Huskies to a 72-58 win over the 15/13 Louisville Cardinals in front of 8,702 at the XL Center in Hartford, CT. Ironically enough, that was just about the same score the Louisville men beat the UConn men last night (73-58).
UConn improves to 15-1 (3-1 Big East) while Louisville falls to 14-4 (2-2).
Stefanie Dolson tied Hartley for the team-high with with 16 points while adding a team-high nine rebounds and had three assists. Kelly Faris added 13 points and seven assists but had seven turnovers.
Kaleena Mosqueda Lewis chipped in with 12 points and had eight rebounds while Kiah Stokes came off the bench to pull down six rebounds to go with her two points.
Shoni Schimmel paced the Cardinals with 14 points. Antonita Slaughter added 13 points and six rebounds while Schimmel's sister, Jude, had nine points and six rebounds. Bria Smith also had six rebounds and seven points.
This game was not pretty. It was a typical physical Big East game. But UConn's been through this before this season and this time came out on top.
The Cardinals battled in the first half and kept the game close. But a big UConn run pushed the lead to double digits. Louisville did battle back but the Huskies closed out the half on a 9-3 run to take a 14 point lead at the half.
Louisville would get no closer than 11 points the rest of the way as the teams played pretty evenly in the second half.
The good news for the Huskies is that it looks like they'll get Breanna Stewart back their next time out.
That will come on Saturday afternoon when they host the Syracuse Orange at the XL Center. Tip is scheduled for 4 p.m.
To continue reading, please click on the continue reading button below if you're on the home page.
Louisville Cardinals @ UConn Huskies 1.15.13 box score
Here are the postgame quotes from UConn head coach Geno Auriemma.
Here are UConn's postgame notes.
Follow Ian on Twitter @soxanddawgs. And be sure to like us on Facebook as well.
photo credit: mark mirko – hartford courant (no. 1 in gallery)