Portland, ME, January 15, 2013 – Kris Newbury scored two goals, and Cam Talbot made 29 saves, as the Connecticut Whale rolled to a 6-1 win over the Atlantic Division-leading Portland Pirates Tuesday night at the Cumberland County Civic Center.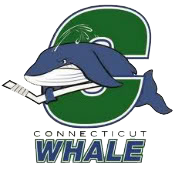 Portland had won eight straight home games, tying a franchise record, and 13 of its previous 15 overall. The Whale won despite being outshot 30-22, and scored two shorthanded goals.
"I thought our 'D' played good, we made a good first pass and we didn't spend much time in our end," Newbury said. "(Talbot) played great for us again and we were able to get a couple of goals.
"It's a lot easier when we're not playing as much in our end, holding on to the puck in theirs. I thought we did a great job from our D getting the puck through to the net, and we had guys in front tipping pucks, getting lots of traffic."
The only goal of the first period was a shorthander by the Whale, and the second goal in three games for Kelsey Tessier. It came at 13:27, as Blake Parlett stepped up smartly in the neutral zone to break up an Evan Brophey pass, and then found Tessier unchecked in front of the net. Tessier's high shot got by Pirate goaltender Mark Visentin, who had shut the Whale out the only previous time he faced them, a 1-0 Portland win in Hartford December 15.
The Whale controlled much of the play in the second period, outshooting Portland 10-5, but the Pirates got a fluky bounce to tie the game at 7:27. Pirate defenseman Mathieu Brodeur was credited with his third goal of the year when his shot from the left point went wide of the goal but caromed toward the front of the net and went off of Talbot's right pad and into the goal.
Connecticut struck back with a pair of goals in 52 seconds to regain the lead, starting at 12:54, when Newbury made it 2-1 with his 11th of the year. Chad Kolarik worked the puck to Newbury in the offensive zone and Newbury, while moving left to right across the slot, shot back against the grain and beat Visentin high to the stick side.
J.T. Miller then made it a two-goal lead at 13:46. Battling with a Portland defender to Visentin's right, Miller was able to tip Mike Vernace's long heave from the left point through Visentin and over the goal line.
The Whale had collapsed late in the second and in the third period in their last visit to Portland, a 4-3 loss New Year's Eve in which they gave up a 3-0 lead, but such would not be the case Tuesday, as the Whale tacked on three more goals in the third, despite being outshot 14-7.
Logan Pyett made it a 4-1 lead at 4:29, collecting a loose puck at the left point and closing several feet before gunning a high slap shot past Visentin. Then, at 11:33, Brandon Segal capitalized on a puckhandling mistake by Visentin for Connecticut's second shorthanded tally of the game.
Visentin came out behind the net to play a dump-in, but appeared not to realize that Segal was bearing in on him. When the puck got away from Visentin, Segal jumped on it and stepped in front to bury a backhander into the vacated net.
Newbury completed the scoring with his second of the game just 1:01 later, at 12:34. Dylan McIlrath picked up his first professional point by feeding Newbury, who fired a bad-angle shot from the right-wing side that found its way past Visentin, who had Shayne Wiebe pressuring him from the opposite side.
The victory was the Whale's first in four tries against the Pirates, and improved Connecticut's record to 16-18-3-1 for 36 points.
The Whale are next in action this Friday night, January 18, when they travel to Springfield for a 7:00 PM game against the Northeast Division-leading Falcons. All of the action of that game can be heard live on "Beethoven Radio" AM 1290 and on-line at www.ctwhale.com. Video streaming is available at www.ahllive.com.
The Whale's next home game is Wednesday, January 23, a 7:00 game against the Adirondack Phantoms. For that and all Whale home games, tickets start as low as $10 each ($12 each when tickets are purchased on the day of the game), at the Public Power Ticket Office at the XL Center, through TicketMaster Charge-by-Phone at 1-800-745-3000 and on-line at www.ticketmaster.com.
To continue reading, please click on the continue reading button below if you're on the home page.
Connecticut Whale 6 at Portland Pirates 1
Tuesday, January 15, 2013 – Cumberland County Civic Center
Connecticut 1 2 3 – 6
Portland 0 1 0 – 1
1st Period-1, Connecticut, Tessier 5 (Parlett), 13:27 (SH). Penalties-Brown Por (tripping), 0:17; Sinkewich Por (interference), 5:13; Collins Ct (slashing), 12:47; Miller Ct (hooking), 16:33.
2nd Period-2, Portland, Brodeur 3 (Sinkewich, Conner), 7:27. 3, Connecticut, Newbury 11 (Kolarik), 12:54. 4, Connecticut, Miller 6 (Vernace, Yogan), 13:46. Penalties-Kolarik Ct (tripping), 16:19; Gormley Por (holding), 16:59.
3rd Period-5, Connecticut, Pyett 4 4:29. 6, Connecticut, Segal 9 11:33 (SH). 7, Connecticut, Newbury 12 (McIlrath, Wiebe), 12:34. Penalties-Jean Ct (holding), 2:04; Kolarik Ct (delay of game), 10:21; Thomas Ct (fighting), 13:24; Hextall Por (fighting), 13:24; Parlett Ct (kneeing), 14:51.
Shots on Goal-Connecticut 5-10-7-22. Portland 11-5-14-30.
Power Play Opportunities-Connecticut 0 / 3; Portland 0 / 6.
Goalies-Connecticut, Talbot 13-16-0 (30 shots-29 saves). Portland, Visentin 9-7-1 (22 shots-16 saves).
A-2,616
Referees-Tim Mayer (19).
Linesmen-Joe Andrews (32), Landon Bathe (80).
Follow Ian on Twitter @soxanddawgs. And be sure to like us on Facebook as well.