By Wil Goldsholl
Hartford, CT, February 2, 2013 – In the eighth round of battle between the Connecticut Whale and the Springfield Falcons, the team from north of the border emerged victorious. Before a crowd of 13,239, the second-largest XL Center crowd in franchise history, Springfield took down Connecticut 3-2 on Saturday, and gained a 5-3-0-0 edge in the "I-91" series for the 2012-2013 season. Goals from Brandon Mashinter and J.T. Miller in the third could not overcome the Springfield scores from earlier in the game.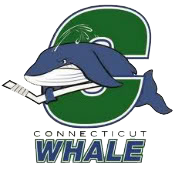 Connecticut jumped out to an early shot advantage when Cody Goloubef was penalized for hooking at 2:02 of the first period. Connecticut saw their fair share of chances after the power play ended.
Shortly thereafter, Springfield goaltender Curtis McElhinney, who leads the league with six shutouts, got tied up with teammate Greg Amadio as Mashinter got dumped in front when the puck came to him.
Springfield opened scoring at 8:09, when Dylan Prout and Goloubef broke the puck out. Tomas Kubalik streaked down the left wing and jammed the puck towards Whale netminder Cam Talbot's stick side. The puck took a favorable roll and found its way to the top corner of the net, earning Kubalik his 12th goal of the year.
The physicality that had been developing early hit a breaking point near the midway mark of the period, with Dylan McIlrath and Tim Spencer dropping the gloves following some chippiness in the corner.
Wade MacLeod took a roughing penalty for Springfield at 11:28 and Connecticut's power play, which was zero for three on the night, was completely stalled, earning no shots.
After Connecticut killed a Micheal Haley slashing minor with just under five to play in the first, Christian Thomas showed off some puckhandling on the circle and made his way cross-crease, only to be buried by Will Weber behind the net. Jason Wilson came in to drop the gloves with Weber with 1:27 on the clock. Head coach Ken Gernander said afterwards, "I like the way we played tonight… the way guys stuck up for one another among lots of other positives." Wilson was called for roughing on the play in addition to his and Weber's fighting majors.
Before the first expired, Nick Drazenovic, who earned Second-Star honors, catalyzed a flurry of chances that Talbot turned away, and Michael Chaput got his stick in Haley's face with 28.8 on the clock. Four on four play would roll over in to the second, with Springfield leading 1-0.
After the short four on four and an abbreviated Whale power play, Amadio got involved with Andrew Carroll, taking exception to a scrum resulting from a big McElhinney stop on Kelsey Tessier.
Talbot stopped MacLeod on a big try from the slot, and McElhinney came up with yet another quality save in reply when Kris Newbury made a beauty of a cross-ice feed to Tessier.
Segal got called for high-sticking at 11:50, and Prout drew a hooking call on Collins 76 seconds later. With a five on three opportunity, Nick Holden went inside out with Goloubef at the point and Goloubef took a shot that Talbot seemed to lose in traffic. At 13:29, the Falcons had a 2-0 lead on Goloubef's fourth goal of the season. The teams would exchange a few more chances before the second intermission, but both goaltenders held their ground.
Christian Thomas went to the box for high-sticking on MacLeod at 4:11 to start the third, and Drazenovic wasted no time earning his season's 15th. Getting assists from captain Ryan Craig and MacLeod, the Prince George, BC native Drazenovic finished near the crease.
Haley and Prout dropped the gloves not long after the score for the fourth bout of the night, and the huge XL Center crowd was on its feet.
Connecticut's offense picked up in the third, coming close on a scrum in front of the Springfield goal when McElhinney got spun around with his back out to the play.
Springfield held off the Whale for a few more minutes, until Tessier slung a long breakout pass to Mashinter. Mashinter came flying into the slot and pulled the trigger, beating the Colorado College product McElhinney over the glove hand. The Whale got on the board at 9:50, as Mashinter continues his streak of strong offensive production on home ice since joining the team. "We battled pretty hard tonight, kept those guys to the outside," said Mashinter after the game. "We were definitely feeding off the crowd, it's nice to see a good turnout."
The Whale earned still more chances as time went by. After applying some steady zone pressure, Miller capitalized when Segal dug the puck out from behind the net. With a blind backhand feed, Segal connected with Miller for his eighth at 11:23; Kyle Jean was awarded the secondary assist. Miller reflected the sentiments of his teammates and coaches, saying, "We played well, battled. We just couldn't score. We came together in the third and if we play like that the rest of the year we'll win a lot more hockey games."
Logan Pyett turned the puck over to Drazenovic in the slot and Talbot came up with two timely stops at the 7:30 mark, and McElhinney again answered with a big right-leg save when Thomas took a try from the circle.
Trailing by two, Blake Parlett nailed the crossbar with five minutes to play, and had another chance in the slot with three and a half on the clock.
Talbot left the ice with one minute left, allowing Segal to join Newbury, Miller and Tessier on the offense. Mike Vernace put in a great hustle for icing with 9.2 on the clock to earn the Whale another offensive-zone draw, and Parlett did the same with 2.7 seconds left. Thomas cranked a shot off the final draw but could not manage the tying goal.
Talbot stopped 30 of 33 Springfield tries, while McElhinney picked up his 19th win turning away 33 of 35.
To continue reading, please click on the continue reading button below if you're on the home page.
http://youtube.com/watch?v=KsaCcy-9bXY?rel=0
Springfield Falcons 3 at Connecticut Whale 2
Saturday, February 2, 2013 – XL Center Veterans Memorial Coliseum
Springfield 1 1 1 – 3
Connecticut 0 0 2 – 2
1st Period-1, Springfield, Kubalik 12 (Goloubef, Prout), 8:09. Penalties-Goloubef Spr (hooking), 2:02; Spencer Spr (fighting), 10:43; McIlrath Ct (fighting), 10:43; MacLeod Spr (roughing), 11:28; Haley Ct (slashing), 15:18; Weber Spr (fighting), 18:33; Wilson Ct (roughing, fighting), 18:33; Chaput Spr (high-sticking), 19:31.
2nd Period-2, Springfield, Goloubef 4 (Holden, Drazenovic), 13:29 (PP). Penalties-Amadio Spr (fighting), 2:03; Carroll Ct (fighting), 2:03; Segal Ct (high-sticking), 11:50; Collins Ct (holding), 13:06.
3rd Period-3, Springfield, Drazenovic 15 (Craig, MacLeod), 4:32 (PP). 4, Connecticut, Mashinter 5 (Tessier, Parlett), 9:50. 5, Connecticut, Miller 8 (Segal, Jean), 11:23. Penalties-Thomas Ct (high-sticking), 4:11; Prout Spr (fighting), 4:53; Haley Ct (fighting), 4:53.
Shots on Goal-Springfield 13-10-10-33. Connecticut 9-12-14-35.
Power Play Opportunities-Springfield 2 / 5; Connecticut 0 / 3.
Goalies-Springfield, McElhinney 19-7-2 (35 shots-33 saves). Connecticut, Talbot 15-19-0 (33 shots-30 saves).
A-13,239
Referees-T.J. Luxmore (49), Terry Koharski (10).
Linesmen-Marty Demers (79), Luke Galvin (2).
Follow Ian on Twitter @soxanddawgs. And be sure to like us on Facebook as well.