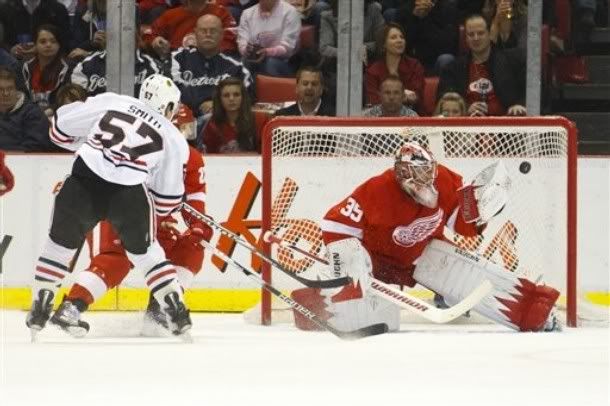 Ben Smith of Avon, CT scored his first NHL goal Friday night for the Chicago Blackhawks in their must win game against the Detroit Red Wings. Smith's goal came in the first period at the 6:07 mark to give Chicago a 2-0 lead in a game they eventually won 4-2 at Joe Lewis Arena in Detroit.
On the play, Blackhawks Cup hero Patrick Kane knocked the puck away from Detroit's Valtteri Filppula in the high slot and the puck ended up on Smith's stick between the hashmarks and he beat Red Wing goalie Jimmy Howard for his first NHL marker in his fifth NHL game. Later in the game he nearly had a second goal but was robbed by Howard.
Smith, who was born in North Carolina, grew up in Avon Connecticut and attended Westminster School in Simsbury where he played hockey for former New England Whaler Tom Rowe. He went on to play his college hockey at Boston College winning two national championships (2008 and 2010) and was named MOP of the 2010 Frozen Four. Chicago selected him in the 6th round of the 2008 NHL Draft.
Photo credit: AP Photo