By Bruce Berlet
EAST HARTFORD, Conn. – Hall of Famer Brian Leetch had just one regret.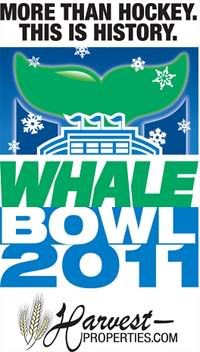 "It went too fast," the Cheshire native said.
Just one regret, too, for Enfield native Craig Janney, playing with Leetch for only the second time since the 1988 Winter Olympics.
"I had Brian for the winner at the end, and I screwed up," Janney said with a smile. "I had him creeping in (off the point). It would have been a good Connecticut moment if I could have hit him with pass, but I'm a little rusty. I hit the side of the net with the darn thing."
Instead, the fun-filled, 50-minute exhibition appropriately ended in a 4-4 tie between the Leetch/Janney Boston Bruins legends and Hartford Whalers legends in the opener of the Whale Bowl, the featured attraction of the historic "Harvest-Properties.com Whalers Hockey Fest 2011" at Rentstchler Field on Saturday.
Yvon Corriveau and Pat Verbeek gave the Whalers a 2-0 lead before Janney got the Bruins on the board. Ray Neufeld restored the Whalers' two-goal lead, but Kenny Linseman scored twice and actor Cameron Bancroft gave the Bruins a 4-3 lead before Corriveau scored his second goal with 3:30 left. Corriveau could have won it on a penalty shot with 1:56 to go, but Cleon Daskalatis made a sprawling save to preserve the desired result.
For this was a day of stories and memories, mic'd-up referee Paul Stewart offering running commentary while telling jokes, talking to the players and "fighting" with the comical Hanson Brothers trio of "Slap Shot" fame who played in the second half.
Leetch and Hanson Brothers were the last players to exit the ice before the Connecticut Whale and Providence Bruins played the second outdoor game in the AHL's 75-year history.
To continue reading, click on the read more button below if you're on the home page.
Did Leetch want to soak up as much of a rare charity appearance as he could?
"No, I was taking pictures with a lot of the people who were working out there and signing some autographs," Leetch said.
Not surprising for arguably the best American hockey player in history. He was a main attraction, received a standing ovation when introduced before starting on defense alongside fellow Hall of Famer Brad Park.
"I feel a connection to Connecticut and so many experiences, so it was nice to get such a reception," Leetch said. "When you go from six to 16 (in hockey), there are a lot of changes. Each year seems like an eternal at that time, so I always feel Connecticut is where I grew up.
"It was so much fun, and I kept looking up and saying, 'I can't believe that's all the time that's left.' It was great coming to Connecticut at an outdoor rink with guys you looked up to and played with and against as you were growing up."
What about that final score?
"I didn't know how it was going to work, but I know all the Bruins wanted to win because they were yelling at the end," Leetch said with a laugh. "And the Hartford guys were at home, so you know they wanted to win, so it was good at Cleon made that save at the end."
Leetch said it was only his fourth skating appearance in 14 months. He played in the NHL Winter Classic Legends Game at Fenway Park in Boston at the start of 2010, played with Janney in the Boston College alumni game a month ago and participated in Wayne Gretzky's Fantasy Camp in Las Vegas last week.
"Other than that, I haven't done anything other than skate with my friends here and there," Leetch said. "This is a rare occasion, but as soon as you get asked to one of these outdoor things, you say yes."
Leetch had played in a few charity events with celebrities but never outdoors, so he said he had a little trouble holding onto his light stick in winds gusting to 30 mph. But all was forgotten when the Hanson Brothers showed up in the locker room at intermission.
"When they were sitting there in their gear, everyone had big grins on their faces," Leetch said with a wide grin. "It was awesome."
Leetch said it took a while to figure out which number he and Park would wear. Park had No. 2 with the New York Rangers before being traded to the Bruins, where he took No. 22. When Leetch joined the Rangers after being the ninth overall pick in the 1986 NHL draft, he wore No. 2 and then went to No. 22 when dealt to the Bruins.
"Park has been good to me for a lot of years," Park said, "but he was saying, 'You're taking my numbers wherever you go.' When (Bruins captain) Rick Middleton called and asked what number I wanted, I said, 'What's Brad doesn't want is the one I'm going to take.' He told Brad, and he said, 'No, he's wearing the same number as I am.' So I thought that was pretty cool. He's been a very nice guy to me since I just started in the league."
The 42-year-old Leetch, who retired in 1986 after his one season with the Bruins, said thoughts of a comeback, especially to run the Rangers' suspect power play, usually vanish quickly.
"I always say I've been out just long enough to actually think I can come back and play," Leetch said with a smile. "You forget how hard it is and how good everybody is. If I could still do, I'd be out there."
Leetch, who had 247 goals and 781 assists in 1,205 NHL games, grew up playing outdoors a quarter-mile from his home in Cheshire. He now coaches 10-year-old son Jack's squirts hockey team and does some TV work with NESN and MSG but didn't know if he would coach adults.
"I don't know what's in the future, but I certainly like being involved a little bit in TV," Leetch said. "I'd like to stay involved, but I also enjoy being home with my kids. Coaching is more time than playing. You have to be there before the players and after the players and still doing all the same traveling, so you have to be ready for it if you're going to do it."
After a reception Saturday night, Leetch is scheduled to fly to Deerfield Beach, Fla., on Sunday night to rejoin his wife and children, who are on vacation from school in Boston this week.
Meanwhile, Janney will be returning to Phoenix, Ariz., where he has lived since he retired in 1999.
But Janney had more memories than any of the 44 players, having his No. 15 unexpectedly retired before he dropped the ceremonial first puck before his alma mater, Enfield High School, played Northwest Catholic-West Hartford on Friday in the opener of a doubleheader.
"It was really neat and a total surprise," Janney said. "I had no clue it was going to happen, but it was a really nice gesture. And someone said my number hadn't been worn since I left school."
Janney played three years at Enfield High before attending Deerfield Academy in Deerfield, Mass. He then played two years at Boston College before joining the United States national team program and competing on the 1988 U.S. Olympic team that finished seventh in Calgary, Alberta, Canada. Janney was the Boston Bruins' first-round pick (13th overall) in 1986 after being passed over by his favorite team, the Whalers, who chose Boston University wing Scott Young with the 11th pick. Two selections earlier, the Rangers had selected Leetch.
"I wanted to be a Whaler bad, but it worked out for everyone," said Janney, who played in the 1991 Canada Cup for Team USA with Leetch and lost in the finals to unbeaten Team Canada, led by Wayne Gretzky. "Brian went on to a tremendous career in New York, Scottie Young had an unbelievable career, and I had a lot of fun in Boston, so it worked out well."
Janney had 188 goals and 563 assists in 760 NHL games with the Bruins, St. Louis Blues, San Jose Sharks, Winnipeg Jets, Phoenix Coyotes, Tampa Bay Lightning and New York Islanders before ending a 12-year pro career in 1999 because blood clots had formed throughout his body. The Enfield Raiders could have used some of Janney's patented passes Friday as they lost 2-0 despite a 24-11 shot advantage. Sophomore Jeff Greenwood, a first-year high school player, scored both goals, and brother Matt Greenwood made 24 saves for the Indians (8-7-2).
Janney scored Saturday but was happier about being around his former teammates.
"As cliché as it may be, what you miss about the game is the camaraderie in the locker room and nights like (Friday) night going to the banquet," Janney said. "Those are the things you miss, and you love when you get back together like this."
Janney, who skated for only the third time in two years, joked Leetch "had one up on all of us after a training camp for a week," alluding to him participating in Gretzky's Fantasy Camp.
The final score?
"Alumni games are always good when they end in a tie," Janney said with a smile. "Everyone goes home happy and less sore."
Janney and Leetch both lauded the efforts of former Whalers owner Howard Baldwin, chairman and CEO of Whalers Sports and Entertainment, for his efforts to get the NHL back in Hartford.
"I think it's great what the Baldwins did allowing youth hockey, high school teams and college teams to play in this," said Janney, who has been a NESN commentator on Hockey East games since 2008. "It just made it a true jamboree of hockey, and I think it can only be a real positive, positive thing, especially hopefully for the grassroots of hockey. I know it has been a little struggle lately, especially youth hockey-wise. Maybe this will give it a shot in the arm and get it going again."
Leetch commended Baldwin for "doing a heck of a job."
"He has made it clear that he's going to do all he can to show that Connecticut is a hockey market," Leetch said, "and if the NHL comes, it comes. But he's just going to pump the interest of hockey. It's awesome."
ARMY BEATS AIC AGAIN
In the preliminary game, Mark Dube, Danny Colvin and Bryant Skarda scored in a 3:17 span of the second period as Army broke a scoreless tie and beat American International College 4-1 in an Atlantic Hockey Association game.
Dube scored off Mike Hull's rebound on a power play at 10:33, and the Black Knights (10-18-4, 8-12-4 AHA) rode the 31-save performance of Jay Clark to their second win in less than 24 hours over the Yellow Jackets (7-20-1, 7-17-1). Army beat AIC 6-4 Friday night.
Colvin scored the winner unassisted at 13:07, then Skarda capped Army's outburst off a pass from Mike Hull 43 seconds later. Skarda scored his second goal 51 seconds into the third period. Richard Leitner spoiled Clark's shutout bid when he converted a goal-mouth pass from Nick Grasso with 9:31 left.
Ryan Kerpan had 29 saves for AIC.
Earlier, Farmington High School defeated the Newington/Berlin co-op team, 2-1. The day started with the Avon Youth Team beating the Springfield Pics, 6-5.
Gov. Daniel P. Malloy signed a proclamation proclaiming Feb. 11-20 as Whalers Hockey Week in the State of Connecticut.
YALE'S HUGHES FINALIST FOR NATIONAL HUMANITARIAN AWARD
Aleca Hughes, a junior forward on the Yale women's ice hockey team whose efforts to help save lives have been inspired by teammate Mandi Schwartz's battle with cancer, has been named a finalist for the 2011 BNY Mellon Wealth Management Hockey Humanitarian Award. The 16th winner will be introduced in a ceremony on April 8 as part of the NCAA Frozen Four in St. Paul, Minn.
Hughes is the fifth Yale women's hockey player to be named a finalist for the award, which recognizes male or female players at the Division I or Division III levels who give back to their communities in the true humanitarian spirit. She is one of eight finalists who were selected from 25 nominees nationwide.
Schwartz's ongoing battle with cancer has inspired many people, especially those in the hockey community, but Hughes has gone far above and beyond the call of duty. Her efforts to raise awareness of the need for bone marrow and cord blood donors, along with raising funds for Schwartz and her family, have been instrumental in Mandi's battle and will help save the lives of countless patients with life-threatening illnesses. And Hughes has done it all while excelling in many other areas. A part of Yale's top scoring line, Hughes has been among the Bulldogs' leading scorers each season. She also excels in the class room, posting a 3.50 cumulative GPA, and will earn her third ECAC Hockey All-Academic Team selection this season.
Schwartz has been battling cancer for more than two years, having been diagnosed with acute myeloid leukemia in December 2008. Chemotherapy initially got her into remission in the spring of 2009, and she was able to return to Yale in January 2010. But when she relapsed that spring, it became clear that she would need a stem cell transplant – essentially, a new immune system – to survive. Schwartz, like 70 percent of patients seeking donors, was unable to find a genetic match for her transplant among family members. So she had to turn to the public registries, and for several months it appeared she did not have an appropriate genetic match. It is estimated there are 16,000 patients diagnosed with leukemia each year who cannot find matching donors.
Hughes has started several community service initiatives. She and her teammates have already been a part of organizing two record-setting bone marrow donor drives at Yale that added more than 1,600 potential donors to the National Marrow Donor Program's "Be The Match" registry. So far, at least four genetic matches for patients in need of life-saving transplants have been identified through those drives. The drives take place annually, and the 2011 drive is April 21.
Once it became clear last summer that Schwartz was in urgent need of a stem-cell transplant, Hughes became part of a worldwide effort to raise awareness of the need for bone marrow donors and umbilical cord blood donors. Schwartz's story was featured on ESPN, ABC News and CBS News, among others. Hughes distributed literature to OB-GYNs at various places she visited throughout the summer, educating expectant parents about the need for umbilical cord blood donors. She also contacted media outlets to get stories printed that raised awareness of the need. She then took her involvement one step further by working with the Dana Farber Cancer Institute to start a bone marrow donor testing drive and a fundraiser for Schwartz based around the Chowder Cup hockey tournament in Massachusetts.
Once school was back in session in the fall, Hughes followed up her work from the summer by organizing the women's hockey team's "White Out for Mandi" fundraiser in November that attracted a record crowd of more than 1,000 people to Ingalls Rink for Yale's game against RPI. Hughes got special T-shirts designed, printed and sold for the event; promoted the event through the media, including NHL.com; and organized a silent auction that included items from teams (New York Rangers, Boston Red Sox) and players (Bobby Orr, Mark Recchi, Patrick Kane). The two fundraisers that Hughes organized have raised more than $22,000 for Mandi and her family.
Those events are only part of what makes Hughes a finalist for the award. She also helps coach a Yale Youth Hockey team and participates in numerous other community service initiatives. She and her teammates recently "adopted" a nine-year old girl, Giana, who is recovering from surgery for a brain tumor. Hughes regularly takes time to visit Giana, who recently returned to school as a fourth grader. Giana is the first adoptee in the recently created program known as "Bulldog Buddies" that pairs Yale athletic teams with young brain tumor patients.
Yale's previous Hockey Humanitarian Award finalists are Julianna Schantz-Dun (Class of 2000), Deanna McDevitt (2003), Kristin Savard (winner in 2007) and Crysti Howser (2009). No other school has had more finalists. Hughes has been involved in many team-organized events such as Youth Days, Skate with the Players and ECAC Hockey's 2008-09 "Pink at the Rink" fundraiser for cancer research. She is her team's representative for Yale Athletics' Thomas W. Ford '42 Community Outreach Program, coordinating events such as a holiday gift-giving initiative for underprivileged families in the New Haven area. She is also a member of Athletes in Action, a group of Christian student-athletes that meets weekly and performs various community service initiatives.
Recognizing her leadership potential, Hughes also had taken part in Yale Athletics' Kiputh Leadership Academy, which develops Yale student-athletes to be world-class leaders in athletics, academics and life. As part of their participation, student-athletes work closely with peer groups to learn, develop and practice skills associated with successful leadership qualities.
On the ice, Hughes has been among Yale's top four in goals, assists and points in each of her first three seasons, and she has 26 goals and 19 assists in her career. She has not missed a game, and last year she earned Yale's Bulldog Award for team spirit. Hughes also has been a part of the USA Hockey program, attending the Open Olympic Tryouts in the summer of 2009.
Hughes is a graduate of Hotchkiss School in Lakeville, where she was team captain and All-New England. She also played for the Connecticut Stars, earning one silver medal and two bronze at nationals, and comes from a family of hockey players. Her father, George, played for Harvard and is seventh on the Crimson's career scoring list. Her uncle, Jack, played for Harvard and the NHL's Colorado Rockies. Her mother, Allison, played for Boston University. Her older brother, George, plays at St. Lawrence, and her younger brother, Gunnar, has committed to play at St. Lawrence.
An American studies major, Hughes hopes to go to law school after graduation.
Here's hoping Aleca gets to go and has a Hockey Humanitarian Award with her.
Photo credit: Tia Ann Chapman – Hartford Courant