By Wil Goldsholl
Hartford, CT, February 17, 2013 – Brandon Segal set up two goals, 16 seconds apart, in the third period to help lead the Connecticut Whale to a 3-2 win over the Manchester Monarchs on Sunday afternoon at the XL Center. Connecticut, picking up its fourth straight win, won three days straight at home to put together a six-point weekend, which is essential as playoff time gets nearer.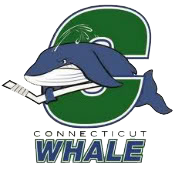 The rate of play was down at first; the 5,143 in attendance had little to cheer or boo about. Then Connecticut's Christian Thomas was sent off for hooking at 4:58. With 35 seconds left in their man advantage, Manchester drew first blood. Andy Andreoff started the play at the point, exchanging the puck with Tyler Toffoli on the bench-side wall. Finally, Toffoli drove it to the slot where Linden Vey was lurking backdoor. He tucked it behind Whale netminder Jason Missiaen for Vey's 13th of the year.
The closest Connecticut got to beating Manchester's goalkeeper, Martin Jones, came when Micheal Haley banked a puck way ahead to himself, driving Jones' crease with 80 seconds left, but being turned away.
Four minutes in to the second, with Manchester still leading 1-0, Mike Vernace was boarded hard on the backcheck by Anthony Stewart. Dylan McIlrath was there to stand up for his teammate and the two dropped the gloves. The power play wouldn't produce much offense for Connecticut, as Toffoli found himself alone facing Missiaen, but put one off the pipe.
After the kill, the Whale managed to tie things up; Haley went cross-ice to Thomas, who released a wrister top shelf, earning his third goal of the weekend.
Toffoli, who finished with two points on the day, had a reply, however. With 53 seconds remaining in the period, he made a give and go with defenseman Nick Deslauriers at the point and rolled the circle. The low shot earned Toffoli his 24th goal of the year. Haley would have a doorstep try on Jones at the second-period buzzer but the 2-1 edge would stand.
The third period passed quietly, and things looked grim for Connecticut for nearly 14 minutes. A few chances from Andrew Yogan and Nick Palmieri woke the building up, and Connecticut started putting heavy traffic in front of Jones.
With 2:43 to go, Segal and Steve Eminger found themselves in a two on one situation. Segal pulled out wide and went cross-crease to Eminger with a nifty saucer pass. Eminger said afterwards, "Manchester played a good game, they worked really hard on the forecheck. On the goal, Segs [Segal] made a great play; he drove wide, made a nice pass, threw it flat."
The momentum would turn out to be the difference for Connecticut; just 16 seconds later Segal found himself feeding yet another recent addition to the Whale lineup. This time it was Brandon Mashinter on the half-boards who started a give and go with the Whale's de facto captain Segal. Taking the pass from out of the corner, Mashinter buried his seventh of the season on the far side to take a 3-2 lead. "We fought to the bitter end," Segal, who earned First Star honors, said after the game, "Mish [Missiaen] played really well tonight; it's hard for him coming in at the end of a three in three where the boys are tired."
Head Coach Ken Gernander had praises for the humble Segal, "If you go through his goals there's not a lot of muffins in there; you know, a sixth goal in a 6-1 game. He's involved in big goals and it's a product of either his play or just the whole team package or both."
In the last two and a half minutes, Manchester managed to get Jones out of the net but couldn't produce the goal they needed. Jones got out of the net with 82 seconds left, and finished with 26 saves. Missiaen had a strong day as well, turning aside 27 of 29. Connecticut will host the St. John's IceCaps on Wednesday night at 7pm at the XL Center.
To continue reading, please click on the continue reading button below if you're on the home page.
Manchester Monarchs 2 at Connecticut Whale 3
Sunday, February 17, 2013 – XL Center Veterans Memorial Coliseum
Manchester 1 1 0 – 2
Connecticut 0 1 2 – 3
1st Period-1, Manchester, Vey 13 (Toffoli, Andreoff), 6:24 (PP). Penalties-Thomas Ct (hooking), 4:58; Huxley Mch (hooking), 6:44; Segal Ct (tripping), 17:09.
2nd Period-2, Connecticut, Thomas 13 (Haley, Parlett), 7:34. 3, Manchester, Toffoli 24 (Deslauriers, LoVerde), 19:06. Penalties-Stewart Mch (boarding, fighting), 4:05; McIlrath Ct (fighting), 4:05; Johnson Mch (interference), 12:31.
3rd Period-4, Connecticut, Eminger 1 (Segal, Collins), 17:17. 5, Connecticut, Mashinter 7 (Segal), 17:33. Penalties-No Penalties
Shots on Goal-Manchester 8-12-9-29. Connecticut 12-7-10-29.
Power Play Opportunities-Manchester 1 / 2; Connecticut 0 / 3.
Goalies-Manchester, Jones 12-18-3 (29 shots-26 saves). Connecticut, Missiaen 6-4-1 (29 shots-27 saves).
A-5,143
Referees-Jean-Philippe Sylvain (16).
Linesmen-Jim Briggs (83), Derek Wahl (46).
Follow Ian on Twitter @soxanddawgs. And be sure to like us on Facebook as well.