By Wil Goldsholl
Hartford, CT, November 16, 2012 – Alexandre Bolduc and Chris Brown scored third-period goals for the Portland Pirates Friday night against the Connecticut Whale, and former Whale Chad Johnson made 29 saves, in a 2-1 Portland victory at the XL Center.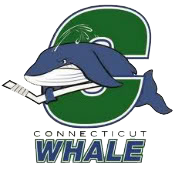 Brandon Segal scored the only Whale goal, with only 36 seconds left in the third period, and Johnson's former stablemate Cam Talbot had 31 saves in the Connecticut net.
It was busy night for the officials, with the Whale having nine power plays and Portland three, but neither team could capitalize on a man advantage.
Play was one-sided early in Portland's favor, as all the rubber was being fired Talbot's way.
Even an interference minor to Brown lead to little Whale offense, as Connecticut produced just one shot on the advantage and seemed unable to find the net in the early goings of the first period.
Marek Hrivik was sent off for holding, and moments after the minor expired Portland cranked a shot off the pipe.
The Whale replied with a near-miss of their own when Johnson's outstretched glove stopped a backdoor play on the goal line to Sean Collins.
Brown and Michael Haley dropped the gloves with just under five minutes to play in the first period and the teams brought the scoreless tie into the break. Portland led in shots, 13-8.
At the 5:53 mark of the second period, the Pirates' Joel Rechlicz was called for interference behind the Portland net. Things got chippy after a shoving match and Haley fought again, this time with Scott Arnold, who immediately went to the tunnel to get patched up. Arnold would later return.
Talbot made a tremendous kick save on Jordan Szwarz' breakaway with seven minutes to play in the period.
A Connecticut 5-on-3 with three minutes left was the Whale's best puck movement of the night, but a number of blocked shots kept the puck away from Johnson.
The third period started scoreless, but it took just two minutes for Portland to find the goal. A pass came from Szwarz down the half-boards to Ethan Werek, who fed it behind to Bolduc. Bolduc shoved it towards the crease from the end boards and it snuck off Talbot's skate and in.
Bolduc took a tripping minor a minute later and the Whale saw chances but Johnson made quality stops, and the Portland defense continued to block shots. The third period was the only period the Whale earned a shot advantage.
After the Whale failed to convert on the man advantage, Brown made it 2-0 for the Pirates at the midway mark of the third after Brendan Shinnimin won a faceoff to the left of Talbot.
Segal found the twine with 36 seconds to play in regulation on a rebound from Gilroy's shot, but it wasn't enough to climb back.
The Whales seventh regulation loss of the season dropped Connecticut to 5-7-1-1.
To continue reading, please click the continue reading button below if you're on the home page.
Portland Pirates 2 at Connecticut Whale 1
Friday, November 16, 2012 – XL Center Veterans Memorial Coliseum
Portland 0 0 2 – 2
Connecticut 0 0 1 – 1
1st Period- No Scoring.Penalties-Brown Por (interference), 3:58; Hrivik Ct (holding), 8:33; Brown Por (fighting), 15:07; Haley Ct (fighting), 15:07; Arnold Por (roughing), 19:59; Parlett Ct (roughing), 19:59.
2nd Period- No Scoring.Penalties-Gilroy Ct (high-sticking), 0:32; Arnold Por (fighting), 5:53; Rechlicz Por (interference, cross-checking), 5:53; Haley Ct (instigating, fighting, misconduct – instigating), 5:53; Kolarik Ct (misconduct – continuing altercation), 5:53; Bolduc Por (tripping), 10:44; Arnold Por (high-sticking), 14:28; Klinkhammer Por (closing hand on puck), 16:11; Ekman-Larsson Por (holding), 19:10; Grant Ct (holding), 19:10.
3rd Period-1, Portland, Bolduc 9 (Werek, Szwarz), 2:01. 2, Portland, Brown 5 (Shinnimin), 9:39. 3, Connecticut, Segal 5 (Gilroy, Vernace), 19:24. Penalties-Kreider Ct (slashing), 3:59; Bolduc Por (tripping), 4:57; Summers Por (tripping), 7:00; Lane Por (double minor – high-sticking), 10:39.
Shots on Goal-Portland 13-12-8-33. Connecticut 8-9-13-30.
Power Play Opportunities-Portland 0 / 3; Connecticut 0 / 9.
Goalies-Portland, Johnson 5-4-0 (30 shots-29 saves). Connecticut, Talbot 4-4-0 (33 shots-31 saves).
A-4,371
Referees-Ryan Hersey (8), Mark Lemelin (41).
Linesmen-John Grandt (98), Kiel Murchison (79).
Follow Ian on Twitter @soxanddawgs. And be sure to like us on Facebook as well.