Worcester, MA, November 10, 2012 – Christian Thomas had his first two-goal game as a pro, and Kris Newbury added two assists, to lead the Connecticut Whale to a 6-2 win over the Worcester Sharks Saturday night at the DCU Center.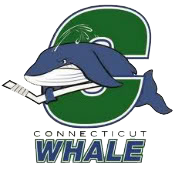 The Whale also got goals from Logan Pyett, Tommy Grant and J.T. Miller, and Chris Kreider, Chad Kolarik and Matt Gilroy had two assists apiece. Cam Talbot made 21 saves. Sena Acolatse had a goal and an assist for the Sharks, and John McCarthy had two assists.
The Whale had never led in their previous two games, both losses to Springfield, but they jumped on top only 1:24 into Saturday's game, on Newbury's team-leading fifth goal of the season. After Kreider hustled hard to prevent an icing, the Sharks failed to get the puck out up the boards and it deflected to Newbury at the top of the circles. With both Thomas and Kreider screening Worcester goaltender Harri Sateri (19 saves), Newbury's snapshot got through on the glove side.
Connecticut then made it 2-0 on a power play at 14:40. Newbury worked the puck off the right-wing boards to Kolarik at the top of the circle, and Kolarik partially fanned on a one-timer attempt. The puck went off of Acolatse's skate, though, right to Thomas at the left side slot, and he had an open side of the net to bury the puck into.
The only goal of the second period came in a four-on-four situation at 10:19, and it was the second of the season for Pyett. After moving the puck out of his own zone, Pyett joined the rush and beat a check on the right-wing side, firing a shot that hit Sateri's catching glove and went in.
Acolatse ruined Talbot's shutout bid with a four-on-four goal 49 seconds into the third period, taking a pass from McCarthy and putting a high shot in on the short side, but the Whale got that one back on Thomas' second power-play score of the game at 3:22. Thomas one-timed a Kreider pass from the top of the slot through Sateri, with Kolarik screening.
Grant tied Newbury for the team goals lead with his fifth of the 1:55 later at 5:17, as Gilroy moved down the right-wing boards and found Grant with a centering feed, before Worcester cut the lead back to three on a Bracken Kearns goal at 15:51, off of a pass from behind the net by Acolatse.
The Sharks then pulled Sateri with just under four minutes left in a desperation attempt to get back in the game, but that backfired when Miller scored his second of the year into an empty net at 18:31.
The victory moved the Whale back to the .500 mark, at 5-5-1-0 for 11 points.
The Whale complete their first three-game weekend of the season Sunday at Bridgeport, taking on the Sound Tigers in a 3:00 PM game. The play-by-play of that battle can be heard live on "Beethoven Radio" AM 1290, and on-line at www.ctwhale.com.
The Whale's next home game is this Friday, November 16, when the Portland Pirates make their first visit of the season to the XL Center for a 7:00 game. At each and every Friday Whale home game this year, fans can enjoy $1 hot dogs and $2 beers until 8:00 PM. Tickets for that game, and all Whale regular season home games at the XL Center, are on sale now at the Public Power Ticket Office at the XL Center, through TicketMaster Charge-by-Phone at 1-800-745-3000 and on-line at www.ticketmaster.com.
To continue reading, please click on the continue reading button below if you're on the home page.
Connecticut Whale 6 at Worcester Sharks 2
Saturday, November 10, 2012 – DCU Center
Connecticut 2 1 3 – 6
Worcester 0 0 2 – 2
1st Period-1, Connecticut, Newbury 5 1:24. 2, Connecticut, Thomas 3 (Kolarik, Newbury), 14:40 (PP). Penalties-Jean Ct (tripping), 11:34; Mashinter Wor (hooking), 13:46; Collins Ct (interference), 17:48.
2nd Period-3, Connecticut, Pyett 2 (Newbury, Kreider), 10:19. Penalties-Haley Ct (high-sticking), 1:23; Matsumoto Wor (holding), 7:35; Tessier Ct (hooking), 10:00; Gogol Wor (high-sticking), 10:00; Sheppard Wor (tripping), 14:14; Segal Ct (checking to the head), 19:02.
3rd Period-4, Worcester, Acolatse 4 (McCarthy, Kennedy), 0:49 (PP). 5, Connecticut, Thomas 4 (Kreider, Gilroy), 3:22 (PP). 6, Connecticut, Grant 5 (Gilroy, Kolarik), 5:17. 7, Worcester, Kearns 5 (Acolatse, McCarthy), 15:51. 8, Connecticut, Miller 2 (Jean, Segal), 18:31 (EN). Penalties-Irwin Wor (holding), 2:49; Klassen Ct (roughing), 6:13; Gogol Wor (charging, roughing), 6:13; Kreider Ct (slashing), 8:16; Parlett Ct (holding), 15:31; Kennedy Wor (hooking), 15:35; Newbury Ct (unsportsmanlike conduct, misconduct – continuing altercation), 19:20; Gogol Wor (unsportsmanlike conduct, misconduct – continuing altercation), 19:20; Pelech Wor (roughing, misconduct – continuing altercation), 19:20.
Shots on Goal-Connecticut 7-6-12-25. Worcester 7-8-8-23.
Power Play Opportunities-Connecticut 2 / 7; Worcester 1 / 6.
Goalies-Connecticut, Talbot 4-2-0 (23 shots-21 saves). Worcester, Sateri 0-4-1 (24 shots-19 saves).
A-3,215
Referees-Trent Knorr (44).
Linesmen-John Grandt (98), Bob Bernard (42).
Follow Ian on Twitter @soxanddawgs. And be sure to like us on Facebook as well.