By Wil Goldsholl
Hartford, CT, October 27, 2012 – Despite being outshot 40-23, the Connecticut Whale defeated the Providence Bruins 6-3 Saturday night at the XL Center.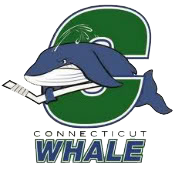 The style of play reflected the geographical rivalry; the teams were grinding on the boards, finishing checks and peppering the goaltenders from the drop of the puck.
Kris Newbury led the way with a goal and two assists for the Whale, and Chris Kreider and Logan Pyett had a goal and an assist each. Cam Talbot made 37 saves.
Two minutes and six seconds in, Providence's Kyle MacKinnon fired a blind pass from the corner and Jamie Tardif was at the crease at the right time. The pass deflected off his skate and past Talbot, who earned his second start of the year in net after Friday night's win over the Hershey Bears.
The teams continued to throw bodies through the first twenty minutes. Micheal Haley and Bobby Robins served major penalties for fighting six minutes in.
The Whale got on the board 7:52 in to the game when Chris Kreider slid a pass from the bottom of the circle to a breaking Ryan Bourque in the slot. At the 15-minute mark, another low-to-high feed landed on Bourque's stick. Bruins goaltender Michael Hutchinson got a piece of the snapshot and it trickled behind him towards the goal line but did not cross. Forty-five seconds later, an almost identical near-miss happened in Talbot's crease. Connecticut killed a power play when Andrew Yogan was sent off for roughing with 3:42 left, and the first stanza ended in a 1-1 draw.
The Whale came out swinging in the second period. Newbury fed the puck from the end boards to Blake Parlett at the point. Parlett's slapper sailed wide of the net but banked around back to Chad Kolarik, who was in fortunate position. The goal came 94 seconds in to the period and was Kolarik's second of the year.
The low-to-high pass worked for Connecticut again on the power play, when Kreider was grinding in the corner and got the puck to Newbury. Newbury found Mike Vernace at the point and it was Kreider who finished with 11:06 to play in the period. Coach Ken Gernander said of the goal, "If you look at a lot of our plays, there are opportunities we created and generally the hard way is the best way."
Logan Pyett netted his first of 2011-12, when Kyle Jean delivered a pass while falling down. Pyett's wrister from the right circle went bar down and with the score at 4-1, Michael Hutchinson was yanked from the game in favor of Niklas Svedberg.
Tommy Grant would also add a goal in the second before Jordan Caron tacked one on from Chris Bourque and Torey Krug with time winding in the period. Into the second intermission Connecticut led 5-2.
The Whale attack slowed in the third period and Talbot had to make a number of quality saves. Maxime Sauve cranked a slapshot passed Talbot with 17 minutes left to make things interesting, but Kris Newbury picked up an unassisted goal on a puck-handling flub by Svedberg, and that iced the game.
To continue reading, please click on the continue reading button below if you're on the home page.
Providence Bruins 3 at Connecticut Whale 6
Saturday, October 27, 2012 – XL Center Veterans Memorial Coliseum
Providence 1 1 1 – 3
Connecticut 1 4 1 – 6
1st Period-1, Providence, Tardif 2 (MacKinnon, Cohen), 2:06. 2, Connecticut, Bourque 2 (Kreider, Pyett), 7:52. Penalties-Robins Pro (fighting), 6:00; Haley Ct (fighting), 6:00; Yogan Ct (roughing), 16:18; Robins Pro (interference), 18:54.
2nd Period-3, Connecticut, Kolarik 2 (Parlett, Newbury), 1:26. 4, Connecticut, Kreider 1 (Vernace, Newbury), 8:54 (PP). 5, Connecticut, Pyett 1 (Jean, Hrivik), 11:30. 6, Connecticut, Grant 3 (Thomas, Haley), 13:39. 7, Providence, Caron 4 (Bourque, Krug), 18:43 (PP). Penalties-MacKinnon Pro (interference), 7:07; Kolarik Ct (delay of game), 18:18.
3rd Period-8, Providence, Sauve 3 (Cunningham, Bourque), 3:00 (PP). 9, Connecticut, Newbury 4 8:07 (SH). Penalties-Parlett Ct (holding), 1:42; Klassen Ct (boarding), 5:36; Jean Ct (interference), 7:59; Parlett Ct (hooking), 11:33.
Shots on Goal-Providence 12-12-16-40. Connecticut 6-9-8-23.
Power Play Opportunities-Providence 2 / 6; Connecticut 1 / 2.
Goalies-Providence, Hutchinson 0-3-0 (13 shots-9 saves); Svedberg 2-1-0 (10 shots-8 saves). Connecticut, Talbot 2-0-0 (40 shots-37 saves).
A-3,535
Referees-Pierre Lambert (39), Geno Binda (22).
Linesmen-Luke Galvin (2), Paul Simeon (66).
Follow Ian on Twitter @soxanddawgs. And be sure to like us on Facebook as well.