Glens Falls, NY, January 5, 2013 – Sean Couturier's power-play goal at 3:08 of overtime gave the Adirondack Phantoms a 2-1 win over the Connecticut Whale Saturday night at the Glens Falls Civic Center.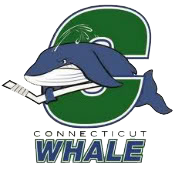 Just 11 seconds after Micheal Haley was called for slashing, Danny Syvret fed the puck from the middle of the blue line to Couturier, and his shot from the right circle cleanly beat Whale goaltender Cam Talbot.
Chad Kolarik scored the only Whale goal, and Tye McGinn had the other Phantom tally. Cal Heeter made 30 saves in the Adirondack net to get the win, and Talbot stopped 34 out of 36 for Connecticut.
"They (the Phantoms) carried the play for pretty good stretches of the first (period)," Whale head coach Ken Gernander said. "It took us a little while to get our feet under us, to get things going, and I thought it was a fairly evenly-played game after that."
After Talbot had shut the Phantoms out in a 3-0 Whale win Friday night at the XL Center in Hartford, in the front end of the teams' home-and-home series, McGinn put the Phantoms on the board only 2:57 into Saturday's game.
McGinn fired a sharp-angle shot past Talbot's catching-glove side, after Talbot initially appeared ready to cover a loose puck but instead played it up ice to his left. The Whale were never able to clear, and Rob Bordson found McGinn for the goal.
The Whale were outshot 16-9 in the second period, but would score the only goal of the session to emerge tied at one.
After Heeter had stopped Tommy Grant on a breakaway chance a little over a minute before, Kolarik, the Whale's goal-scoring leader, scored his 14th of the season, and fourth in the last four games, at 16:25. Kolarik tracked the puck down in the left-wing corner and banged a shot off of Heeter's skates. Kolarik headed toward the goal and was able to shove the rebound just past Heeter. Referee Darcy Burchell conducted a video review before confirming that it was a good goal.
The Whale outshot the Phantoms 11-8 in the third, and had some good chances early on in overtime, but could not get anything else past Heeter before Couturier's power-play winner.
Saturday's game was the seventh straight that the Whale played without forward J.T. Miller, who helped the U.S. National Junior Team to a 3-1 win over Sweden Saturday morning in the gold medal game of the World Junior Championship in Ufa, Russia. Miller had an assist on a game-clinching empty-net goal by Vince Trocheck, giving Miller seven helpers in seven games in the tournament, tops on the USA squad and good for a tie for second overall among WJC skaters. Miller's nine points in the tournament (2-7-9) tied him for the U.S. team lead and for fifth overall in the tournament.
The Whale finish off their weekend Sunday at home, hosting the Wilkes-Barre/Scranton Penguins in a 3:00 PM game at the XL Center. At every Sunday Whale home game this year, fans can take advantage of the Whale's "Click It or Ticket Sunday Family Value Packs", which include a ticket, a hot dog or a pizza slice and a soda, all for only $18.
Whale tickets start as low as $10 each ($12 each when purchased on the day of the game) and are available at the Public Power Ticket Office at the XL Center, through TicketMaster Charge-by-Phone at 1-800-745-3000 and on-line at www.ticketmaster.com.
To continue reading, please click on the continue reading button below if you're on the home page.
Connecticut Whale 1 at Adirondack Phantoms 2 (OT)
Saturday, January 5, 2013 – Glens Falls Civic Center
Connecticut 0 1 0 0 – 1
Adirondack 1 0 0 1 – 2
1st Period-1, Adirondack, McGinn 9 (Bordson), 2:57. Penalties-McIlrath Ct (fighting), 2:59; Lauridsen Adk (fighting), 2:59; Kolarik Ct (cross-checking), 3:46; Ford Adk (interference), 8:53; Parlett Ct (roughing), 19:02; Bordson Adk (roughing), 19:02.
2nd Period-2, Connecticut, Kolarik 14 (Segal, Newbury), 16:25. Penalties-Haley Ct (fighting), 8:06; FitzGerald Adk (fighting), 8:06; Zolnierczyk Adk (slashing), 9:17; Segal Ct (slashing), 9:20; Pyett Ct (interference), 10:56; Collins Ct (tripping), 17:58.
3rd Period- No Scoring. Penalties-Jean Ct (roughing), 11:04; Lauridsen Adk (roughing), 11:04.
OT Period-3, Adirondack, Couturier 10 (Syvret, Schenn), 3:08 (PP). Penalties-Haley Ct (slashing), 2:57.
Shots on Goal-Connecticut 9-9-11-2-31. Adirondack 10-16-8-2-36.
Power Play Opportunities-Connecticut 0 / 2; Adirondack 1 / 5.
Goalies-Connecticut, Talbot 12-15-0 (36 shots-34 saves). Adirondack, Heeter 5-10-1 (31 shots-30 saves).
A-4,634
Referees-Darcy Burchell (42).
Linesmen-Mike Emanatian (69), Steeve Lemay (64).
Follow Ian on Twitter @soxanddawgs. And be sure to like us on Facebook as well.