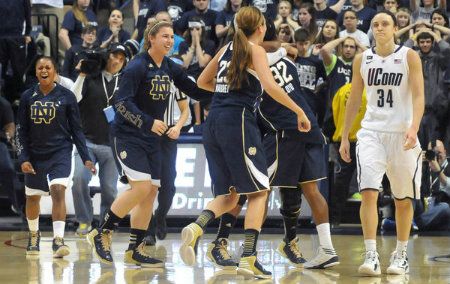 Maybe Geno Auriemma and the No. 1 UConn Huskies women's basketball team should be glad the No. 5 Notre Dame Fighting Irish are leaving for the ACC. Because man oh man have the Irish owned the Huskies as of late.
Behind two late free throws by All-American Skylar Diggins, the Irish were able to hold off the Huskies late to pickup a 73-72 upset win in front of a sold-out crowd and nationally-televised audience at Gampel Pavilion on Saturday afternoon.
The Huskies suffer their first loss of the season as they fall to 12-1 (0-1 Big East). Notre Dame improves to 12-1 (1-0).
Kaleena Mosqueda-Lewis and Stefanie Dolson led UConn with 17 points each and they also had eight rebounds a piece. Kelly Faris had her usual nice all-around game with 13 points, 11 rebounds, seven assists and five steals.
Breanna Stewart added 10 points, nine rebounds and six blocked shots while Bria Hartley had nine points.
Kayla McBride paced the Irish with 21 points while Diggins added six rebounds, five assists and four steals to her afternoon. Michaela Mabrey added 11 points while Jewell Loyd had 10 points.
Natalie Achonwa finished with a double-double of 10 points and 11 rebounds.
This game was a far cry from where the Huskies dominated the Stanford Cardinal. I think we all expected UConn to do the same thing to Irish.
Instead, Notre Dame looked like the No. 1 team not the Huskies as they were more physical and tougher than the Huskies. Whenever UConn threw a punch at Notre Dame, the Irish responded with a combination punch of their own.
In the grand scheme of things, this loss doesn't hurt the Huskies. In fact, I think it helps them. It shows they are not invincible and what they need to work on.
They'll get at least once more chance against the Irish this season in the Big East regular season finale. And it wouldn't surprise me if they met up in the Big East Tournament.
But for now, it's time to look at the game tape, find the flaws and fix them before their next game.
That game will come on Wednesday night when they travel to Washington, D.C. for a matchup with the Georgetown Hoyas.
To continue reading, please click on the continue reading button below if you're on the home page.
Notre Dame Fighting Irish @ UConn Huskies 1.5.13 box score
Here are the postgame quotes from UConn head coach Geno Auriemma.
Here are UConn's postgame notes.