Hartford, CT … Whalers Sports and Entertainment announced today that Yvon Corriveau and Ed Hospodar will join the group of featured players for the Hartford Whalers legends vs. Boston Bruins legends game February 19, 2011 at Rentschler Field in East Hartford.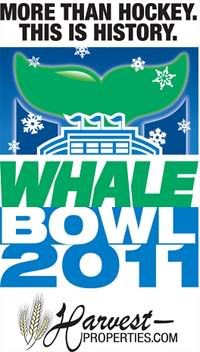 The legends game comprises part of the Harvest-Properties.com Whale Bowl, the featured event of the two-week outdoor Harvest-Properties.com Whalers Hockey Fest 2011 spectacular at Rentschler Field that will include numerous collegiate, high school, prep school and youth hockey games. The legends game will face off at 4:00 PM on February 19 and will be followed by the outdoor AHL game between the Connecticut Whale and the Providence Bruins at 7:00 PM.
The Whalers legends team already features a roster consisting of players such as Blaine Stoughton, Nelson Emerson, John McKenzie, and Wayne and Dave Babych. They will be taking on a Bruins legends group that includes the likes of Craig Janney, Brian Leetch, Brad Park, Lyndon Byers and Rick Middleton. More legends roster additions are still to be announced.
Corriveau played parts of five seasons with the Whalers from 1989-90 through 1993-94. The Welland, Ontario-born winger's Whaler tenure totaled 114 games, in which he scored 22 goals and added 15 assists for 37 points and amassed 90 penalty minutes. A first-round draftee (19th overall) of the Washington Capitals in 1985 out of the Ontario Hockey League, Corriveau was acquired by the Whalers from the Capitals for Mike Liut March 6, 1990. After being dealt back to Washington in August of 1992, Corriveau was re-acquired by the Whalers from the San Jose Sharks in October of that year, days after San Jose had claimed him from the Capitals in the Waiver Draft.
Corriveau's NHL time with the Whalers, Capitals and Sharks totaled 280 games, in which he registered 48 goals and 40 assists for 88 points, along with 310 PIM. Corriveau also saw significant time in the AHL and IHL, as well as in Germany's DEL, during his 19-year pro career.
Hospodar, a defenseman whose hard-charging, rough-and-tumble style of play earned him the nickname "Boxcar", played the 1982-83 and '83-'84 seasons with the Whalers as part of a nine-year NHL career. Hospodar's 199 penalty minutes in 1982-83 were second-most on the Hartford team, and the Bowling Green, Ohio native also chipped in one goal and nine assists for ten points in 72 games. The next season, Hospodar had nine assists in 59 games with the Whalers and was again second on the club in PIM, with 163.
A second-round pick of the New York Rangers in the 1979 NHL Entry Draft out of the Ontario Hockey League, Hospodar played three seasons with New York before being acquired by the Whalers, and went on to play with the Philadelphia Flyers, Minnesota North Stars and Buffalo Sabres in his post-Hartford career. All told, Hospodar suited up for 450 career NHL contests, scoring 17 goals and adding 51 assists for 68 points and serving 1,314 minutes in penalties.
Tickets for the February 19 Harvest-Properties.com Whale Bowl, which include admission to both the AHL game and the legends game, are on sale now at Ticketmaster.com., as well as at the Bushnell box office from Monday through Friday, 12 noon-5:00 PM. Ticket prices range from $20 to $85 and can also be purchased by calling the Connecticut Whale at 860-728-3366. Tickets purchased online can be printed immediately (via Ticketmaster).