By Bruce Berlet
AHL president and CEO Dave Andrews called last week's All-Star Classic "awesome" for a number of reasons, starting with two nights of sellout crowds for the skills competition and All-Star Game at the Giant Center in Hershey, Pa.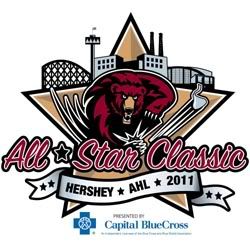 Then there was a record turnout of nearly 1,000 at the Hall of Fame induction ceremony that had free-spirited Hall of Famer/former Hershey Bears coach/current Washington Capitals coach Bruce Boudreau as a major hit as keynote speaker, and AHL grad and legendary announcer Doc Emrick as the emcee. And both the skills competition and All-Star Game drew record television ratings.
"It's amazing the feedback we got from our fans and guests," Andrews said about the Eastern Conference's 11-8 victory over the Western Conference. "There were just glowing reports from the people who were there. Fans who spent a lot of money to go were all very positive, and we got great response to the throwback uniforms."
Andrews said the AHL likely won't do a Fantasy Player Draft as the NHL did for the first time this year.
"I thought (the draft) was pretty neat, but I think it would get old in a hurry," he said. "I'm not sure it works every year."
But the AHL is exploring the potential of a change to its format. One idea would be a two-game series against an elite team from a European league, which would play one game each against the Eastern Conference and Western Conference All-Stars.
To continue reading, click on the read more button below if you're on the home page.
"We're working on it to find out if those federations would allow a team to leave at that time of the year and come over and play," Andrews said. "I think it would be great for our league and great for our players. I talked to some of the players at the All-Star event, and they thought it was great. It would be a lot of fun and a good challenge for our players. We're always trying to come up with something new, and it could be like Rendez-vous."
Andrews referred to Rendez-vous '87, a two-game exhibition series between the NHL All-Stars and Soviet national team in Quebec City. It replaced the usual NHL All-Star festivities that had been hosted by the Hartford Whalers the previous year. It was a follow-up to the Challenge Cup series in 1979, hoping the NHL All-Stars would turn the tables and beat the Soviet team. This time, the series was two games instead of three.
The games were highlighted by Wayne Gretzky and Mario Lemieux playing on the same line, often with Brian Propp, who ended his 15-year career with the Whalers. The NHL team also included former Whalers star and captain Kevin Dineen. Former Whalers/Philadelphia Flyers standout Mark Howe also was on the team but was injured and couldn't play.
The teams split the two games, with the NHL All-Stars winning the first 4-3, as Dineen scored and Flyers teammate Dave Poulin got the winner with 1:15 left. The Soviets won the second game 5-3, as former Rangers forward Valeri Kamensky and Vladimir Krutov each scored twice, earning them the overall victory by an 8-7 aggregate score. Gretzky assisted on the NHL All-Star goals by Mark Messier, Doug Wilson and Ray Bourque.
Dineen said he likes the AHL-Europe setup.
"It's a much better idea than the current format," Dineen said via email. "It would put the AHL front and center for a few days, so I hope they can put it together. They would be real games and highly entertaining."
The one-line specialist then couldn't resist one final funny line.
"Our guys had to bus to the All-Star Game from Hartford (to Hershey), so I hope they don't make the Euros take a boat," Dineen said.
Jeremy Williams, the Whale's lone representative in the All-Star Game, didn't talk with Andrews but agreed with Dineen that the AHL-Europe series would be a good opportunity for a lot of parties.
"I think it's a really interesting idea," said Williams, who had a goal and an assist in his All-Star debut with the winning team. "In one sense, it would probably give everyone a little more time off, and the guys playing in it would benefit most. The season is a tough grind, and having a few extra days off gives guys time to regroup and heal up a little.
"Plus it would be a great experience for guys who never got to play in a World Junior Championship or World Championship. Both sides would be showcased, so it would be great to be on the world stage. Funding is always a consideration, but I think it would be taken care of because of the benefits for everyone."
WHALE HEADS OFF ON TOUGH ROAD STRETCH
The Whale got a much-needed day off Monday and left at 7 a.m. Tuesday on the start of a stretch of 10 road games in their next 12. They will practice at Cicero Twin Rinks in suburban Syracuse on Tuesday morning and then finish the bus ride to Toronto for a Wednesday game against the Marlies at 11 a.m. The Whale will be trying to avenge a 4-0 loss at home in the teams' first meeting on Nov. 9, when rookie goalie Jussi Rynas made 33 saves.
The Marlies (24-20-0-7), who are battling for a playoff spot in the North Division, are led by veteran center Mike Zigomanis (eight goals, 24 assists), left wing Fabian Brunnstrom (14, 13), rookie center Nazem Kadri (9, 16) and defenseman Matt Lashoff (7, 18). Rynnas is 9-13-3 with a 2.79 goals-against average, .920 save percentage and one shutout, but the Whale likely will face Jonas Gustavsson, who began a conditioning stint from the Toronto Maple Leafs by stopping 24 of 25 shots in a 3-1 victory over the Rochester Americans on Saturday night. He had a shutout until Bill Thomas scored with 13:19 to go.
It will be a "homecoming" for veterans Williams and Kris Newbury, who played five seasons together in the Toronto Maple Leafs organization – St. John's and the Marlies in the AHL and the Maple Leafs in the NHL – before signing with the Detroit Red Wings last season and then ending up with the Rangers and Whale this season.
"My fiancee's family lives in Hamilton, so it'll be nice to see them," said Williams, whose future in-laws drove from Hamilton to Hershey for the All-Star Classic. "And my younger sister is flying in from Saskatchewan, so that'll be nice, too. Plus, I still have a bunch of buddies still in the area."
Right wing Dale Weise will return to the Whale lineup after missing three games with an undisclosed illness, but goalie Cam Talbot (high ankle sprain), center Todd White (concussion) and wing Chris McKelvie (foot surgery) won't make the trip.
The Whale will complete their only venture into Canada this season with a game at Hamilton on Friday night and then play at Providence on Sunday at 4:05 p.m. After four days off, they'll make a second trip to Glen Falls, N.Y., to face the Adirondack Red Wings on Feb. 18 before a quick bus ride home for the Harvest-Properties.com "Whale Bowl" game against Providence on Feb. 19 at 7 p.m. at Rentschler Field in East Hartford. That follows the Army-AIC game at 1 p.m., and celebrities mixing with the Hartford Whalers legends and Boston Bruins legends at 4 p.m. If the Whale-Bruins game is postponed because of bad weather, it will be played Feb. 20.
The Whale is at Portland on Feb. 21 and then will play their first two games in Charlotte, N.C., against the Checkers, their former ECHL affiliate, on Feb. 24 and 26. They finally return to the XL Center on March 2 to face the Springfield Falcons. Their ensuing home game will be March 11 against the defending Calder Cup champion Hershey Bears, ending the brutal stretch of 10 road games in a dozen.
BALDWINS TO OPEN HOCKEY FEST 2011 ON THURSDAY AT 3 P.M.
The historic "Harvest-Properties.com Whalers Hockey Fest 2011" is scheduled to begin Thursday at 3 p.m. with Whalers Sports and Entertainment chairman and CEO Howard Baldwin and WSE president and COO Howard Baldwin Jr. officially opening the 12-day event with a ceremonial first skate.
The first of 30 outdoor youth, high school, prep school, college, celebrity, alumni and pro games will start at 5 p.m. as the Simsbury High girls play the West Hartford girls, followed by a cthockeyleague.com game at 10 p.m.
"UConn Day" is Sunday, when the alumni plays at 9 a.m., followed by the men's team facing Sacred Heart at 1 p.m. and the women meeting Providence at 4 p.m. Two days later, Feb. 15, is "Trinity-Wesleyan Day" as the schools' women's teams play at 4 p.m., their alumni teams at 6:30 p.m. and the men's teams at 8 p.m.
The featured attraction is the Harvest-Properties.com "Whale Bowl" on Feb. 19. Hall of Fame defensemen Brian Leetch, a Cheshire native, and Brad Park headline the Bruins legends team. Other commitments are Enfield native Craig Janney, former captain Rick Middleton, who played 12 seasons in Boston and with the Rangers, Reggie Lemelin, Ken Hodge, Don Marcotte, Rick Smith, Bob Sweeney, Lyndon Byers, Cleon Daskalakis, Jay Miller, Bob Miller (no relation) and Ken "The Rat" Linseman, who was a member of the Whalers for a few moments as he passed through in a multi-player trade with Philadelphia and Edmonton that included Mark Howe leaving Hartford for the Flyers. Derek Sanderson will coach the Bruins team.
Commitments for the Whalers team are WHA Hall of Famer Andre Lacroix, John McKenzie, whose No. 19 is retired in the XL Center rafters, Blaine Stoughton, Pat Verbeek, John Anderson, Garry Swain, Bob Crawford, Chris Kotsopoulos, Jim Dorey, Jordy Douglas, Ray Neufeld, Gordie Roberts, Darren Turcotte, Nelson Emerson, Mark Janssens, Bill Bennett, Jeff Brubaker, Fred O'Donnell, Terry Yake, Scott Daniels and the Babych brothers, Dave and Wayne. Emile "The Cat" Francis, a coach and general manager with the Rangers and Whalers, will be back behind the bench again, and Norm Barnes and former captain Russ Anderson will be assistant coaches.
Among the celebrities scheduled to play with one of the legends teams are filmmaker Bobby Farrelly, writer/director of such hit films as "Dumb and Dumber", "There's Something About Mary", "Kingpin", "Me, Myself and Irene", "Outside Providence", "The Heartbreak Kid", "Stuck on You", and "Shallow Hal"; and actor David Henrie, from "Wizards of Waverly Place" and "That's So Raven".
Tickets ($20 to $85) for the doubleheader can be purchased at Ticketmaster.com and the Bushnell box office in Hartford on Monday through Friday from noon to 5 p.m. or by calling the Whale at 860-728-3366. They also can be purchased online and printed immediately at Ticketmaster.com.
The official charity of the Harvest-Properties.com Whalers Hockey Fest 2011 is "Sam's Race for a Place," a fund-raising effort spearheaded by West Hartford resident Samantha Udolf that benefits the Ronald McDonald House. Since Udolf, a successful competitive skier, founded Sam's Race for a Place in June of 2008, it has generated donations of more than $43,500.
The Ronald McDonald House is a non-profit charity operating since 1991 that helps hundreds of families and children enjoy the comforts of home while they await treatment at area medical facilities. Udolf became familiar with Ronald McDonald House and its good works while volunteering there, and she conceived Sam's Race for a Place after learning it is independently-funded and depends on grass-roots campaigns for nearly all of its support.
For more information about Sam's Race for a Place, visit www.samsraceforaplace.com. Donations also can be made through that web address. Besides the games, the Hockey Fest will include "Whale Town" featuring exhibitors, games and the Whalers Mobile Hall of Fame.
ADMIRALS GEOFFRION REPEATS AS AHL PLAYER OF THE WEEK
Milwaukee Admirals center Blake Geoffrion was named Reebok/AHL Player of the Week after getting two goals and five assists and being plus-5 in two games. He became the first AHL player to win back-to-back awards since Pirates goalie Jim Carey on Oct. 30 and Nov. 6, 1994.
After turning 23 on Thursday, Geoffrion had the game-winning goal and three assists in a 4-2 victory over Rockford on Friday night. He then had a goal and two assists in a 6-2 victory over Grand Rapids that kept the Admirals atop the West Division and Western Conference. Geoffrion has 13 points and is plus-8 in four games the last two weeks. He's a rookie out of the University of Wisconsin, where he won the 2010 Hobey Baker Award as the top player in collegiate hockey while playing with Rangers center Derek Stepan and defenseman Ryan McDonagh, who started the season with the Whale. They led the Badgers to the NCAA title game but lost 5-0 to Boston College and Rangers top prospect Chris Kreider. Geoffrion is the grandson of former AHL coach and Hockey Hall of Famer Bernie Geoffrion and son of former AHL forward Dan Geoffrion.
The Whale nominated right wing Chad Kolarik, who had three goals in two games. Other nominees included Jones, Gustavsson, Hutton and former Wolf Pack wing Jeff Taffe (Rockford).
MILFORD NATIVE QUICK CONTINUES WINNING SHOOTOUT WAYS
Hamden native Jonathan Quick continued to build on a stellar season Saturday night as he stopped five consecutive shootout attempts, two with help from a post, as the Los Angeles Kings beat the Calgary Flames 4-3 to improve to 2-0-1 on a 10-game road trip.
After allowing two goals in the skills competition, the Flames couldn't score again on Quick, who made a spectacular, falling-backwards glove stop on Curtis Glencross in the fourth round on the way to going 6-0 in shootouts and ending Calgary's six-game winning streak. Quick (24-14-1, 2.14 goals-against average, .921 save percentage, career-high five shutouts) is only the third goalie in Kings' history to win 20 games in a season, joining Rogie Vachon and Kelly Hrudey.
Flames goalie Miikka Kiprusoff also allowed two quick goals and then stopped four shots before Justin Williams beat him after getting a goal and two assists in regulation. It was the Kings' first win in Calgary in 11 tries since Dec. 21, 2005, and moved them into the eighth and final playoff spot in the Western Conference, one point ahead of the Flames.