Tony Allen had a huge second quarter for the Boston Celtics as they went on to an 88-76 win and spoiled Allen Iverson's home debut for the Detroit Pistons.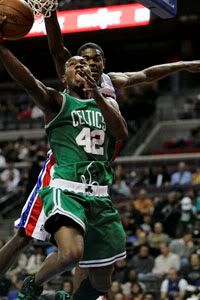 (Tony) Allen was the man in the second quarter as he scored 12 of the points by the Celtics who were playing with the 4 members of the 2nd team in the quarter. Their defense was solid as well as they held the Pistons to just 10 points.
Allen had 23 points for the Green while Ray Allen had 17 points. Rajon Rondo added 13 points and a game-high 5 assists. Kevin Garnett scored only 8 points but pulled down 12 rebounds. Kendrick Perkins was held scoreless but added 10 rebounds as the Celtics moved to 6-1.
Tayshaun Prince led the Pistons with 23 points. Will Bynum came off the bench for Detroit to score 11 points and Rasheed Wallace had 10 points and 11 rebounds. Iverson's home debut was a rough one as he was just 4-of-11 from the floor scoring 10 points and adding 4 assists and 4 rebounds. Former UConn Husky standout Richard Hamilton had an awful shooting night as he was 0-for-8 and ended up with just 3 points.
This was by far the best defensive effort the Celtics have had this season and they'll need another one as they are back in action tomorrow night against the Toronto Raptors at the T.D. Banknorth Garden. Tipoff is scheduled for 7:30 PM.
The Celtics also have games this week on Wednesday night against the surging Atlanta Hawks and on Friday night against Iverson's former team the Denver Nuggets at home. They then head to Milwaukee for a matchup against the Bucks on Saturday night.