The Boston Celtics look like they have put their recent 4-game losing streak in the past as they beat the New Jersey Nets 118-86 in front of a packed house at the T.D. BankNorth Garden.
The win for the Celtics is their third straight and raises their record to 32-9 which is good for third best in the Eastern Conference. The Nets fall to 19-20.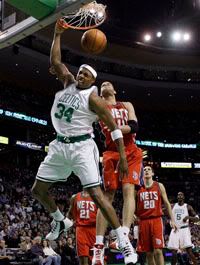 Paul Pierce was on fire during the third quarter as he scored 18 points, on 5-5 shooting from 3-point land to finish with 22 points. Kevin Garnett added 20 points and 9 rebounds while both former UConn Husky Ray Allen and Glen "Big Baby' Davis chipped in with 12 points. Mr Assist, Rajon Rondo, had 12 assists to go along with 11 points, 7 rebounds and 3 steals. Eddie House came off the bench to add 10 points for Doc Rivers squad.
The Nets were led Devin Harris who had 17 points. A trio of Nets, Ryan Anderson, Brook Lopez and Keyon Dooling added 13 points. Another former Husky, Josh Boone, had 3 points and 4 rebounds in 14 minutes for the Nets.
The Celtics had a 10 point lead at halftime but behind Pierce, they put up a 37-point third quarter to break the game open.
These same two teams will meet again on Saturday afternoon in New Jersey at 1 PM.