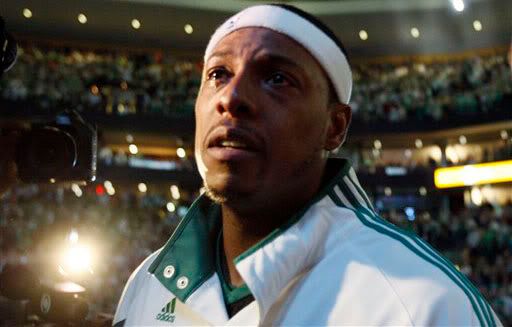 After trailing the entire first half, the Boston Celtics defense stepped up it's game in similar fashion to last season as they outscored the Cleveland Cavaliers 24-13 in the 3rd quarter on their way to a 90-85 win in front of a sold out crowd at the TD BankNorth Garden.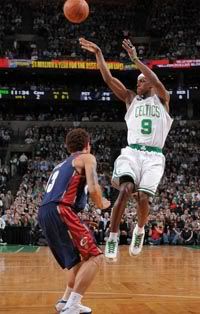 The win for the Celtics capped off a perfect night as they received their 2008 NBA Championship rings and then raised Banner 17.
Paul Pierce, who was very emotional during the ceremonies, led all scorers in the game with 27 points and added 3 rebounds, 4 assists and 1 steal. Rajon Rondo added 14 points, 5 rebounds, 6 assists and 3 steals while Kevin Garnett had 11 points and 6 rebounds.  Leon Powe and Tony Allen added 13 points and 11 points respectively for the Celtics off of the bench.
LeBron James paced the Cavs with 22 points on 9-of-21 shooting. Zydruna Illgauskas had 15 points and 12 rebounds while the newest Cavalier Mo Williams added 12 points.
Cleveland definitely came into the TD BankNorth Garden with a chip on their shoulder since the Celtics eliminated them from the playoffs last season in the Eastern Conference Semifinals. It was a physical game as well as the two teams were whistled for a combined 54 fouls (28 Bos, 26 Cle) plus two sets of double technical fouls.
Next up for the Celtics is Halloween night matchup with the Chicago Bulls at 8 PM at the TD BankNorth Garden.