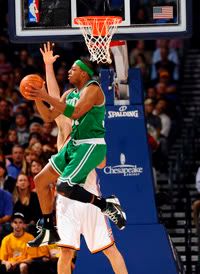 It was the Boston Celtics first appearance in Oklahoma City as the recently relocated Seattle Super Sonics have morphed into the Oklahoma City Thunder complete with new colors and logo and everything.  The trip into OKC was a good one for the Green as they improved to 4-1 on the young season with a 96-83 win over the Thunder.
The team named after loud noises jumped out to an early first quarter lead taking a 29-21 lead into the second stanza but that didn't last long as Boston  went on a second quarter tear outscoring Oklahoma City 30-15 in the quarter to take a 51-44 lead at the half.
Boston increased their lead with a strong third quarter, which was a team trademark last year and entered the last quarter of the game sporting a 70-55 lead as they cruised on the way to another road win over a Western Conference foe.
The Green were led by it's captain Paul Pierce who had 20 points, former Sonic Ray Allen added 18 in his second strong game in a row and Kevin Garnett chipped in with 17 in the win.
Oklahoma City put three players in double figured led by second year player Kevin Durant who had 17 points, Jeff Green hit for 14 points and Russell Westbrook added 13 points in the loss.  The Thunder are just 1-3 in the first season playing in the Ford Center.
Boston returns to the court Friday night at the TD BankNorth Garden when they play another former Ray Allen team the Milwaukee Bucks.