It took overtime but the Boston Celtics were able to get their 12th win as they went on to beat the Indiana Pacers 122-117 at Conseco Fieldhouse in Indianapolis. The win improves the Celtics record to 20-2 on the season.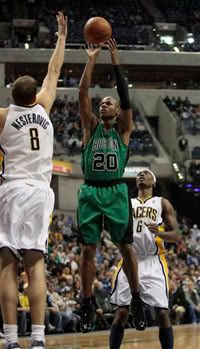 Trailing by 3 points with 14.4 seconds left, former UConn Husky Ray Allen missed a 3-point shot that was rebounded by Eddie House. The Celtics then worked the ball to Paul Pierce who drained a trey to tie the game at 105. Jarrett Jack then missed a chance to win the game and Kevin Garnett rebounded the ball and called timeout. Rajon Rondo threw away the inbounds pass but Jack once again missed to bring on overtime.
In the overtime period, the Celtics were able to get their hands on the game and hold on for the win.
Allen led the Celtics with a season-high 35 points. Garnett was a monster on the glass as he pulled down 20 rebounds while adding 17 points. Pierce also had 17 points, 3 rebounds and 8 assists while House came off the bench to score 15 points. Tony Allen chipped in with 12 points for the Green.
The Pacers were led by Marquis Daniels who had 26 points and 7 rebounds. Danny Granger had 20 points, 3 rebounds, 6 assists and 2 steals while Jack had 17 points.  Troy Murphy added 15 points and 6 rebounds with Rasho Nesterovic scoring 14.
The Celtics are now off until Thursday night when they will head to our nation's capital to take on the Washington Wizards at 8 PM.