The Boston Celtics hit their free throws down the stretch to hold on for an 89-84 win over the Charlotte Bobcats in front of 19,177 at Time Warner Cable Arena in Charlotte, NC. The win for the Celtics was their 8th straight and 9th in their last 10 games.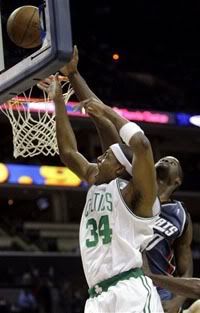 Charlotte tied the game up at 77 with a layup by Gerald Wallace. A Paul Pierce jumper and Kendrick Perkins pushed the lead to 4 points before a D.J. Augustin trey cut the lead back to 1. The Bobcats would get no closer than 1 down the stretch though as the Celtics would hit all but one of their free throws to seal the win for Doc Rivers.
Pierce paced the Celtics (16-2) with 15 points. Perkins added 15 points and 12 rebounds while former UConn Husky great Ray Allen also had 15 points. Tony Allen came off the bench for the Green to score 11 points with Kevin Garnett and Eddie House both chipping in with 10 points. Rajon Rondo only had 4 points but ended up with a game-high 9 assists.
The Bobcats (5-11) were paced by Wallace's 23 points and 8 rebounds. In just his second game back from injury, Jason Richardson put in 22 points and had 6 rebounds while Augustin had 13 points and 5 assists. Raymond Felton had a tough night from the floor (2-of-15) but finished with 6 assists. Former UConn Husky Emeka Okafor had 9 points and 7 rebounds.
The Celtics trailed by 5 points at the end of the first quarter but outscored the Bobcats by 7 to take a  2-point lead at 45-43 at half. Boston pushed the lead to 6 points during the 3rd quarter but had to settle for a 4-point lead heading into the 4th quarter.
The Celtics return home for a Monday night matchup with the Southeast Division leading Orlando Magic and their big man Dwight Howard. Tip-off is scheduled for 7:30 PM.