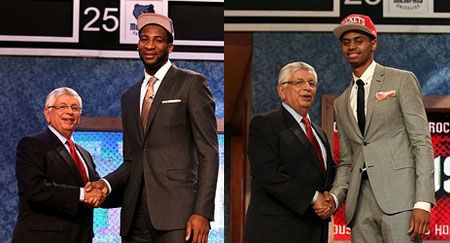 Two former UConn Huskies men's basketball players saw themselves taken in the first round of the 2012 NBA Draft on Thursday night in Newark, NJ.
Here's the release from UConn:
NEWARK, N.J. – Andre Drummond and Jeremy Lamb joined the growing list of first-round NBA draft choices from the University of Connecticut when both were among the top 12 selections in the 2012 NBA Draft, held Thursday night at the Prudential Center in Newark, N.J.
Drummond (Middletown, Conn.), UConn's 6-11 starting center last season, was taken by the Detroit Pistons with the No. 9 overall pick. Lamb (Norcross, Ga.), a 6-5 shooting guard who was the Huskies' leading scorer last year, was selected with the No. 12 overall pick by the Houston Rockets.
The UConn duo become the 17th and 18th first-round picks from UConn and the Huskies' 12th and 13th lottery picks, all under 26-year head coach Jim Calhoun. They are the 14th and 15th UConn players to leave school early for the NBA Draft and all but one of those were first-round selections. Overall, UConn has had 39 players drafted by the NBA, 27 of them under Calhoun since Cliff Robinson in 1989.
Thursday's draft marked the third time that UConn has had two players drafted among the lottery picks in the same year. Emeka Okafor and Ben Gordon were drafted Nos. 2 and 3, respectively, in the 2004 draft, while Rudy Gay and Hilton Armstrong were selected No. 8 and 12, respectively, in 2006. UConn has had multiple players drafted in six different NBA Drafts.
Drummond, 18, a BIG EAST All-Rookie Team selection last year, started 30 games for the Huskies, averaging 10.0 points, 7.6 rebounds, and 2.7 blocks per game, and shooting a team-leading 53.8 percent. He was named the BIG EAST Rookie of the Week four times while recording 10 double-doubles, a UConn freshman record. He is the only UConn player to enter the NBA Draft after only one season in Storrs.
Lamb, 20, was an All-BIG EAST first team selection and an honorable mention All-American as a sophomore last season after averaging 17.7 points, 4.9 rebounds, and shooting 47.8 percent as the Huskies' top three-point threat. He scored 20 or more points in 10 games last year and 30 or more twice.
As a freshman, Lamb was named to the BIG EAST All-Tournament Team, the NCAA West Region All-Tournament Team, and the NCAA Final Four All-Tournament Team as he helped UConn produce a thrilling 11-game postseason winning streak to capture the Big East tourney title and the NCAA national championship.
Follow Ian on Twitter @soxanddawgs. And be sure to like us on Facebook as well.
photo credits: getty images, getty images