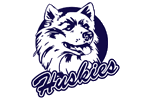 Well UCONN fans, if you are accustomed to going to the Big East Tournament in NYC and used to seeing your Huskies play on Thursday, well make arrangements to be there. Just make them for a day earlier than normal. Jerome Dyson led the Huskies in scoring again as they defeated the Scarlett Knights of Rutgers to clinch a berth in the Big East Tournament. Dyson had 17 points and Jeff Adrien chipped in 14 points. AJ Price also hit double figures with 10 points. For Rutgers, they were led by Adrian Hill and JR Inman who both scored 15 points. Inman had missed the previous game against UCONN with an injury.
The first was rather ugly as both teams had trouble scoring and Rutgers got out to the early lead. Rutgers got the lead up to 8 at 22-14 before a 14-1 run in the last 5 minutes by the Huskies gave them the halftime lead at 28-23.
UCONN built the lead up to 12 in the second half but an 11-0 run by Rutgers got them within 1 point. UCONN's last basket came at the 4:20 mark but they made 9 of 10 free throws down the stretch to provide the final margin of victory.
Note and Observations:
The starters were Price, Dyson, Robinson, Thabeet and Adrien.
Dyson, who is tied with Adrien for the team lead in scoring at 13 points a game, is the first freshman since Corny Thompson in 1979 to lead the Huskies in scoring.
The scoring attack was balanced for UCONN. Besides the three mentioned above, Curtis Kelly added 9 and Thabeet added 8.
Stat of the night: Thabeet, who is a 50% free throw shooter was 4 for 4 from the line. He also had 5 rebounds and added 4 blocks to the cause.
Kelly was perfect from the floor (3 for 3) and was outstanding in his play tonight. He could be someone who could be counted on down the stretch.
Adrien led the team with 7 rebounds.
It was good to see AJ Price bounce back with a good shooting night (4 of 6 from the floor, 2 for 2 from 3 point land).
Even though UCONN shot 72% (21 of 29) from the free throw line, as I mentioned above, they were 9 of 10 down the stretch. This is something I have been writing strongly about; Making free throws, especially down the stretch.
It wasn't pretty but nonetheless, it goes into the record books as a W. With the win the Huskies move to 17-10 (6-7 in the Big East). The win also clinched a spot in the Big East Tournament. Next up for the Huskies is a nationally televised date (CBS) against Rick Pitino's Louisville Cardinals on Sunday afternoon at noon at the Hartford Civic Center.
Technorati: UCONN Huskies, Jim Calhoun, Big East Tournament