Shabazz Napier had a chance to win to the game for the UConn Huskies men's basketball team in regulation but his shot clanked off the rim. In overtime against the South Florida Bulls, he made sure his team emerged victorious.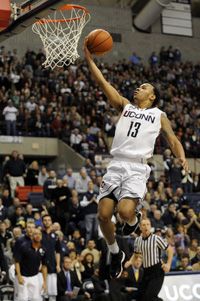 Napier had 11 points in overtime, including three three-pointers, to help UConn to a 69-64 win over South Florida in front of 9,205 at Gampel Pavilion on Sunday afternoon.
The Huskies improve to 15-5 (5-3 Big East). The visiting Bulls fall to 10-11 (1-8).
Napier had finished regulation with 13 points but led all scorers in the game with 24 points and led the Huskies with eight rebounds, four assists and three steals. Ryan Boatright was the only other Husky in double-digits with 17 points. The next highest scorers were Omar Calhoun with seven and DeAndre Daniels with six.
Toarlyn Fitzpatrick paced the Bulls with a double-double of 22 points and 10 points, which included five three-pointers. Victor Rudd added 12 points and five rebounds while Anthony Collins had 10 points.
The first half for the Huskies wasn't pretty folks, not by a longshot. You were probably surprised they even won this game after scoring just 15 points in the first half. Yes just 15 points.
They were just 5-of-27 (18.5%) in the first half from the floor and found themselves down 27-15. While they didn't shoot much better in the second half, 9-of-26 (34.6%), they got right back in the game to start it.
UConn started out the half on a 15-2 run and took the lead on a Boatright three-pointer at 30-27. The game stayed relatively close the rest of the second half with neither team able to seize control.
Trailing by one with 40 seconds left, Napier hit two free throws to give the Huskies a one point lead at 50-49. After a turnover by South Florida, Boatright was fouled and had a chance to give the Huskies a three-point lead. Instead, he missed his first free throw but his second.
Collins was able to tie the game up with 12 seconds left on a layup setting up the stage for UConn to win the game in regulation. As we already know, that didn't happen.
UConn was able to take control of the game in overtime as Napier started it off with two three-pointers and they never looked back.
Good win for the Huskies because honestly after that miserable first half, I really thought they had no chance of winning this game. Whatever head coach Kevin Ollie said worked though as they responded back.
Once again, it was a win after their character was tested and they showed the heart of a champion in coming back quickly and battling for the win.
The Huskies are back in action on Wednesday night when they visit the World's Most Famous Arena, Madison Square Garden, for a matchup with the St. John's Red Storm. Tip is scheduled for 7 p.m.
To continue reading, please click on the continue reading button below if you're on the home page.
South Florida Bulls @ UConn Huskies 2.3.13 box score
Here are the postgame quotes from UConn Huskies head coach Kevin Ollie.
Here are UConn's postgame notes.
Follow Ian on Twitter @soxanddawgs. And be sure to like us on Facebook as well.
photo credit: john woike – hartford courant (no. 14 in gallery)