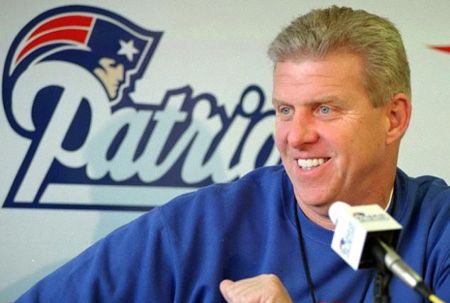 The man they call "The Big Tuna" is finally getting what he deserves, a seat at the table of the Pro Football Hall of Fame in after a life of coaching the sport he loves.
Parcells who played football at Wichita State was picked in the 7th round of the 1964 NFL Draft but never played a game as a professional. That football season he started his coaching career at Hastings as the linebackers' coach. The following season he would go back to his alma mater, Wichita State, and coach linebackers there too.
From 1966-69 he spent time coaching linebackers and being the defensive coordinator at Army in West Point NY where he came in contact with an influential basketball coach and a basketball player who one day would become one of the greatest coaches in the game himself. Friends for life Parcells now shares his achievement with those men, both Basketball Hall of Fame members, Bobby Knight and Mike Krzyzewski.
The 1970's saw Parcells stay in the college game as linebackers' coach at Florida State (1970-72), Vanderbilt (1973-74) and Texas Tech (1975-77 before being named the head coach at the Air Force Academy in 1978.
His stay in Colorado would only last one season as the NFL and the New York Giants came calling and he took over as linebacker coach in 1979 but he would resign before the season started an take a job with a land ddevelopment company in Colorado. But he was unhappy with his new profession and in 1980 went to New England as linebackers' coach. After one year, he would return to the Giants as the defensive coordinator. In 1983 he would be named the head coach when Ray Perkins left to become the head coach at the University of Alabama.
It wasn't always sunshine and roses for Parcells as those early years in the Meadowlands were about building a team which he did as the New York Giants won two Super Bowls under his watch. They defeated the Denver Broncos in Super Bowl XXI and the Buffalo Bills in Super Bowl XXV.
It would be after that second Super Bowl victory that Parcells would step away from coaching the game and enter his first of several forays into the World of Television when he became a NFL analyst for NBC.
To continue reading, please click on the continue reading button below if you're on the home page.
Three years later Parcells would get the itch to coach again and this time he would go back to Foxboro and take over a poor Patriots team with questionable ownership. In four seasons and with a new owner he would turn the team around by drafting QB Drew Bledsoe and lead them to Super Bowl XXXI where they would lose to the Green Bay Packers. The next day he was gone, off to the New York Jets because he wasn't allowed to buy the groceries. Parcells and his ego wanted total football autonomy and Robert Kraft wouldn't give it to him, so he left for some one who would.
After leaving the Patriots, his Jets teams would contend and get to an AFC Championship game but Parcells would never again get to another Super Bowl. After stepping down from his post with the Jets as General Manager in 2000 he would once again turn to television taking a studio job with Bristol CT based ESPN.
In 2003 he would once again get an urge to coach and he ever took over the Dallas Cowboys for four seasons under his longtime friend Jerry Jones. It was there in the Big D that Parcells would reunite with Bledsoe in an effort to get back to another title game but father time was running out on Drew. He wasn't the same guy he was in Foxboro or even early in Buffalo and he was replaced by a young Tony Romo.
The last game Parcells would coach the Cowboys had a chance to win. It was a playoff game in Seattle, Romo was holding for a field goal and botched the snap and run for the goal line only to get crushed and get stopped short.
That was the end of the line for "The Big Tuna" as far as coaching but it was an incredible ride. In 27 years as a NFL coach he would win two Super Bowls with an iconic NFL franchise, take a different team to a third Super Bowl and go to a 4th conference championship game with a third team.
In late 2007 he would take over the Miami Dolphins as Executive Vice President of Football Operations until he resigned in 2010. He currently works for ESPN.
Parcells coached some great players, Lawrence Taylor, Phil Simms, Drew Bledsoe, Andre Tippet, Keyshawn Johnson, Vinnie Testaverde and many others. He would have a regular season record of 172-130-1 and go 11-8 in the post season for a overall record of 183-138-1 (.570) only ten men in the game have won more games the Parcells, ever.
He was a two-time AP NFL Coach of the Year (1986,1994), The Sporting News NFL Coach of the Year (1986), Pro Football Weekly NFL Coach of the Year (1994,1996) and named to the NFL's 1990's All-Decade Team.
Parcells is also known for spawning his coaching tree as many significant coaches in the game have worked under Parcells. Among them Bill Belichick, Charlie Weis, Romeo Crennel, Tom McLoughlin, Sean Payton, Tony Sparano, Ray Handley, Chris Palmer, Al Groh and Eric Mangini.
The man has left a wonderful football legacy and I am sure the Kraft family will celebrate it, as he was extremely significant to the development of the New England Patriots as we know them today.
If it weren't for Parcells, Bledsoe and Kraft there would be no New England Patriots they were candidates for relocation to St. Louis. He and his team saved football in New England there's no other way to put it. For that alone he deserves a special place in football history but it's great to see the entire body of work will be represented forever in Canton.
Follow Steve on Twitter @SteveMichaelsII
photo credit: ap photo