While I was preoccupied yesterday, SNY, the new home of UConn Huskies women's basketball, announced their studio and game announcing crews for the games.
Here's the release:
NEW YORK – SNY, the official television home of the UConn Huskies Women's basketball program, today announced its on-air talent roster and its exclusive game schedule for the 2012-13 season. The network named former UConn Women basketball greats Meghan Culmo and Kara Wolters as analysts. Meghan will serve as the network's game analyst and Kara as the studio analyst for pre-game, half-time and post-game shows. Joining the veteran UConn voices will be play-by-play announcerAndrew Catalon – who recently served as a play-by-play announcer at the London Olympics for NBC – and SNY reporter/anchor Kerith Burke as the sideline reporter. Gary Apple, who hosts SNY's Big East basketball studio shows, will anchor the network's studio coverage alongside Kara Wolters.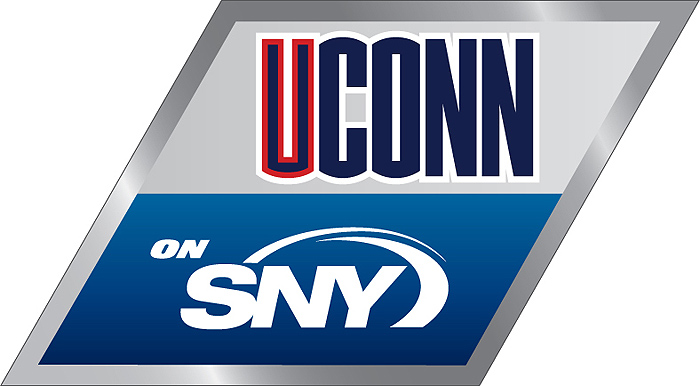 SNY also announced its UConn Women's 2012-13 game schedule – which will feature 20 live games. All Big East Conference basketball games will be wrapped with comprehensive pre-game, half-time and post-game shows. The network's game schedule will tip-off on November 11th at 1:30pm when the Huskies – eyeing their 17th straight season-opening win – host the College of Charleston Cougars. Prior to the game, SNY will air a special pre-game show featuring in-depth analysis of the upcoming season, including interviews with players and coaches, and highlight key players to watch. SNY's official UConn Women's basketball schedule is listed below. As previously stated, SNY will also offer an online streaming package for games airing on SNY. Details regarding the streaming service will be announced shortly.
"We have assembled a formidable and highly experienced group of on-air talent who will bring expert analysis, unique insight and compelling story-telling," said Curt Gowdy, Jr.,Senior Vice President of Production and Executive Producer of SNY. "Our coverage will provide unprecedented access to the UConn Women's basketball program – while delivering innovative, first-rate game production and studio programming."
"I am thrilled to join the SNY team in covering the UConn Women's Basketball program," said Meghan Culmo. "We will provide exceptional coverage for the best women's basketball fans in the nation. I cannot wait to get started working with Andrew, Kerith, Gary and Kara – great people who will work so hard to bring the best product to the air for our loyal fans."
"I'm delighted to be part of the amazing team at SNY, as they have assembled one of the best broadcast teams in the business," said Kara Wolters. "Their superior production capabilities will bring an unparalleled viewing experience to the fans. I am thrilled to know that a broad audience will have the opportunity to experience the championship caliber of the UConn women's basketball program."
"It's an honor to be working with the top women's basketball program in the country," said Andrew Catalon. "Growing up in the Northeast, I fully understand the passion UConn fans have for this team and that is very exciting. We will respect and honor that tradition. I am greatly looking forward to working with Meg, Kerith, Kara, Gary and the great team SNY has put together.
Prior to joining SNY, Kara Wolters spent six seasons as the color commentator for the UConn women's basketball team on their flagship station WTIC-1080 AM. Her basketball career includes playing four years under Coach Geno Auriemma – earning an NCAA Championship in 1995 where she helped her team post a 35-0 record. Kara was also the 1997 National Player of the Year during her senior year at UConn. Kara went on to become one of only seven players in the world to achieve the elusive championship "set" – NCAA championship (1995), the WNBA championship (1999) and an Olympic gold medal (2000). Kara also won a gold medal for the USA Jones Cup Team (1996); won a gold medal for the USA World University Games Team (1997), and a silver medal in 1995. She played on the US National Team in 1997-98 and 1999-2000. She also earned a European championship with her pro team in Schio, Italy. In 1998 she began Kara Kares, a foundation to fund brain tumor research, in honor of her sister, Katie, who passed away as the result of a brain tumor in 2004.
Prior to joining the network, Meghan Culmo has been a color analyst on radio and television for more than a decade. She has appeared on Connecticut Public Television, ESPN, MSG and Lifetime Television, among others. While at CPTV, she hosted "The Geno Auriemma Show", which she has done for the past 15 years. Meg's playing career featured several historic milestones, including the first ever BIG EAST Regular Season and Tournament Championships. She was a 1,000 point scorer and All BIG EAST performer – as well as Captain her senior year. Meg earned Most Outstanding Player at the 1991 BIG EAST Championships as the Huskies claimed the title. Her resume also includes being a member of the coaching staff that helped guide the Huskies to their first of seven NCAA National Championships.
In addition to his role on SNY, Andrew has worked three Olympics for NBC – including London – as well as tennis at Wimbledon. Andrew's other play-by-play experience includes NFL games on CBS, NBC and WKYC. Andrew worked for CBS at the 2011 & 2012 Masters – doing play-by-play for the featured group channel. He also worked the 2010 & 2011 US Open Tennis Tournaments for CBS, calling the action in 3D. In addition, He has worked for the NBC Sports Network, and Big Ten Network. Catalon also was a sports anchor/reporter at NewsChannel 13 in Albany, NY, where he hosted the "Big Board Sports with Andrew Catalon," the Capital Region's only Sunday night sports wrap-up show.
2012-13 UConn Huskies women's basketball schedule
Follow Ian on Twitter @soxanddawgs. And be sure to like us on Facebook as well.