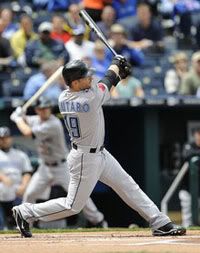 If the Boston Red Sox are going to sign free agent shortstop Marco Scutaro, it's going to cost them their first round draft pick in 2010. The Toronto Blue Jays offered arbitration to Scutaro on Monday meaning that they will get two draft picks if he signs elsewhere.
While interested in Scutaro, the Red Sox have been hesitant due to the fact that Scutaro was bothered by plantar fasciitis late last season. They'll have to decide if losing their draft pick is worth the price of Scutaro.
Red Sox second baseman Dustin Pedroia has said he'd gladly move over to shortstop if it will help the team. But according to Nick Cafardo of the Boston Globe, the Red Sox will explore all other options before turning to Pedroia in the hole.
Alex Speier of WEEI.com reports that the Red Sox have made contact with the representive of their former farmhand Adam Everett while Michael Silverman of the Boston Herald says the Red Sox have also talked to Adam Kennedy's people as well.