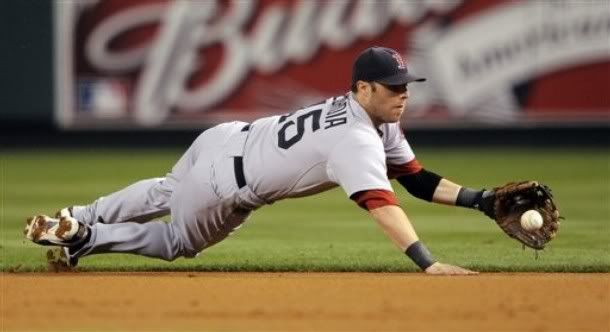 We all know Boston Red Sox second baseman Dustin Pedroia will do whatever it takes to win. So this report from Peter Gammons of ESPN.com should come as no surprise to anyone.
According to Gammons, the Red Sox have broached the idea of Pedroia moving over to shortstop for at least next year. The move would allow them to pursue a free agent second baseman that wouldn't cost them a draft pick.
"They've asked me if I think I could play shortstop," Pedroia says. "They've put it out there and I've told them I'm all for it. I can do it. I can't wait for Tito [Terry Francona] to call me and ask, 'Can you do it?' I can do it. I really want to do it."

"When the idea of moving back to shortstop was floated to me, I welcomed it," Pedroia says. "I'm excited. Tell Derek [Jeter] to enjoy the gold glove and silver slugger awards while he can. Obviously, I'm not serious about the fun I have with Derek, but I'm never stopping believing in the goal. I believe I can play shortstop and help get the Red Sox back where they belong."
Gammons says the Red Sox could pursue free agent Orlando Hudson or make a trade for Cincinnati Reds second baseman Brandon Phillips. Hudson is a Type A free agent and has won the NL Gold Glove at second two of the past three years (2007, 2009). Phillips won the NL Gold Glove in 2008.
Offensively for the Dodgers in a 149 games last season, Hudson hit .283 with 9 home runs and 62 RBIs. He's a career .282 hitter averaging 12 home runs and 69 RBIs a season.
In 153 games for the Reds in 2009, Phillips hit .276 with 20 home runs, 98 RBIs and 25 stolen bases. He's a career  .265 hitter averaging 21 home runs, 84 RBIs and 24 stolen bases. He is owed $17.75 million over the final two years of his contract.
If this is going to help the Red Sox then I'm all for it. I've got the utmost faith in Pedroia and I'm sure the Red Sox do too.
Otherwise, they wouldn't have asked him if he was interested in doing so.