Monday's festivities at the 2010 MLB All-Star Game kicked off when New York Yankees skipper Joe Girardi chose Tampa Bay Rays pitcher David Price and deservedly so as the starter for the AL All-Star Team over Boston Red Sox pitcher Jon Lester. Then Girardi made an announcement that Red Sox third baseman Adrian Beltre would not be playing in the game and would be replaced by Michael Young of the Texas Rangers.
Of course this turned out to be news to Beltre who was told about this upon his arrival. It was Beltre's understanding that he would do some jogging and take part in the work out before ruling himself out of the game. And at the end of it all, Beltre is playing in the game tonight after declaring himself fit and ready to go.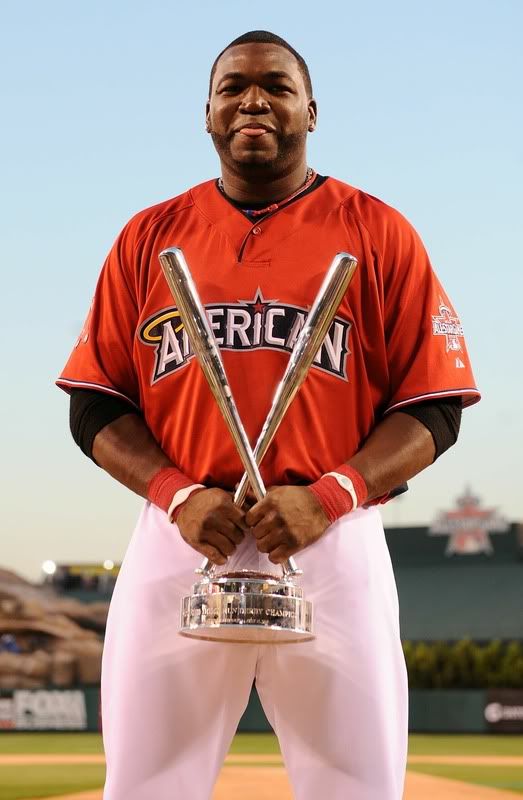 The night ended with David "Jose according to Bobby Valentine" Ortiz taking the 2010 State Farm Home Run Derby crown with an 11 home run performance in the finals.
For Big Papi or Jose Ortiz, it's was an emphatic FU to the folks who had/have written him off after his very slow start to the 2010 season. He's turned around his dismal season and is once again the feared Big Papi. You know the one who gets intentional walks because no one wants to pitch to him.
And even before winning the Home Run Derby last night, he told reporters that he wants a contract extension to stay in Boston:
"I'm going to tell you, I ain't going nowhere," Ortiz said while sitting in the third-base dugout at Anaheim Stadium before winning Monday night's All-Star Home Run Derby, in his fourth try.

"I don't want one year. Why should I return for one year and go through the same [stuff] I'm going through now, just because it's my last year? No. I like to be left alone when I'm playing baseball. I know how to clean my [stuff] up."
The Red Sox hold an option on Big Papi for $12.5 million for next season with no buyout. It's going to be very interesting to see how this plays out over the course of the offseason because I just don't see Theo Epstein giving him an extension during the season.
That's it for now. We're out for the day so for now enjoy the overnight links after the jump.
To open the links up in a new tab or window, use Control+click
Ortiz a demolition man in derby [Boston Globe]
Confusion over, Sox' 3B likely available to AL [Boston Globe]
Up to date on Pedroia [Boston Globe]
At full power [Boston Globe]
Mass. officials want Schilling firm to stay put [Boston Globe]
Love for David Ortiz goes deep [Boston Herald]
Red Sox midseason report card [Boston Herald]
Adrian Beltre surprised [Boston Herald]
Fame in sight for Jon Lester [Boston Herald]
David Ortiz power trip wins Derby [Boston Herald]
Ortiz not worried about his future just yet [CSN New England]
Big Papi is king of the derby [ESPN Boston]
Ortiz: I don't want a one-year pact [ESPN Boston]
Ortiz still commands spotlight [ESPN Boston]
David Ortiz home run derby video links [Extra Bases]
Lester, Buchholz on long-term futures in Boston [Full Count]
Boras on Ellsbury: 'Very cooperative effort' [Full Count]
Votto gives thanks to Boston for All-Star berth [Full Count]
Father figure knows best: Ortiz beats Hanley in Home Run Derby [Full Count]
Six Former Portland Sea Dogs in MLB All-Star Game in Anaheim [NESN.com]
Jacoby Ellsbury Taking Proper Yet Unconventional Steps Toward Rejoining Red Sox [NESN.com]
Jon Lester Will Win AL Cy Young and Four Other Red Sox Predictions for Second Half [NESN.com]
Terry Francona's Job in 2010 Season is Best in His Red Sox Career [NESN.com]
David Ortiz, Cy Young, Highlight Red Sox All-Time All-Star Team [NESN.com]
All-Star Nuggetpalooza! (Part One) [Nuggetpalooza]
Ortiz slugs his way Home Run Derby crown [Providence Journal]
Ailing Beltre expects to be in All-Star game [Providence Journal]
Plucky Red Sox team easy to like [Providence Journal]
Best and worst from the first half of the Red Sox' season [Providence Journal]
Boston's All-Star contingent enjoys festivities [RedSox.com]
Beltre good to go; M. Young not an All-Star [RedSox.com]
Papi pops, doesn't stop until hitting Derby top [RedSox.com]
Papi's resurgence shines brightly at Derby [RedSox.com]
All-Star notes: Ortiz offers ultimate punctuation [Rob Bradford – WEEI.com]
For more slices of Boston Red Sox goodness, head over to the Boston Globe, Boston Herald, ESPN Boston, NESN, Providence Journal and WEEI websites.
Photo credit: Getty Images