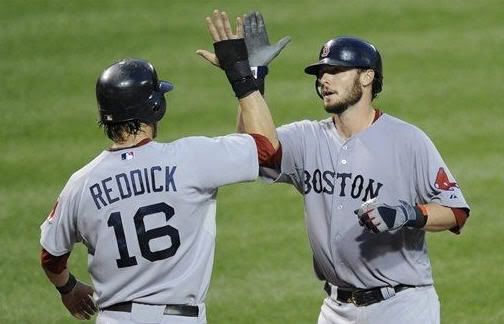 Well it looked like the hangover from Sunday's 16 inning affair finally caught up to the Boston Red Sox on Tuesday night. After putting up 15 runs on 16 hits Monday night, the Red Sox managed eight hits and just two runs in a 6-2 loss to the Baltimore Orioles.
Fortunately though for the Red Sox, their lead in the AL East still resides at 1.5 games over the New York Yankees. And that's because the Tampa Bay Rays came back for a 3-2 win. The Rays trail the Red Sox by seven games.
Kyle Weiland looked a little better than he did in his last outing against the Orioles where he gave up six runs before being ejected. The odds are that this was his last start in the big leagues for now so if that's the case, he did try his best to leave the Red Sox with a better impression of him.
He had trouble locating his fastball, ie leaving it in the upper half of the strikezone and that cost him in the 2nd inning when the Orioles got two runs. A two-out walk in the 3rd inning would also cost him as well.
Honestly after that though, I thought he pitched pretty well. He would allow just one hit over his final three innings and left with the Red Sox still in the game at 3-2.
Alfredo Aceves, who's been the steal of the offseason for the Red Sox in the bullpen, finally showed he was human. After pitching a perfect 7th inning, the Orioles touched him for back-to-back home runs that pushed the lead to 6-2.
Now Jeremy Guthrie hasn't gotten that much run support for the Orioles this season. He's also had his struggles against the Red Sox in his career as well. But that wasn't the case on Tuesday night.
The only big blemish on Guthrie's line for the night was the two-run blast by Jarrod Saltalamacchia, his second in as many days.
Josh Reddick did most of the damage against Guthrie as he had three hits. Since being recalled for a second time, Reddick is hitting .343 (24-of-70) with four home runs and 14 RBIs. And that's on the heels of going 5-for-9 with four RBIs in late May/early June.
With all of the talk surrounding the interest the Red Sox have in Carlos Beltran, I wonder if the Red Sox would even need him. Sure they need a better righthanded bat off the bench than Darnell McDonald. But given the fact, Reddick is performing better this year with the Red Sox is it worth the prospects we all know it's going to cost to get Beltran.
Once David Ortiz returns from his suspension, Terry Francona will have a decision to make. Does he start J.D. Drew or Reddick in right field? For me it's a no brainer as you have to go with Reddick. Sure you might lose a little defense but Reddick is doing more on offense than Drew is.
The knock on Reddick had been his plate discipline. He's definitely shown a much better look at the plate seeing more pitches and not swinging at everything. He flashes back to his old self once in a while but I'm sure he's given a nice talking to by Dave Magadan to remind to just continue what's he doing.
And that's rake at the plate.
We'll be back in just a short while with today's lineups, batter/pitcher matchups and links from the morning. But for now, enjoy the overnight links from the media by clicking on the read more button below if you're on the home page.
To open the links up in a new tab or window, use Control+click
Seven years later, Sox rejoin Beltran sweepstakes [Alex Speier – WEEI.com]
Swings and a miss [Boston Globe]
Showing some staying power [Boston Globe]
Heavy hitters are able to deal with deadline [Boston Globe]
An item for your datebook [Boston Globe]
No time for panic [Boston Herald]
Weiland a winner in first loss [Boston Herald]
Mound of concern for Buchholz [Boston Herald]
Reddick's well-seasoned [Boston Herald]
Adrian Gonzalez: Home Run Derby 'no excuse' for 2-for-24 slump [Clubhouse Insider]
Orioles finally beat Red Sox, 6-2 [CSNNE.com]
Gonzalez not worried about slump [CSNNE.com]
Notes: Weiland improves in second MLB start [CSNNE.com]
Rapid Reaction: Orioles 6, Red Sox 2 [ESPN Boston]
Are Drew's days in right numbered? [ESPN Boston]
Closing Time: Sox bats are silenced in loss to Orioles [Full Count]
Video: Buck Showalter Says Frustration Stems From Red Sox Playing Better Than Orioles [NESN.com]
Video: Dennis Eckersley Says Home Run Derby 'Absolutely' May Have Had Effect on Suddenly Slumping Adrian Gonzalez [NESN.com]
Video: Rookie Kyle Weiland Still Trusts His Stuff Despite Loss to Orioles, But Says 'Walks Kill' [NESN.com]
Kyle Weiland, Early Bedtime Among Positives in Losing Night for Red Sox [NESN.com]
Adrian Gonzalez Blames Timing for Early Second-Half Struggles, Not Participation in Home Run Derby [NESN.com]
Josh Reddick, Jesus Montero Among Prospects Who Could Be Moved Before Baseball's Trade Deadline [NESN.com]
Guthrie puts end to Sox dominance of O's [Providence Journal]
Control problems vexing Miller [Providence Journal]
Red Sox Journal: Wheeler steps up for spent pen [Providence Journal]
For more slices of Red Sox goodness, head over to the Boston Globe, Boston Herald, CSNNE, ESPN Boston, NESN, Providence Journal, RedSox.com and WEEI websites.
And if you must check out the enemy news, head over to the Baltimore Sun website. You can also check out our Bloguin brother, the Oriole Post.
Photo credit: AP Photo