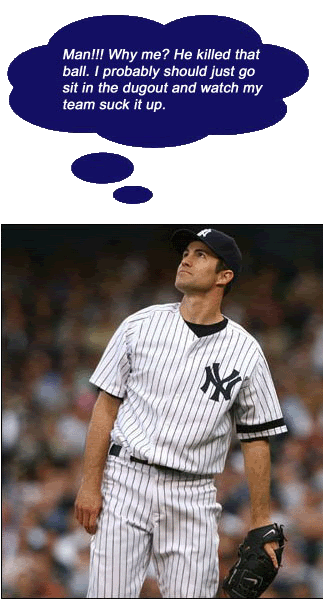 Another game between the two rivals and another Red Sox victory. The win last night puts the series this season at 6-2 good guys and puts the Red Sox back in front by 10.5 games.
Besides the news of Giambi failing an amphetamines test, let's see what the local media is saying about the Red Sox and Yankees.
Here is a look at your stat sheet from last night's game. [Providence Journal]
Curt Schilling's favorite writer, Curly Haired Boyfriend, tells us that Julian Tavarez is just happy to pitch in. [Boston Globe]
The Yankees momentum left NY when Manny went deep writes George Willis. [NY Post]
Gordon Edes tells us about Josh Beckett, J.D. Drew and Dice-K in his Red Sox notebook. [Boston Globe]
Jay Greenburg thinks the Yankees still don't have enough arms. [NY Post]
Mike Mussina is really struggling right now says Nick Cafardo. [Boston Globe]
Johnette Howard says Mike Mussina and the Big 3 must improve for the Yankees to have a chance. [Newsday]
Sean McAdam tells us AROD's take out slide on Dustin Pedroia was "cheap." [Providence Journal]
Mike Lupica says Jason Giambi has no more credibility. [NY Daily News]
Julian Tavarez wishes Jon Lester well says Sean McAdam. [ProJo Sox Blog]
John Altavilla writes Terry Francona won't give in to reporters and say the race in the AL East is over. [Hartford Courant]
Javier Lopez was outstanding on a night where some of the bullpen struggled writes Michael Silverman. [Boston Herald]
Steve Buckley thinks more athletes should have blogs like Curt Schilling. [Boston Herald]
Jeff Horrigan writes about J.D. Drew, Josh Beckett, Kevin Youkilis, and Jason Giambi in his Red Sox Notebook. [Boston Herald]
This just some of the 100's of stories. Head over to the Boston Herald, Boston Globe, NY Post, NY Daily News, Newsday, Providence Journal sites to see more.