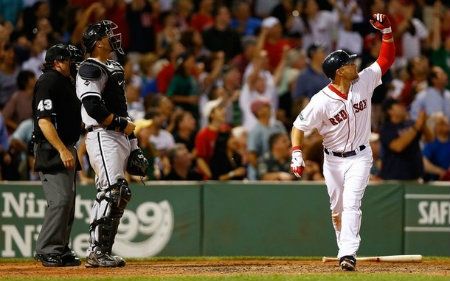 Just imagine the possibilities right now of where the Boston Red Sox could be if they were entirely healthy earlier in the season. And imagine what it could be like if Jon Lester and Josh Beckett pitched like they are capable of.
Yes right now the Red Sox are without David Ortiz and still haven't seen Andrew Bailey pitch yet this year but since the return of Jacoby Ellsbury and Carl Crawford from the disabled list, they have been playing like they were expected to. And that's win some baseball games.
The Chicago White Sox, aka the Youk's, came into Fenway Park as the first place team in the AL Central. And while they are still in first place, they leave Boston having lost three of four games.
Last night, the Red Sox barely could do anything against the South Siders starter Jose Quintana. They managed one hit through the first six innings, a Pedro Ciriaco triple. They barely even made Quintana work on the mound as he thrown just 68 pitches through six innings.
It looked as though they were poised for a big inning in the 7th against Quintana after three straight singles by Dustin Pedroia, Adrian Gonzalez and Cody Ross. But Quintana was able to induce a double play off the bat of Will Middlebrooks to preserve his team's 1-0 lead.
On the other side of things, Clay Buchholz was looking the old Buchholz. You know the one that could be an ace of the staff.
While he didn't factor in the decision, he did his best to match the rookie pitcher from the other team. He went eight innings, allowing the one run on six hits and a walk while striking out six. Of course the one walk he had came around to score. As they say, leadoff walks usually kill you.
He had all of his pitches going for him last night. He had great life on his fastball and commanded it well. His breaking ball was outstanding and he mixed in his changeup at the right time. It was the exact performance the Red Sox were looking for from him.
Buchholz's record was never in question this year. Despite having an ERA as high as nine earlier in the season, he has completely turned it around. Who knows how lower it could be if he hadn't missed a few starts while on the disabled list with the bout esophagitis. Over his past seven starts, Buchholz is 4-1 with a 2.63 ERA.
Amazing what he can do when he feels healthy and can completely trust his back, the same one that sidelined him for most of the 2011 season.
We haven't even really talked about the hero of last night's game, Ross.
In the 10-1 win on Wednesday night, Ross played hero when he hit two three-run homers. Last night, with two runners on in the bottom of the 9th, he did the same thing. This time though, his three-run homer was of the walkoff variety to give the local nine their second straight win.
Ross was pissed when he didn't start the first game back from the All-Star break. But once he was inserted back into the lineup, he's been raking at the plate. He's also making it hard for Bobby Valentine to play Ryan Sweeney when the other team starts a righty. But you know what, that's a good problem to have right now. Plus with Ortiz out of the lineup, he could always insert one of the two into the DH spot.
The Red Sox are still a plethora of games out of first place (9.5) behind the New York Yankees. But they sit just a 1/2 game behind the Baltimore Orioles for second place in the AL East. They are just one game behind the Detroit Tigers for the second wild card spot and two behind the Los Angeles Angels of Anaheim for the top wild card spot.
And with the trade deadline 11 days away and seven teams in the running for those final two spots, it'll be interesting to see how things shake out.
We'll be back later with today's lineups, batter/pitcher matchups and links from the day. So for now, let's take at look at the overnight links from the media by clicking on the read more button below if you're on the home page.
To open the links up in a new tab or window, use Control+click
Dramatic exit [boston globe]
He's enjoying his time as offense's leading man [boston globe]
Buchholz was on target all night long [boston globe]
Trip to the DL leaves Ortiz feeling 'frustrated' [boston globe]
Everything is fine with Pedroia [boston globe]
Cody Ross rescues Red Sox [boston herald]
Clay Buchholz gives Sox chance in comeback [boston herald]
Futures bright for Salem teammates Matt Barnes, Xander Bogaerts [boston herald]
Uncovering the truth regarding the relationship between Bob McClure, Bobby Valentine [rob bradford – weei.com]
Ross walk-off gives Red Sox 3-1 win over White Sox [csn new england]
Aceves earns first win in victory over White Sox [csn new england]
Buchholz: 'I've felt pretty confident' [csn new england]
Valentine on Ross: 'What's there not to love?' [csn new england]
Ross: 'We got to meet The Shredder tonight' [csn new england]
Rapid reaction: Red Sox 3, White Sox 1 [espn boston]
Aceves marks 1st win with Gatorade shower [espn boston]
Boston Red Sox walk off on Cody Ross' third three-run home run in two nights [espn boston]
Clay Buchholz looks like Boston Red Sox ace [espn boston]
Dustin Pedroia clarifies not visiting mound, relationship with Bobby Valentine [full count]
Closing Time: Three is the magic number as Red Sox, Cody Ross walk off with win [full count]
Red Sox finally get their top-of-the-rotation starter with Clay Buchholz [full count]
Dustin Pedroia gets right back into line of fire and 'felt fine at the plate' [full count]
Kelly Shoppach Getting String Of Nods Over Jarrod Saltalamacchia Due to Stretch Against Lefties [nesn.com]
Bobby Valentine Praises Ben Cherington's Work Ethic, Supports His Thoughts on Any Potential Trade Ideas [nesn.com]
Cody Ross Emerging Into Biggest Steal of Offseason With Power Surge Leading Sox to Another Win [nesn.com]
Red Sox Finally Having 'Fun,' Evolving Clubhouse Atmosphere Appears Key to Winning Ways [nesn.com]
Kevin Youkilis Ready to Move on After Dealing With 'Craziness' of Return to Boston [nesn.com]
Dustin Pedroia 'Felt Good' At The Plate, Hopes To Build On It With Sox Lineup Taking Shape [nesn.com]
Clay Buchholz Sparkles Again, Hinting at Possible Return to Dominant 2010 Form [nesn.com]
Cody Ross Does Impossible With Walk-Off As He Leaves Hawk Harrelson Virtually Silent [nesn.com]
Cody Ross Likens Walk-Off Celebration to Piranha Attack, Recounts 'Evil' Look of 'Shredder' (Video) [nesn.com]
With Deadline nearing, Sox trade Germano [redsox.com]
Red Sox must calculate Crawford's trade value [redsox.com]
Crawford's start to season far different from 2011 [redsox.com]
Ortiz hopes to take swings as soon as Friday [redsox.com]
Pedroia returns from DL, exciting Sox clubhouse [redsox.com]
For more slices of Red Sox goodness, head over to the Boston Globe, Boston Herald, CSN New England, ESPN Boston, NESN, Providence Journal, RedSox.com and WEEI websites.
And if you must check out the enemy news, be sure to head over to the Arlington Heights Daily Herald, Chicago Sun-Times, Chicago Tribune and ESPN Chicago websites.
Follow Ian on Twitter @soxanddawgs. And be sure to like us on Facebook as well.
photo credit: Getty Images