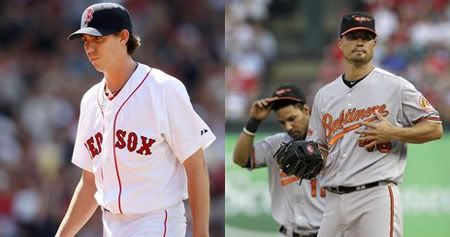 The Boston Red Sox will look to pick up their fourth straight win tonight in the middle game of a three-game set with the Baltimore Orioles at Oriole Park at Camden Yards.
Tonight's first pitch is scheduled for 7:05 p.m. and the game will be broadcast in the Red Sox television market on NESN. If you live in the Orioles television market, you can watch the game on MASN. And if you can't catch the television broadcast, you can always listen to the game on the 2011 Red Sox Radio Network.
Kyle Weiland will make his second start for the Red Sox and it will be against the same team he faced his first time out. In that outing against the Orioles, Weiland allowed six runs in 4+ innings of work. He was ejected from the game in top of the 5th when he hit Vladimir Guerrero in the hand after warnings had been issued earlier in the game. This should be his final start as Jon Lester is scheduled to return from the DL on July 25th which would be Weiland's next turn through the rotation.
Jeremy Guthrie looks to help end the losing skid for the Orioles in his 22nd appearance (20th start) of 2011. In his previous 21 appearances (19 starts), Guthrie is 3-13 with a 4.45 ERA. He's made two appearances (one start) against the Red Sox in 2011 and is 0-1 with a 0.96 ERA (1 ER/9.1 IP). He's made 17 career appearances (15 starts) against the Red Sox and is 1-8 with a 4.55 ERA.
Click on the read more button below to see tonight's lineups, batter/pitcher matchups and links from the day if you're on the home page.
Here are this evening's lineups:
And here is how the hitters have fared against tonight's starting pitchers: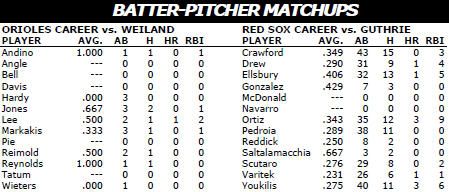 Check back and/or refresh often as more links will be added if/when they become available before game time.
To open the links up in a new tab or window, use Control+click
Pregame notes: Clay Buchholz progressing, Bobby Jenks gets injection [Clubhouse Insider]
Wheeler working toward relevance [CSNNE.com]
Notes: Buchholz (back) eyes Friday mound session [CSNNE.com]
Josh Reddick's Surge Could Force Terry Francona to Make Tough Decision and Mean Less Playing Time for J.D. Drew [Don Orsillo – NESN.com]
Rumor Central: Sox interested in Jimenez? [ESPN Boston]
Tito mixes, matches at DH [ESPN Boston]
Hell yeah, Red Sox pitchers like beer [Extra Bases]
Pedroia or Cano? It's clear at the moment [Extra Bases]
New podcast: The right stuff [Extra Bases]
Chat with former Red Sox pitcher Bill 'Spaceman' Lee [Extra Bases]
Pregame notes from Baltimore [Extra Bases]
The Red Sox rotation in context: A fatal weakness? [Full Count]
Transcript of Terry Francona on The Big Show: Sticking with veterans has worked in the past [Full Count]
Red Sox Pregame Notes: Buchholz getting closer [Full Count]
Jason Varitek Relies on Exercise, Stretching, Ice to Keep Knees in Tip-Top Shape Over the Years [NESN.com]
Red Sox Should Strongly Pursue Carlos Beltran to Stabilize Right-Field Situation, Provide Clutch Play Down Stretch [NESN.com]
Dustin Pedroia the Hottest Hitter in Baseball, on MVP-Type Run for Red Sox [NESN.com]
Alfredo Aceves Has Been Invaluable to Red Sox as 'Just a Pitcher' [NESN.com]
Report: Red Sox, Phillies Both Aggressively Pursuing Carlos Beltran [NESN.com]
Video: Dennis Eckersley Credits Dustin Pedroia's Energy, Calls Him 'Most Confident Player' He's Ever Seen [NESN.com]
Video: Red Sox Proceeding Cautiously With Clay Buchholz, While Jarrod Saltalamacchia Still Has Potential to Become Front-Line Catcher [NESN.com]
Seamless Transition for Lavarnway [PawSox.com]
Would it be stunning if Jonathan Papelbon stayed? [Projo Sox Blog]
Sleepless — but not winless — in Baltimore [Projo Sox Blog]
Jose Iglesias expected back Thursday [Projo Sox Blog]
Francona using DH to provide rest [Projo Sox Blog]
Friday test awaits Buchholz [Projo Sox Blog]
Jenks receives PRP injection [Projo Sox Blog]
Weiland, Guthrie will try to keep bats in check [RedSox.com]
Players of the Week, 7/11-7/17: David Chester & Keith Couch [SoxProspects.com]
Photo credits: Getty Images, AP Photo