After sweeping the Minnesota Twins, the Boston Red Sox head to the south side of the Windy City tonight for the first of a four-game set with the Chicago White Sox at U.S. Cellular Field.
First pitch is scheduled for 8:10 p.m. and the game will be broadcast on NESN in the Red Sox television market. If you live in the White Sox television market, you can catch the game on WGN. If you don't live in either market you're in luck as MLB Network will have coverage of the game outside of the Red Sox and White Sox television markets. If you can't catch the television broadcast, you can always listen to it on the Red Sox radio network.
Felix Doubront looks to pick up his first win in his fourth start of the 2012 season. In his previous three starts, Doubront has no record with a 3.94 ERA (7 ER/16 IP). Tonight will mark his first ever appearance and start against the South Siders. He's never faced any teams from the AL Central in his career either.
After making MLB history by becoming the 21st pitcher to throw a perfect game in his last start, Philip Humber looks to continue that in his third start of 2012. In his previous two starts, Humber is 1-0 with a 0.63 ERA (1 ER/14.1 IP). Both of his career starts came against the Red Sox in 2011. In those two starts, he was 1-1 with a 5.84 ERA (8 ER/12.1 IP). His lone loss came at U.S. Cellular Field where he allowed four runs in 4.2 innings of work.
Click on the read more button below to see today's lineups, batter/pitcher matchups and links from the overnight and day if you're on the home page.
Here are today's lineups:
And here is how the hitters have fared against today's starting pitchers: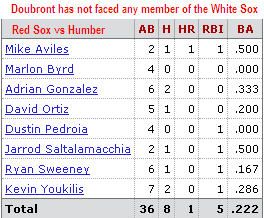 REFRESH OR CHECK BACK OFTEN AS MORE LINKS WILL BE ADDED BEFORE GAMETIME IF/WHEN THEY BECOME AVAILABLE AND WILL BE BOLDED
To open the links up in a new tab or window, use Control+click
Where has Clay Buchholz' changeup gone? [Boston Herald]
Red Sox notes: Cody Ross takes a day, Rich Hill on the way? [Clubhouse Insider]
Anderson to debut in left field for Sox [CSN New England]
Valentine: Hill has 'passed all the tests' [CSN New England]
Can Humber stay perfect vs. Sox? [ESPN Boston]
Ross rests; Lars Anderson starts in LF [ESPN Boston]
What comes after perfection? [Extra Bases]
Crawford could miss three months [Extra Bases]
Injury Report: Breaking down Jacoby Ellsbury's shoulder injury [Full Count]
Daniel Bard: I have to 'be careful and think about my career' [Full Count]
Will Anyone Ever Throw Two Straight No-Hitters Again? [NESN.com]
A Series Matter: Red Sox-White Sox and Perfection [Projo Sox Blog]
Doubront idolized former Twins ace Santana — the pitcher traded for Thursday opponent Humber [Projo Sox Blog]
Despite sweep of Minnesota, bullpen still shaky [Projo Sox Blog]
Ross out with sore knee, Anderson in left field [Projo Sox Blog]
Valentine, former Met Ventura reunite in Chicago [Projo Sox Blog]
Rich Hill not on his way to Red Sox — yet [Projo Sox Blog]
Doubront looks for better outcome vs. White Sox [RedSox.com]
Anderson makes first career start in left field [RedSox.com]
Hill could join bullpen this weekend in Chicago [RedSox.com]
Saltalamacchia getting into rhythm at plate [RedSox.com]
PawSox Notebook: Melancon and Tazawa swap spots [SoxProspects.com]
Follow Ian on Twitter @soxanddawgs. And be sure to like us on Facebook as well.
Photo credits: AP Photo, Getty Images