The Boston Red Sox got some more bad news on Thursday night in regards to Carl Crawford.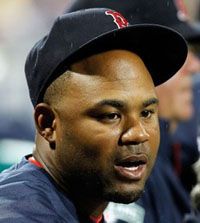 Crawford, who is still rehabbing from wrist surgery in the offseason, will now miss the next three months with a UCL sprain in his left elbow.
Here's the release from the Red Sox:
"Carl Crawford was examined by the Red Sox medical staff. He was diagnosed as having a left elbow ulnar collateral ligament sprain. A conservative treatment protocol was recommended. Carl was also examined by Dr. James Andrews who was in agreement with the assessment and plan. Carl received a Platelet Rich Plasma (PRP) injection and will be shut down from baseball activity during the initial phase of his treatment."
With Jacoby Ellsbury out for at least another 4-6 weeks, this news is not good. Hopefully, they'll be able to use the pieces they have in the outfield and not fall to far out.
Follow Ian on Twitter @soxanddawgs. And be sure to like us on Facebook as well.
photo credit: Getty Images