If you didn't see the UConn men's game on Saturday versus Georgetown or haven't read my recap or any other media recap, you didn't know that head coach Jim Calhoun missed Saturday's game with flu-like symptoms.
According to the various media outlets in the state here, Calhoun's wife, Pat, accompanied him to the UConn Health Center on Saturday night when the team returned home. Calhoun was checked out and released that night and that time, they weren't sure whether or not Calhoun would be at practice today. The team had yesterday off.
Those same media outlets reported today that Calhoun was not at the 9:30 AM practice this morning and that he had stayed home to rest. There is no word if he's expected at practice tomorrow or will be well enough to coach on Thursday. My guess is that after a few days of rest and fluids, he will be back on the sidelines.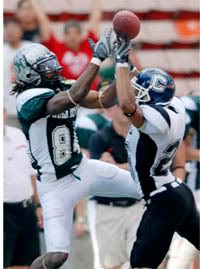 I had hoped to show you some of the stats accumulated by the UConn players in the Hula Bowl on Saturday but unfortunately there was no stat crew at the game. Yes I am serious.
There were only a couple thousand fans in 50,000-seat Aloha Stadium. Some players complained about overcrowded hotel rooms. In the press box, there was no statistics crew, let alone a bowl representative.
I can tell you that both Donald Thomas and Tyvon Branch played in the game. Thomas did suffer a minor injury but returned to the game later.
If you have CSTV on your cable system or satelitte dish, don't forget to check out UConn's Danny Lansanah in the 2nd annual Texas Vs. The Nation Collegiate All-Star Bowl on February 2nd. The game will take place at the Sun Bowl in El Paso, TX, at 5:00 PM ET.
Maya Moore picked up her fourth Big East Women's Freshman of the Week award for the week ending 1/12. Moore averaged 24 points, 4 rebounds and 4 assists in the Huskies two wins last week. Tina Charles was named to the Big East Honor Roll as well for her efforts last week.